Author: Gail Z. Martin, Larry N. Martin
Narrator: Neil Hellegers
Length: 12 hours 27 minutes
Series: Storm & Fury Adventures
Publisher: Tantor Audio
Released: Oct. 30, 2018
Genre: Steampunk, Fantasy
New Pittsburgh, 1898 – A crucible of invention and intrigue. Born from the ashes of devastating fire, flood, and earthquake, the city is ruled by the shadow government of The Oligarchy. In the swarming streets, people of a hundred nations drudge to feed the engines of progress. The Department of Supernatural Investigation was set up to take care of those things that live below, that go bump in the night…those odd cases that go beyond 'standard' investigation. Nicknamed 'Storm and Fury', Mitch Storm and Jacob Drangosavich are two of the more creative agents working in New Pittsburgh and obeying the rules – when they have to.
A collection of short stories and novellas set in the world of the Iron & Blood novels and the related Storm and Fury Adventures.



Gail Z. Martin writes urban fantasy, epic fantasy and steampunk for Solaris Books, Orbit Books, Falstaff Books, SOL Publishing and Darkwind Press. Urban fantasy series include Deadly Curiosities and the Night Vigil (Sons of Darkness). Epic fantasy series include Darkhurst, the Chronicles Of The Necromancer, the Fallen Kings Cycle, the Ascendant Kingdoms Saga, and the Assassins of Landria. Together with Larry N. Martin, she is the co-author of Iron & Blood, Storm & Fury (both Steampunk/alternate history), and the Spells Salt and Steel comedic horror series. Newest titles include Tangled Web, Vengeance, The Dark Road, and Assassin's Honor. As Morgan Brice, she writes urban fantasy MM paranormal romance, with her Witchbane and Badlands series


Larry N. Martin is the author of the new sci-fi adventure novel Salvage Rat. He is the co-author (with Gail Z. Martin) of the Spells, Salt, and Steel/New Templars series; the Steampunk series Iron & Blood; and a collection of short stories and novellas: The Storm & Fury Adventures set in the Iron & Blood universe. He is also the co-author of the upcoming Wasteland Marshals series and the Joe Mack Cauldron/Secret Council series
Narrator Bio

Neil hails from the green hills and not-so-busy streets of River Vale, NJ, where he divided his time between theatre, literature, percussion, and policy debate. He is happy to note that he has managed to maintain this balance for the entirety of his adult life.

After graduating from the University of Pennsylvania, in Philadelphia, PA, with a B.A. in Theatre Arts and a Minor in Psychology, Neil acquired a M.F.A in Acting from the Trinity Rep Conservatory, in Providence, RI. He returned to NYC in 2003, and, since then, has made a career of theatrical performance, percussion, theatre education, and audiobook narration, and is currently living in Brooklyn, NY, with his wife, rambunctious son, and their mutt!

Starting his professional acting career working at festivals and and international tours performing Shakespeare opened his mind to the sweeping potential of theatre in performance to inspire and delight, a sensibility he has carried into contemporary theatre, new play workshops, film, TV and commercial work, and audiobook narration. Neil also has sought and developed educational opportunities, considering teaching as a means of advancing the craft of both student and teacher, and also a vehicle for social and political change. Neil has played drums in a wide variety of bands and musical groups, from punk, to prog, to jazz, to folk, and in theatrical performance, most notably for the Philly-based-90s-progressive-instrumental-rock-band, Lexicon.

As an audiobook narrator, Neil specializes in fiction, genre and non. A voracious reader of science fiction and fantasy, Neil strives to bring the same thrill of the possible to the actual, with non-fiction ranging from self-help both spiritual and practical, history, and cultural studies. Recording at home from a Studiobricks One Plus, he is an Audible Approved Producer, and has worked for numerous publishers, including Tantor Media, Penguin Random House Audio, Blackstone Audio, Audible Studios, Deyan Audio, Spoken Realms, and more. He is a proud member of SAG AFTRA.
Review:
Both Martins seemed to work well together with their writing. I felt like it was one author writing the novel. I liked the characters. They each had their idiosyncrasies and had a blast listening to these two guys bicker! But I do wish there had been more background information to start. I was very confused with the beginning and thought I had somehow stumbled upon a second in a series haha So for me I give it 4.5/5 stars for how interesting and exciting this story was but also the slight confusion I had with being introduced to these people.
Narration was excellent! I loved the accents and each character was distinct! It was truly wonderful to have him narrate for this story. I hope he works with these authors frequently 🙂 I give it 5/5 stars.


Q&A with Mitch Storm, protagonist of
Storm & Fury
What made you decide to become an agent with the Department of Supernatural Investigation?

I like finding out answers to things I'm not supposed to know. And when there are monsters in the shadows, Jacob and I are the guys who take them out.

What do you like best about working with your partner, Jacob Drangosavich?

Jacob and I balance each other out. We've been friends a long time, since our Army days, and we've lived through a lot of bad stuff. I can be reckless, and Jacob does his best to slow me down long enough to think things through. I don't always listen, and he's not always right, but we work well together. I give him a lot of grief, but he's really a decent fellow.

You have a reputation for causing a lot of explosions…

And that's totally exaggerated! Okay, maybe not totally. Somewhat. All right, maybe it's more true than not. It's just…we go up against some really bad people and crazy monsters, and sometimes the easiest way to deal with it is with dynamite.

Inventor Adam Farber lets you and Jacob try out his latest experimental gadgets and prototype weapons. Do you have any favorites?

I'm not supposed to talk about those…but hypothetically, if someone could create a death ray kind of thing from a Tesla coil….it would be really amazing, until it blew up. Theoretically speaking, of course.

You and Jacob have gone up against all kinds of monsters. Is there any type of supernatural threat you particularly dislike?

Necromancers. Because they're messy. They dig up graves, get people all upset, and then they try to raise the dead, or turn them into clockwork zombies, or get them to tell their secrets from the Great Beyond. And when it all goes to hell in a handbasket and Jacob and I have to move in and shut them down, you know what we're left with? Body parts and corpses, and it's not pretty. Especially not in the summer. Which is why, generally speaking, you're better off fire-bombing them, because it makes the whole thing easier to clean up. You're not going to quote me on this, are you?
Gail Z. Martin's Top 10 Reasons to Listen to This Audiobook
Lots of explosions—our promise to you!

Mad scientists and sexy-nerd inventors

Fearless secret agents from the Department of Supernatural Investigation

Cool experimental gadgets and weapons that don't always work the way they're supposed to!

Airship battles

Clockwork monsters

Handsome heroes with a taste for adventure

Ghosts, werewolves, witches, vampires and monsters….in Victorian Pittsburgh

Curses, absinthe magic, haunted places

Two daring agents who aren't afraid to break the rules to save Pittsburgh—and the world—from supernatural threats!

Q&A with Neil Hellegers, Narrator of
Storm & Fury
When did you know you wanted to be an audiobook narrator?

I have always been an inveterate reader, like, absurdly. Putting aside the irony that now that my job is reading books I have little to zero time to read for pleasure, I knew I wanted to be an audiobook reader when I realized that my experience and training, combined with my love of books, made it a rather obvious choice. Or, put another way, it was like: duh.

How did you wind up narrating audiobooks? Was it always your goal or was it something you stumbled into by chance?

In the process of starting a family, I came to see that my vagabond, stage-actor life was unsustainable. In focusing on other options with my skill-set, I managed some more local work, particularly a fair number of on-camera commercials, at a time where the 'goofy dad' archetype was very prevalent. And while I had some success there, it wasn't scratching the deeper itches creatively, and was also, in many ways, just as transient.
I had been pushing into commercial VO a bit as well, with not as much success, but it occured to me that I maybe wasn't matching the specific demands of Comm VO as well as I would have liked. Yet I had always listened to audiobooks, especially on lots of long drives between Providence, RI and the New York area in the summers I was working at Hudson Valley Shakespeare Festival. It slowly dawned on me that narration could be a much better fit. There wasn't like a flash of inspiration, more like a slow dawning, then I was like, oh it's sunny!
What are your favorite aspects of the Alternate History sub-genre?

I have long been a fan, and was so excited to dig into the Storm & Fury/Iron & Blood Universe. What most interests me about Alt or Counterfactual history is that it makes good on the promise of Quantum Mechanics, much in the way that Time Travel books do: Every turning point, or any decision, is the starting point to a different world. With New Pittsburg as the center of a very different world of culture and technological advancement, you have the freedom to root your choices in the world you know, but then bend them to this new reality. And with the introduction and prevalence of magic and the preternatural, presented here so seamlessly, the possibilities really are endless. I do think it's a little unfair, however, how in so many alternate timelines, Nikola Tesla comes to pre-eminence, but we, of course, got stuck in the

one

timeline where he didn't…!
What type of training have you undergone?

I have a BA in Theater Arts (acting, directing, and design) from The University of Pennsylvania with a minor in Psychology (also helpful), with some time spent abroad in a London conservatory, and an MFA in Acting from Trinity Rep Conservatory in Providence RI. Add to that various acting classes and coaching, both in acting and narration, and that's my foundation. The work itself is the training built on top of that.
Are you an audiobook listener? What about the audiobook format appeals to you?

I certainly am! I have to be? But I would be anyway. What I like about it is the pleasure of the narrator's creativity in synthesis with the author. If the story is good, it can only get better. And if the narrator is good, then the story can be great.
What is your favorite part of narrating an audiobook?

You mean aside from getting to read books for a living, i.e. being paid to immerse myself into new and classic sci-fi, cutting edge urban fantasy, mind-bending time travel and alternate realities, lyrical contemporary fiction, and thought-provoking and vital non-fiction? Along with utilizing every last bit of my training and education, and ending each day with the satisfaction of having just actually crafted art that might inspire, entertain, or illuminate the listener? Not to mention being a part of a wonderful, enriching, supportive community of fellow narrators and publishers? Well…the health insurance is pretty good…!
Did you find it difficult to "break into" audiobook narration? What skill/tool helped you the most when getting started?

Ha, have I broken in? I'm like 40% joking; "imposter syndrome" seems to dwell heavily in more than a few narrators, including this one. But, procedurally: One thing to note is that the audiobook industry is considerably smaller than most other major entertainment industries. So after years of Film and TV meet-and-greets and Equity open-calls and the like, finding a far more intimate and immediate set-up was a pleasant surprise. There were also meet-and-greets and conventions, but the relationships were direct with the publishers and producers, so just by being present you could start meeting them, so when one was ready with the appropriate skills, it's possible to move forward, bit by bit. As mentioned, I had thorough theater training, but there is narration-specific technique to learn, coaches to work with, and workshops to take. Not to mention, since I was starting by working at home, producing audiobooks independently, there were some technical hurdles to leap. Thank goodness everything is on the internet.

I should also note here that the narration community is tremendously generous, and from the first friend I asked to "pick your brain about narration" (which I now fully understand how kind and helpful she was by permitting this, as it is something narrators get asked quite a bit) to the FB members willing to answer any questions, we all really have each others' backs. It's a lovely aspect of this job, but also very helpful in getting started.
How did you decide how each character should sound in this title?

Well, first, Gail and Larry provide so much detail about how their characters sound that they make one part of my job very easy. Especially as New Pittsburgh's cultural history has drawn specific immigrant populations that make up the fabric of the city and the book. Polish accents abounding, Irish accents, Creole in New Orleans, to name a few. Also the main characters have such a clear feel to them, that it wasn't hard to "cast" those voices, regardless of dialect. As always, with a big cast, the main task is to make them distinctive from each other, but so much of that is also driven by what each character is feeling, and what they need in the scene. Closely following all those details and dramatic elements is how so many of those choices get made.

Probably my favorite task was settling on Jacob Drangosavich's voice, described as a "slight [Polish] accent". Such a key direction, but only mentioned once, and yet so vital. Deciding on what degree of accent says so much about the character, his history, his disposition, and how he represents the position of this new world in balance with the old. I tried to craft a voice that was still distinctly American, but with a flavor on the edges of his native Polish. I had to be sure to keep it going, even though, in truth, such pidgin dialects do naturally fluctuate. So then I had to chose the times when the Polish aspect might thicken, or diminish. For this audiobook narrator, these kinds of details is the

stuff.
How closely do you prefer to work with authors?

Really, as close as time and schedules allow. Coming out of theater, I embrace the value of collaboration; basically, more brains are always better than one. And while the synthesis of text and narration is automatically a collaboration, I like to continue the process by discussing themes, characters, world-building, and whatever else the author ideally wants the reader/listener to walk away with. Ultimately, I'm going to have to get in there myself and make the book work, but the more material I have to work with, the better the results will hopefully be.
How do you manage to avoid burn-out? What do you do to maintain your enthusiasm for narrating?

Well, the books always change, so that helps. And, in a given day, I always try to find the thing about the book that excites me, or is a valuable social lesson to convey, or is fun. At this point, though the hours are long, I'm so grateful to be doing what I'm doing, that if I start to feel weary, I slap myself in the face and get the heck back in the game. Aside from that, I try to sleep well, get some exercise, and drinks lots and lots and lots and lots of water.

Prize: 3-month Audible membership
Storm & Fury Giveaway: 3-month Audible subscription


Feb. 5th:
The Book Junkie Reads . . .
Feb. 6th:
Dab of Darkness Book Reviews
Feb. 7th:
T's Stuff
Feb. 8th:
Notes from 'Round the Bend
Feb. 9th:
My World…in Words and Pages
Feb. 10th:
The Book Addict's Reviews
Feb. 11th:
Jazzy Book Reviews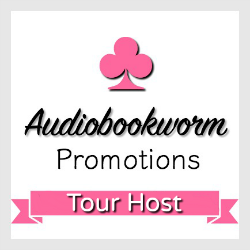 ➜Sign up as a host here