Author: Diane Pomerantz
Narrator: Katie Mitchell
Length: 9 hours 37 minutes
Publisher: Diane Pomerantz
Released: Mar. 22, 2018
Genre: Personal Memoir
When Diane, a psychologist, falls in love with Charles, a charming and brilliant psychiatrist, there is laughter and flowers?and also darkness. After moving through infertility treatments and the trials of the adoption process as a united front, the couple is ultimately successful in creating a family. As time goes on, however, Charles becomes increasingly critical and controlling, and Diane begins to feel barraged and battered. When she is diagnosed with aggressive breast cancer, Charles is initially there for her, but his attentiveness quickly vanishes and is replaced by withdrawal, anger, and unfathomable sadism. What Diane previously thought were just Charles' controlling ways are replaced by clear pathologic narcissism and emotional abuse that turns venomous at the very hour of her greatest need. This is a memoir and a psychological love story that is at times tender and at times horrifying, Lost in the Reflecting Poo chronicles one woman's struggle to acknowledge what she has always seen, to survive within?and ultimately break free from?a relationship with a man incapable of caring about anyone beyond himself.


For more than thirty-five years, Dr. Diane Pomerantz has been a practicing psychologist, teacher , supervisor, and speaker in the Baltimore-Washington metropolitan area. Dr Pomerantz has published articles on topics of childhood trauma and personality development. Lost in the Reflecting Pool is her first book and it has received the following awards: 2017 Foreword Indies Book of the Year Finalist; 2017 Human Relations Indie Book Awards: Gold in the Memoir category
Gold in the Marriage-Relationship category; Silver in Reflection category; Bronze in Life Challenges category; and 2017 Readers Favorite Finalist award.
Dr. Pomerantz is a twenty-year cancer survivor, has two grown children and lives in the woods in Maryland with Rug, her shaggy dog.


Katie Mitchell is a southern girl, born and raised in New Orleans. She comes from a long line of dreamers, storytellers, and men who weep. Katie has been an actress for over 30 years in television, stage, and voice-overs. For this career choice she blames Helen Keller. But that is a story for another time.

She has turned her attention to writing, which is what she truly wanted to do all along.
Currently finishing a novel, BIG DADDY'S KNEE, set in 1969 Louisiana. She has 2 essays printed in the book Deliver Me. You can read more of her work on Medium.com .

​​​She lives in Los Angeles with the kid.


Wow wow wow! This was a very raw and inspiring tale! I loved that this author was able to go so deep in telling about their personal life. I felt so many emotions while listening to this! Pomerantz has so many amazing stories here that need to be shared! The only thing I wish is that it was edited a bit more carefully. Sometimes things would get repeated, like similar metaphors. I give it a 4.5/5 for being very powerful.
The narration was good, although some issues with the editing and I do wish the narrator had a bit more emotion added to her voices. Overall I liked her pacing and in general the tone of her voice. I give the narration a 4/5 stars!
I received this audiobook as part of my participation in a blog tour with Audiobookworm Promotions. The tour is being sponsored by Diane Pomerantz. The gifting of this audiobook did not affect my opinion of it.

For Whom Do We Write by Dr. Diane Pomerantz
I've read countless memoirs, as well as thousands of other books, and as I put pen to paper writing Lost in the Reflecting Pool, it occurred to me that once a writer puts her words out into the world, it is never again just the writer's story. The story is forever transformed by every reader. No matter what the writer has written, the words are always seen through the lens of the reader and thus it becomes a translated story. Thus, when the story becomes an audiobook, or a movie for that matter, it takes on another level of abstraction, and the range of personal interpretation broadens further.
The writer sets out a canvas upon which the reader can project whatever emotions or issues he or she needs in order to derive personal meaning. The work no longer belongs to the author; the author bequests it to the reader, the listener or the viewer to do with it what he or she needs to do. The writing is for the author; the finished work is for the one who receives it. The author can only hope that the work does provide some meaning for those receiving what has been written.



Jul. 18th:
Lynn's Romance Enthusiasm
Jul. 19th:
Jazzy Book Reviews
Jul. 20th:
What Is That Book About
Jul. 21st:
Book Addict
Jul. 22nd:
T's Stuff
Jul. 23rd:
The Book Addict's Reviews
Lomeraniel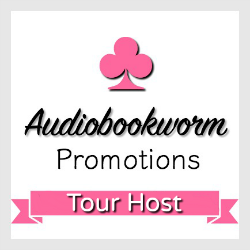 ➜Sign up as a host here