Author: Ava Richardson
Narrator: Tiffany Williams
Length: 8 hours 49 minutes
Series: The First Dragon Rider, Book 1
Publisher: Relay Publishing
Released: Jan. 2, 2018
Genre: Young Adult Fantasy
The new world is calling….
Niell Torvald is desperate to prove himself – his father's kingdom depends on him. When a vicious attack on the way to the Draconis Order monastery nearly kills him, it becomes clear that grave trials await him on this path. Joreth, the wise monk who saves his life, advises caution upon entering the sacred halls. His mission is to learn arcane magic from the monks that will help to cement his father's power, but Niell will need more than magical arts alone to navigate the challenges before him.
Among the monks' students, Niell meets the lovely and mysterious Char, who senses evil deep within the ranks of the dragon order's members. She takes him to a dragon she has raised, Paxala, and the three of them become fast friends. Niell soon grows in strength as he and his fellow students gain ancient knowledge, and his closeness to Char blossoms into something more.
When Niell's brothers grow impatient and attack the monastery in a bid to seize power, he will have to decide where his loyalties lie: with his warlord father's domain or the new friends he has made in the wider world.


Ava Richardson writes epic page-turning Young Adult Fantasy books. She creates lovable characters and drops them into intricate worlds that are barely contained within your eReader. Her current work is the 'Return of the Darkening Series', which features Seb, Thea and their shared dragon, Kalax.
She grew up on a steady diet of fantasy and science fiction books handed down from her two big brothers – and despite being dog-eared and missing pages, she loved escaping into the magical worlds that those authors created. Her favorites were the ones about dragons; where they'd swoop, dive and soar through the skies of these enchanted lands.


Tiffany Williams is an Audible approved narrator who has been narrating audiobooks since 2013. Tiffany graduated from the University of North Texas with a Bachelor's in Theatre with an emphasis on acting and directing, plus a minor in psychology – so watch out! She may just analyze YOU! Tiffany has been working professionally since 1993 as an actor; director; producer; costume, sound and prop designer; stage manager; technical assistant; box office assistant; board member; business manager, production manager and college professor for theatres such as the Shakespeare Festival of Dallas, Dallas Theater Center, Berkshire Theatre Festival, Undermain Theatre, Project X, Theatre Britain, Audacity Productions, and Collin Theatre Center; and has pursued additional studies at the Kennedy Center, Folger Theatre, the National Stage Combat Workshop and Fairfax Public Access. She also provided voice-overs for plays, phone messaging services, and training videos. Tiffany is the author of the children's play, The Great Texas Treasure Hunt. She is an eight-time winner of a Collin Theatre Center Award and received the 2004 Unsung Heroine Award at Collin College. She has directed numerous productions of The Vagina Monologues which raised monies for Hope's Door, Victims Outreach and the Dallas County Sexual Assault Coalition. Since moving to Virginia to be with the man she has loved since our sophomore year in high school, she has been narrating audiobooks. Working with her husband and being home with the kids has been awesome! That is until the youngest refuses to nap.

The narration by Williams is probably my favorite part of this audio book. She has a good voice for reading. Every character is given a distinct voice and her pacing is great! She knows when to inflect emotion into the story and when to make her voice sound soothing. The studio production seems great as well. I give it a 5/5 Stars!
The story was good as well. The author has an interesting tale here with dragons and monks. I think the story overall is probably best for a middle grade read, but it is still a very good read! I loved the twists that were put in here. My only criticism would be about the dragons. I would like to know more about them. Right now we know hardly anything. I give it a 4/5 Stars.
I received this audiobook as part of my participation in a blog tour with Audiobookworm Promotions. The tour is being sponsored by Ava Richardson. The gifting of this audiobook did not affect my opinion of it.


Q&A with Narrator Tiffany Williams
How did you wind up narrating audiobooks? Was it always your goal or was it something you stumbled into by chance?

A good friend who started narrating audiobooks (Vikas Adam) recommended I try it, too, as I was looking for work I could do from home. Since my husband is an audio engineer and I am an actress, it seemed like a good fit. So, I auditioned, got cast, and here we are, five years later, doing audiobook production full time with our business, Airbending Media Productions, LLC.

A lot of narrators seem to have a background in theatre. Is that something you think is essential to a successful narration career?

Performance training is essential for audiobook narration, especially fiction. Having experience in theatre, improvisation, storytelling, etc. helps make a better narrator. You know how to analyze the characters and come up with the right voice for them.

What do you do to maintain your enthusiasm for narrating?

Narrating in different genres helps keep it all fresh for me. I've had the pleasure to narrate in genres like fantasy, cozy mystery, sci-fi, romance, self-help, business, kids, memoirs, and more. It's been great being introduced to new authors, and subjects (especially the business books) that have influenced my life.

What about this title compelled you to audition as narrator?

I was interested in narrating in the fantasy genre, so when the first trilogy,

Return of the Darkening

, was up for auditions, I jumped at the opportunity. I was fortunate enough to be cast, and was thrilled to be selected for

The First Dragon Rider

series, too.

How closely do you prefer to work with authors?

I love working with the authors. They can give extra insight to the characters which helps me bring more depth to them. I always pre-read before starting a book and ask follow-up questions, if necessary, to make sure I "get" the characters. Sometimes I need clarification on an accent or age, so being able to reach them, either directly or via the publisher, is wonderful.

Apr. 22nd:
Dab of Darkness Audiobook Reviews
The Dragon Slayer
Apr. 23rd:
What Is That Book About
Stacking My Book Shelves
Apr. 24th:
The Book Junkie Reads . . .
Notes from 'Round the Bend
Jazzy Book Reviews
Apr. 25th:
Happily Ever BookWorm=
T's Stuff
Apr. 26th:
The Reading Bud
Lomeraniel
Apr. 27th:
Bookworms Corner Blog Spot
Book Addict
Apr. 28th:
The Book Addict's Reviews
Holed Up In A Book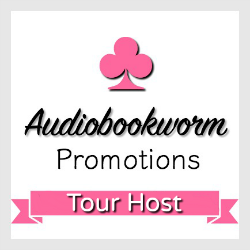 ➜Sign up as a host here