Author: Effie Kammenou
Narrators: Emily Lawrence
Length: 11 hours 2 minutes
Series: The Gift Saga, Book 2
Publisher: Effie Kammenou
Released: Feb. 16, 2018
Genre: Contemporary Romance
Book two in the Gift Saga: the continuation of Evanthia's Gift….
In 1961, five little girls moved into a suburban neighborhood and became inseparable, lifelong friends. They called themselves the Honey Hill Girls, named after the street on which they lived. As teenagers, they shared one another's ambitions and dreams, secrets and heartaches. Now, more than 30 years later, they remain devoted and loyal, supporting each other through triumphs and sorrows.
Evanthia's Gift follows the life of Sophia Giannakos. In Waiting for Aegina, the saga continues from the perspectives of Sophia and her friends as the story drifts back and forth in time, filling in the gaps as the women grow to adulthood.
Naive teenage ideals are later challenged by harsh realities, as each of their lives takes unexpected turns. Now nearing their 50th year, Sophia, Demi, Amy, Mindy, and Donna stand together through life-altering obstacles while they try to regain the lighthearted optimism of their youth.


Effie Kammenou is a first generation Greek-American who lives on Long Island with her husband and two daughters. When she's not writing, or posting recipes on her food blog, cheffieskitchen.wordpress.com, you can find her entertaining family and friends.

Evanthia's Gift: Book One in The Gift Saga was a 2016 Readers Favorite Awards finalist in the women's fiction category. Waiting for Aegina: Book Two in The Gift Saga is Kammenou's latest release. For updates on the release of Book Three, the conclusion of The Gift Saga, follow Effie on Twitter, Facebook or Amazon.


Emily is an actor and writer passionate about bringing stories to life. Her greatest strength as a performer is her ability to bring herself to the role, creating a wide range of emotionally resonant performances that leap off the page, stage, or screen. Her favorite characters are complicated, conflicted, and still searching for their inner truths. Emily's passion for her work is complimented by her persistence, resilience, and inexhaustible work ethic. She's narrated more than 160 audiobooks, half of which were USA Today or New York Times bestsellers, and has also worked in film, television, and theater. Born and raised in New York, Emily moved to Los Angeles shortly after receiving her BFA in drama from New York University's Tisch School of the Arts. She also had the privilege of living in London while studying at the Royal Academy of Dramatic Art (RADA).

​Emily's greatest loves are acting and reading, so narrating audiobooks is a dream come true. Her other passions include traveling, LARPing, aerial circus, and chocolate.

This could definitely be read as a stand-alone! The premise and theme of this book is similar to the first. Effie does a great job with these stories. There is a lot going on with the past and present being told in one story! There is friendship, family, and a lot of struggle. I truly enjoyed listening to this one. And for me I liked it a bunch more as the characters seemed more mature than the last book's! I will definitely be on the lookout for more from this author! I give this book a 4.5/5.
Narration wise I enjoyed it a lot more this time around. Emily has gotten better with the voices and her tone. Love the different voices she did for theses guys! I would love her to work more with Effie in the future. I give it a 5/5!
I received this audiobook as part of my participation in a blog tour with Audiobookworm Promotions. The tour is being sponsored by Effie Kammenou. The gifting of this audiobook did not affect my opinion of it.


Waiting For Aegina Giveaway: 3-month Audible Membership


Mar. 25th:
Jazzy Book Reviews
Amie's Book Reviews
Mar. 26th:
T's Stuff
Mar. 27th:
Happily Ever BookWorm
London's Scribbles
Mar. 28th:
What Is That Book About
Mar. 29th:
The Book Junkie Reads . . .
Mar. 30th:
Blogger Nicole Reviews
Mar. 31st:
The Book Addict's Reviews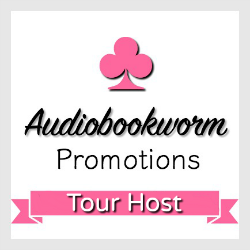 ➜Sign up as a host here