Author: Leslie North
Narrators: Rebecca Roberts
Length: 3h 36m
Publisher: Relay Publishing
Genre: Romance
Series: Solomon Brothers, Book 1
Released: April 19, 2017
Star quarterback Marcus Kingston lives and breathes football. He's trusted his abilities and instincts to get him this far, but an injury last season nearly ended his career. When his coaches want him to wear biofeedback technology to analyze his game, Marcus thinks the idea is ridiculous. Plus, the mousy scientist behind the project knows nothing about sports, and she quickly gets under his skin. But with another QB waiting on the sidelines, Marcus can either agree to participate, or be benched—permanently.

Scientist Clare Wynifred values intellect above most things. With her brain constantly working, she has little interest in her appearance and zero interest in sports. She never imagined her wearable tech being used to improve someone's game, but its success with the team could get her a military contract. Clare may be too late to save her brother, but her technology could save the lives of countless soldiers. She just has to make it work with the stubborn quarterback, and she'll be one step closer to her goal.

Marcus and Clare butt heads at first, but their mutual attraction quickly grows. And yet, with everything to lose, it's easy to ignore that together they might be able to go the distance.

Leslie North is the pen name for a critically-acclaimed author of women's contemporary romance and fiction. The anonymity gives her the perfect opportunity to paint with her full artistic palette, especially in the romance and erotic fantasy genres.
The truth of the matter is she loves her fictional persona, Leslie North, more than her normal, day-to-day persona! Her bestselling books focus on strong characters and particularly women who aren't afraid to challenge an alpha male. Inspired after years of travel, her stories are set all over the world, from the tough streets of Russia to the beautiful beaches of the middle east.

Leslie fell in love with romance when she first picked up a scrappy, dog-eared romance book from her local library. She began writing soon after and the rest, as they say, was history. She now lives in a cozy cottage on the British coast and enjoys taking long walks with her two Dalmatians, George and Fergie.

After a career in finance, Rebecca Roberts became inspired to pursue her childhood dream of becoming an actress. Her ingenuity and ardent desire brought her to voice-acting which has rapidly grown into her thriving audiobook narration and production company, Atlantis Audio Productions. She has narrated and produced over seventy audiobooks for indie authors and major publishing houses. Rebecca delivers her stories with a mature and intelligent style characterized by a believable tone, and versatility in creating memorable and individual characters with her various accents and vocal qualities. In short, she narrates with her whole heart. Rebecca is a native Floridian, proud mother to three sparkling children, and wife to the man of her dreams.



Jun. 18th: The Book Junkie Reads
Between the Coverz
Jun. 19th: Lilly's Book World
Spunky-n-Sassy
Audio Audits
Jun. 20th: WTF Are you Reading?
Desert Rose Reviews
Jun. 21st: The Bookworm Lodge
CGB Blog Tours
Jun. 22nd: Haddie's Haven
Jun. 23rd: Lynn's Romance Enthusiasm
Up 'Til Dawn
Jun. 24th: The Book Addict's Reviews
A Book and A Latte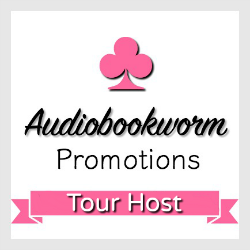 ➜Sign up as a host here