Author: Holly Ryan
Narrator: Melissa Schwairy
Length: 3 hours 23 minutes
Publisher: Holly Ryan⎮2018
Genre: Paranormal Romance
Series: The Slayer's Reverse Harem, Book 2
Release date: Oct. 23, 2018
Betraying him might save her life…but at risk of losing him forever.
Belle Harrison, vampire slayer, would give anything for a simple night of patrolling on her own damn terms. But the graveyard is crawling with creeps with hidden agendas. Not to mention the dark unknown that wants to take her out.
And we're not talking dates here, people.
Good thing Belle has three panty-melting vampires to help her.
Except one of her guys has a past that's catching up with him. Violently. Belle's fairly certain she can save him. But if she betrays him, she'll gain a wealth of knowledge that could help her survive the dark unknown.
A lot is at stake, including everything that makes her the slayer she is, and it just plain sucks.


Holly Ryan is a pen name for a USA Today bestselling author who one day said, "Screw it. I'm gonna write books with some serious sizzle." She's fueled by wine, which is where the idea probably came from.


Melissa Schwairy is a full-time narrator vocal age 20-30 living in Denver, Colorado. She has focused her acting career on narrating literature, completing titles in YA, Urban Fantasy, Murder Mysteries, and Romance. She has a BS in Counseling and Mental Health, and she is licensed in Healthcare Administration and Nursing. She loves to sing and dance in the car, and spend time with her family at home in beautiful Colorado.
Review:
So for this novel I would have liked a little less romance and more plot development by Ryan. She did a good job with connecting the characters to each other and with the steamy scenes. I was emotionally invested in the relationship. Sometimes though the steamy bits seemed to overshadow some cool and twisty plot points. Overall I'd just like more information on the smaller plot points! I give it a 3.75/5 stars.
Narration wise I'm happy to have the same person come back with this novel. She did a good job with the characters and I had a lot of fun listening to her voices for each one and emotions she invoked. It was a great listening experience! No audio issues from what I could tell. I give the narration a 5/5 stars.


BOOK ONE
Dec. 9th:
Lynn's Romance Enthusiasm
T's Stuff
Dec. 10th:
Notes from 'Round the Bend
Dec. 11th:
Jazzy Book Reviews
Dec. 12th:
Bookworms Corner Blog Spot
Dec. 13th:
Smada's Book Smack
Dec. 14th:
Turning Another Page
The Book Addict's Reviews
Dec. 15th:
Page Princess
Wonderlandiansbooks
BOOK TWO
Dec. 16th:
Notes from 'Round the Bend
Wonderlandiansbooks
Dec. 17th:
Jazzy Book Reviews
Dec. 18th:
T's Stuff
Dec. 19th:
Bookworms Corner Blog Spot
Lynn's Romance Enthusiasm
Dec. 20th:
The Book Addict's Reviews
Dec. 21st:
Turning Another Page
Dec. 22nd:
Page Princess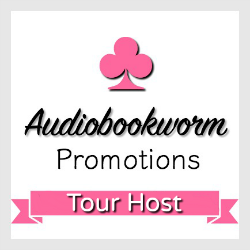 ➜Sign up as a host here