Author: Adam Vine
Narrator: Kevin Meyer
Series: Corruption Cycle, Book One
Length: 13 hours 57 minutes
Publisher: Lilydog Books
Released: July 18, 2017
Genre: Dark Fantasy


A dishonored swordsman running from his past.

A city shrouded in dark magic.

An antihero born.

Daniel Harper was champion, until a single mistake destroyed his fencing career forever. With nothing left to lose, he flees to Eastern Europe, where he can start over… where he can be someone else.

In the exotic, lantern-lit crevices of a nameless city, Daniel meets two people who open very different kinds of doors than the ones he is searching for: the troubled flower girl Kashka, who holds the key to a nightmarish otherworld; and the enigmatic street magician and self-professed love tourist Ink, who has the power to bend others to his will.

As Daniel plummets into a downward spiral of hedonism and dereliction, he is tormented by macabre visions of a frozen world in endless darkness where an evil tyrant has stolen the sun, where humanity's remnants fight to scrape out a cruel existence underground, and wandering spirits inhabit the bodies of the recently deceased. Daniel is doomed to return to this Night Country every time he falls into a deep sleep. But the longer he spends there, the more Daniel realizes his curse is anything but an accident….




Adam Vine was born in Northern California. By day, he is a game writer and designer. He has lived in four countries and visited thirty. He is the author of two novels and many short stories. When he is not writing, he is traveling, reading something icky, or teaching himself to play his mandolin. He currently lives in Germany.

Kevin Meyer is a devoted Midwesterner, raised in rural Wisconsin and transplanted to Tulsa, Oklahoma over three decades ago. A career-long voice-over and music radio guy, his iPhone playlist ranges from Alice Cooper and Waylon Jennings to Twenty One Pilots and The Zac Brown Band. Favorite reads are dominated by political biographies (Lincoln, Truman, Kennedy)… and Stephen King.



Hey guys! Today I'm reviewing the audiobook Corruption by Adam Vine and narrated by Kevin Meyer.
I definitely enjoyed the story's premise and the plot. I thought it was a very unique concept and I got hooked straight away. I like the whole not expected hero ploy and the fact that we kind of dislike Daniel throughout most of the story. He's not very heroic, yet he does step up to the plate. I'd give the story a 4/5.
For the narration, I did enjoy it in parts. But there were also a lot of issues for me. I found that Meyer sounded the same for a lot of characters. The men voices were done well and pretty distinctive for the most part, but female voices seemed to have the most issues. They didn't quite sound female nor did they have a good distinction between them. I'd have liked to listen to more variation between voices. Overall he does have an even tone and is great with emotion, just an issue with how the voices came out. So a 3.5/5 for the audio.
This is book one in a duology, so I definitely cannot wait to get my hands on the next one in this series!
I received this audiobook as part of my participation in a blog tour with Audiobookworm Promotions. The tour is being sponsored by Adam Vine. The gifting of this audiobook did not affect my opinion of it.
Q&A with Author Adam Vine
Was a possible audiobook recording something you were conscious of while writing?

No. I'm an independent author, so audiobooks are a "nice to have" rather than something I consciously plan on during the writing process. The audiobook for my first novel, Lurk has been successful – in large part due to the blog tour I did through Audiobookworm! – so doing another one for Corruption seemed reasonable.

How did you select your narrator?

For my first book, I received a bunch of auditions and chose the guy who had the best voice for the job and seemed the most professional to work with. Since I had a great experience with him the first time around, I didn't hold auditions for my next book. I reached out and asked if he'd be interested in working together again, and he accepted.

How closely did you work with your narrator before and during the recording process?

Quite closely, but I don't micro-manage. He went through the manuscript and we did a feedback round. Then he recorded the book, and I listened to each completed section and noted a few pickups needed, mostly technical errors, as I want my narrator to have as much creative control as possible over their part of the project.

Did you give them any pronunciation tips or special insight into the characters?

Not so much the characters, but because Corruption is a fantasy book based in Eastern Europe that draws heavily from Slavic and Northern European mythology, we did agree on a "pronunciation canon" before recording.

Were there any real life inspirations behind your writing?

Yes. I've spent about four years of my life living abroad outside the United States, with three of those years in Eastern Europe. The name of the country Corruption is set in is not given – it is simply referred to as "the Country" – mostly because I wanted the authorial freedom to change things or play around with the setting as needed, but also because I wanted to make it clear this is a fantasy novel – it is not an autobiography. However, certain aspects of the story were inspired by things I experienced during my Eastern European excursions.

If you had the power to time travel, would you use it? If yes, when and where would you go?

I would go back to my childhood and start the disciplines I am pursuing now much earlier.

If this title were being made into a TV series or movie, who would you cast to play the primary roles?

I would want Dan Harper, the protagonist of Corruption to be played by a handsome everyman type of guy – maybe James Franco. For Kashka, I would choose a native Polish or Ukrainian actress, and select for one who could play up the more toxic aspects of her relationship with Dan. For Zaea, I would choose an actress who is both regal and vulnerable. Emilia Clarke would be my first pic. Not sure who could play Ink.

What do you say to those who view listening to audiobooks as "cheating" or as inferior to "real reading"?

I say they're not living life. Why read one book when you can read one book and listen another? Double your efficiency, haters.

How did you celebrate after finishing this novel?

I went out with my friends for a beer. I currently live in Germany, so we do this even when there isn't a reason to celebrate.

What bits of advice would you give to aspiring authors?

Write one to two thousand words every day, five days a week, and don't stop to tinker until you finish the story.
Adam Vine's Top 10 Favorite Dark Fantasies
The Book of the New Sun – Gene Wolfe
A Song of Ice and Fire – George R.R. Martin
Master and Margarita – Mikhail Bulgakov]

The Black Company – Glen Cook

The Inferno – Dante

The Heroes – Joe Abercrombie

The Witcher Saga – Andrzej Sapkowski

Neverwhere – Neil Gaiman

The Vagrant – Peter Newman

Kings of the Wyld – Nicholas Eames

Corruption Giveaway: $10 Amazon Gift Card (5 Winners)

Sep. 13th:
Notes from 'Round the Bend
Sep. 14th:
Dab of Darkness Audiobook Reviews
Sep. 15th:
Sep. 16th:
Sep. 17th:
Sep. 18th:
Sep. 19th: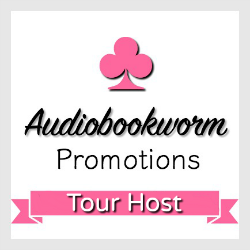 ➜Sign up as a host here