Author: Kay Dew Shostak
Narrator: Suzanne Barbetta
Series: Chancey, Book One
Length: 10h 8m
Publisher: Kay Dew Shostak
Released: Dec. 22, 2016
Genre: Contemporary Fiction


Looking in your teenage daughter's purse is never a good idea.

After all, it ended up with Carolina Jessup opening a bed & breakfast for railroad fanatics in a tiny Georgia mountain town. Carolina knows all about, and hates, small towns. How did she end up leaving her wonderful Atlanta suburbs behind while making her husband's dreams come true?

The town bully (who wears a lavender skirt and white gloves), an endless parade of teenagers through her house, and everybody's talk about a ghost have Carolina looking for an escape, or at least a way to move back home. Instead, she's front and center for all of Chancey's small town gossip.

Unlike back home in the suburbs with privacy fences and automatic garage doors, everybody in Chancey thinks your business is their business and they all love the newest Chancey business. The B&B hosts a Senate candidate, a tea for the county fair beauty contestants, and railroad nuts who sit out by the tracks and record the sound of a train going by. Yet, nobody believes Carolina prefers the 'burbs.

Oh, yeah, and if you just ignore a ghost, will it go away?




"A new voice in Southern Fiction" is how a recent reviewer labeled Kay Dew Shostak's debut novel, Next Stop, Chancey. Kay grew up in the South, then moved around the country raising a family. Always a reader, being a writer was a dream she cultivated as a journalist and editor at a small town newspaper in northern Illinois.
"Next Stop, Chancey", published in 2015, was the first in the series set in the small, imaginary town of Chancey, Georgia. The fifth book in the series, "Kids are Chancey" will be released August 2017.
Seeing the familiar and loved from new perspectives led Kay to write about the absurd, the beautiful, and the funny in her South in both her fiction and non-fiction.
Visit Kay's website at kaydewshostak.com to sign up for her newsletter and to read more about her journey. Kay is also on Facebook and twitter. All four Chancey books (along with the first in a new series set in Florida) are available on Amazon in print and eBook.

Suzanne Barbetta is a Jersey girl, a blue collar kid from Jersey City who binged on B-Movie Musicals and Godzilla flicks as a kid. She became a voracious reader when she realized the magic of books allowed her to become anyone, anywhere, and in any world. A storyteller and performer since the age of 5, she later apprenticed at 2 regional theaters earned her union card and became a proud member of SAG-AFTRA. She's worked in theater, indie films and commercial voiceover. Audiobooks are a way to satisfy her pathological addiction to reading. Now based in NYC, she is also the voice of the Fierce, Funny, Fab Fangirls of the new Serial Box Publishing audio series, Geek Actually.



Hey Guys! Today I'm reviewing the audiobook Next Stop Chancey by Kay Dew Shostak and narrated by Suzanne Barbetta!
If you love small town stories that take place in the South then this is a story for you. I thought the characters were cute and funny and that the author wrote something thoroughly engaging. I love these small town stories. I always find them to be both simple, but amazing at the same time. I would give this story a 4.5/5 stars.
What really made the book for me was Barbetta's narration. She was able to make the words turn into a film right in my head! She has a wonderfully smooth voice that just works well with this type of story. I would love to listen to another book with her as a narrator. I would give this audio experience a 5/5!!
I received this audiobook as part of my participation in a blog tour with Audiobookworm Promotions. The tour is being sponsored by Suzanne Barbetta. The gifting of this audiobook did not affect my opinion of it.

Q&A with Narrator Suzanne Barbetta
When did you know you wanted to be an audiobook narrator? When I was a kid, I was sickly and I LOVED reading. It was my great escape, a way to go anywhere. My younger sister didn't enjoy reading and I thought that was a shame so I picked out a Nancy Drew book one day and read it to her to try to entice her to read. And it worked! Once I became a narrator, she reminded me of this. So – I kind of feel like this is something I wanted to do since I was a teenager, before I know this could be a career.
How did you wind up narrating audiobooks? Was it always your goal or was it something you stumbled into by chance? Already a theater and indie film actress, I decided to try commercial VO. I created a demo and booked some spots, but decided that I the form or VO that really intrigued me was audiobooks. As a voracious reader, it seemed like a natural step. So I went to the E.I.F. VO Lab at the SAG-AFTRA Foundation and brought in an excerpt from a book. The engineer asked me if I was auditioning for audiobooks and I told her I wasn't. She told me I SHOULD be. She asked if I worked through ACX and I told her no because I had no equipment or training to self-record. She told me not to let that stop me and she walked me through setting up an account. She told me to bring all my auditions to the lab and we'd practice and record there.
A lot of narrators seem to have a background in theatre. Is that something you think is essential to a successful narration career? I DO know successful narrators without that background, but I think that it is extremely helpful to have it. HOWEVER, it's a different way of telling a story – there's mic technique and a hundred other things to learn that are SO different from stage acting and it takes time and patience to learn that.
What type of training have you undergone? I worked with the engineers/directors at the SAG-AFTRA Foundation's EIF VO Lab, coached privately with Jayme Mattler, Paul Alan Ruben and Carol Monda and I've just started coaching with Andi Arndt. .I also study dialects using various resources and plan to work with a coach who specializes in dialects because I think it's so important AND one of the most fun aspects of the work.
How do you manage to avoid burn-out? What do you do to maintain your enthusiasm for narrating? I am a voracious reader and love narrating so I cannot imagine getting burned out. Talk to me in 10 years. But, seriously, I plan on doing this work for as long as I'm able to read and speak.
Are you an audiobook listener? What about the audiobook format appeals to you? Yes, I'm an avid listener and I have my own favorites. I binge-listen to narrators I like so I can hear how they perform across genres.
What are your favorite and least favorite parts of narrating an audiobook? The prep work and the prep work! It can be really fun because you learn about new topics/subjects you might not have had any interest in. But sometimes it's maddening because you're looking at multiple sources and the sources conflict, and you want to get it right so that ca be a bit frustrating. My real favorite part is when you reach that ZONE where everything is just flowing. I. LOVE. THAT.
What would you say are your strongest narration abilities? Infusing humor and warmth into stories. I'm also great with 1st person reads.
Is there a particular genre you feel unsuited for? Have you ever declined a project because you didn't think you were right for it? Highly technical medical texts. No, I've turned projects down for lack of pay rate but I try to audition for things I think are a great fit for me.
What about this title compelled you to audition as narrator? I strongly connected with the viewpoint of the main character Carolina Jessup. She's a bit snarky and an odd duck, and she has this funny monologue going on in her head no matter what is happening.
How closely do you prefer to work with authors? Oh, if they want to participate in the process, that's great, they can be a great resource if the text brings up additional questions. I consider the author a partner. I ask for pronunciation guides and input on how THEY see certain characters if it's not clearly stated in the text.
Who are your "accent inspirations"? Davina Porter is British of course, so she's great for multiple English accents and also does GREAT scottish accents (and male voices). I also listen to Caroline Lee (Australian) so if I need an Australian accent that's who I'd model it after.
How did you decide how each character should sound in this title? Clues in the text whenever possible: descriptions of voice, tone, accent. Physical descriptions, meaning age, physical build etc, as well as speech pattern indicators in the text.
What types of things are harmful to your voice? Cold beverages – I cannot drink cold water in the booth. It makes my stomach AND my throat gurgle like CRAZY. If I'm at a Giants game I no longer cheer by screaming like a loon – which is a little frustrating but I wave my hands around like a lunatic instead. (Compromises….)
Have there been any characters that you really connected with? In the series I'm recording now, Geek Actually, (a serialized fiction podcast released in weekly episodes), there are 5 main female characters. They're smart, geeky, funny, irreverent, feminists. Besties who met each other playing World of Warcraft or at Cons. I. LOVE. THEM. There is part of each one of those women inside me.
If you had the power to time travel, would you use it? If yes, when and where would you go? Ooooohhhh, it would be fun to go to Sicily or Ireland, my ancestors' home turf. But I'm SUCH a trouble-maker, I'd either be burned as a witch or expelled from wherever. Oh yeah. Think Claire in the Outlander series. Yup, that'd be me, stirring the you-know-what, refusing to stay in "my place".
How does audiobook narration differ from other types of voiceover work you've done? Many other types of voiceover are sprints, not marathons. It requires much more technical research and prep than other forms of VO.
Do you read reviews for your audiobooks? Yes.
If so, which ones stand out to you most, positive or negative? I've not gotten any harsh reviews so I have to say mostly the positive stand out.
What type of the review comments do you find most constructive? What about the narration really worked or affected them and why? Specific comments are best. General comments are not all helpful. I did a fun comic-romance and several listeners said it was Laugh-Out-Loud funny and talked about how much they loved some of the characters. That's really helpful knowing exactly I nailed for you, what really worked for you as a listener.
If you could narrate one book from your youth what would it be and why? Can I pick two? The Mixed Up Files of Mrs. Basil E. Frankweiler. For years I dreamed about running away and sleeping over in the Museum of Natural History just like the kids in that story. (Because I'm a dinosaur freak, and briefly wanted to be a paleontologist, I reveled in the idea of crashing in the museum with all those fossils.) The other is 101 Dalmations. I am a dog-nut and read this book TEN times when I was young. It would be awesome to voice all those dogs and Cruella DeVil!
What do you say to those who view listening to audiobooks as "cheating" or as inferior to "real reading"? I don't understand why anyone thinks this is cheating. You get the value of the story and vocabulary as if you were 'reading' the book, it's just enhanced with audio. You get the author's full story. I would also say that telling stories out loud is one of the oldest art forms out there. Now it just happens to be available digitally instead of around a campfire. (But you can LISTEN around a campfire if you like, LOL.)
What bits of advice would you give to aspiring audiobook narrators? Listen to audiobooks by experienced narrators. Be humble. Coach and get advice from

knowledgeable

people in the business. Do your homework! There is a long learning curve for audiobook narration, so be patient with yourself.
What's next for you? Finishing up the last episodes of the 1st season of Geek Actually, available at Serial Box Publishing (download the ebook AND audio this through their app at

https://www.serialbox.com/serials/geekactually

); contributing 2 stories (fantasy/sci-fi) to a short story collection, beginning a public domain series written by Edna Ferber, the Edna McChesney serie,

www.Listen2aBook.com

.
With Narrator Suzanne Barbetta
Waffle fries or curly fries? Cajun spiced sweet potato fries. TOTALLY addicted.
GIF with a hard g or soft g? Hard G.
Fantasy or science-fiction? SUCH A GEEK-GIRL. I've watched all the Star Wars/Star Trek movies and all the Star Trek series but at the end of the day my favorite fiction genre to read is Epic Fantasy.
Superman or Batman? Batman. Because…Batgirl.
Text message or call? Depends: Mom = Call. Friends = Text/IM
Pancakes or waffles? Pumpkin pancakes!
Doctor Who or the Walking Dead? Dr. Who
TV Shows or movies? Movies.
Facebook or Twitter? Facebook.
Alice in Wonderland or Robinson Crusoe? Always Alice.
Being too warm or too cold? Too Cold = hot chocolate + marshmallows.
Netflix or Hulu? Netflix.
Work Hard or Play Hard? Both. I am a certified Scuba Diver (I prefer clear blue water, gorgeous reef, colorful fish, but SOMETIMES it means hauling heavy gear and rough water).
Passenger or Driver? Passenger so I get to watch the scenery.
Amusement Park or Day at the Beach? Beach.
Honesty or Other's Feelings? Yeesh, Who've you been talking to? So…I am direct but like to think I've mellowed a bit so that I'm not TOTALLY tactless. But…if I had a ringtone, it would be Sledgehammer. ;-p
Movie at Home or Movie at the Theater? Movie Theater if it's a blockbuster movie.'Cuz who wants to watch Wonder Woman at HOME??
"Reasons I Chose to Narrate Next Stop, Chancey"- Suzanne Barbetta
I loved Carolina Jessup, the main character, and her wry wit.
I grew up a city kid, so I got to experience life in a small town.
A fun supporting cast of town gossips, sullen teens, cranky old men, train nuts, and a bully swathed in lavender and white gloves – a true Steel Magnolia.
Because it's the story of an imperfect mother learning to stand her ground, stand up for herself and overcome long-time fears and hang-ups.
Portrayal of a strong, but not perfect marriage: I love a romance and HEA as much as the next girl, but Carolina and her husband share an affection and intimacy that seemed strong and REAL without us needing to see them in the bedroom.

Next Stop, Chancey Giveaway: $10 Amazon Gift Card

Aug. 23rd:
Shh, I Am Reading
CGB Blog Tours
The Literary Apothecary
Aug. 24th:
The Bookworm Lodge
Aug. 25th:
Jazzy Book Reviews
Between the Coverz
Aug. 26th:
Tara's Book Addiction
Aug. 27th:
Buried Under Books
Seitenwinde
Aug. 28th:
Jorie Loves A Story
Lomeraniel
Elsie's Audiobook Digest
Aug. 29th:
The Book Addict's Reviews
Jorie Loves A Story
Wall-to-Wall Books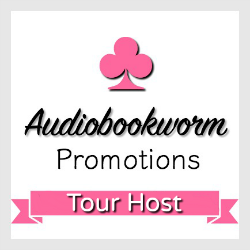 ➜Sign up as a host here