Author: Kyle Alexander Romines
Narrator: Matt Addis
Length: 7 hours 28 minutes
Series: Warden of Fál, Book 1
Publisher: Kyle Alexander Romines
Released: Apr. 30, 2019
Genre: Epic Fantasy
The job sounded simple enough. Rid the village of an ogre and rescue the girl. In return, the local lord would overlook that ugly business in the church. It was nothing he hadn't dealt with before.
That was before he heard the howls coming from the Bog of Móin Alúin. Before he crossed paths with the headless rider. Before he woke to find the witch's crooked fingers on his face.
Now, Berengar must unravel the labyrinth of secrets and lies surrounding the village before a deadly curse claims his life, all while a darker evil looms in the shadows….






Kyle Alexander Romines is a teller of tales from the hills of Kentucky. He enjoys good reads, thunderstorms, and anything edible. His writing interests include fantasy, science fiction, horror, and western.
Kyle's debut horror novel, The Keeper of the Crows, appeared on the Preliminary Ballot of the 2015 Bram Stoker Awards in the category of Superior Achievement in a First Novel. He obtained his M.D. from the University of Louisville School of Medicine.
You can contact Kyle at thekylealexander@hotmail.com. You can also subscribe to his author newsletter to receive email updates and FREE electronic copies of his Warden of Fál prequel short, The Path of Vengeance, AND his horror/science fiction novella, The Chrononaut, at http://eepurl.com/bsvhYP.


Matt works extensively on stage & screen, but has always had a driving passion for audio, and has enjoyed creating original work with some of the greatest talents and companies in the business – hundreds of audiobooks for the BBC, Audible Studios, Random House, Oxford University Press, Hachette, Little, Brown, WF Howes, London Wall, Big Finish and the Royal National Institute of Blind People. His voice is also familiar to BBC listeners around the globe in radio plays, comedies, documentary features, books and poetry readings.
Matt has a passion for working with authors to ensure that their titles are transformed into audiobooks that not only remain true to the text, but lift themselves off the page with a passion and intellect that allows stories and characters to blossom. His skills were recently recognised when bestselling sci-fi thriller THE STONE MAN was the only acx title to be nominated for the prestigious AUDIBLE AUDIOBOOK OF THE YEAR 2015, in a finalist pool that included work by JK Rowling, Sylvia Plath and Stephen King.
You can read listeners' reviews of The Stone Man and many others at http://www.mattaddis.com/chocolatefox/reviews.html and also learn more about the team that will produce, edit, proof and master your audiobook.
Matt read English and French at the University of Manchester, and worked around the globe in New Technologies before formally training as an actor at the prestigious Mountview Academy in London.

The main thing I really loved about this novel was Matt Addis. He was so interesting with his character voices. Everyone sounded so fun with their different accents and tones to their voices. His narration really put the story over the top! I think he makes for an excellent fantasy storyteller and I hope to hear more of him in the future. 5/5 stars.
Romines' story had a lot of ups and downs. The backstory of Ireland and their ruling system helped a lot of the story to make sense. It was just enough exposition without making everything coMplicated or boring. I will definitely check out this author in the future, and I really recommend if you enjoy fighting and people trying to get to the top! 5/5 stars.
I received this audiobook as part of my participation in a blog tour with Audiobookworm Promotions. The tour is being sponsored by Kyle Alexander Romines. The gifting of this audiobook did not affect my opinion of it.



Jul. 2nd:
Viviana MacKade
Jul. 3rd:
Valerie Ullmer | Romance Author
Jul. 4th:
Dab of Darkness Book Reviews
The Book Addict's Reviews
Jul. 5th:
My World…In Words and Pages
The Book Junkie Reads . . .
Jul. 6th:
Momma Says To Read or Not to Read
Locks, Hooks and Books
Jul. 7th:
Crossroad Reviews
T's Stuff
Jul. 8th:
Notes from 'Round the Bend
Jazzy Book Reviews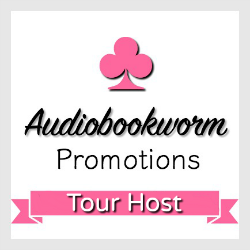 ➜Sign up as a host here