Author: Keith Latch; Steve Wands
Narrator: Matthew Berry
Length: 5 hours and 34 minutes
Publisher: Keith Latch, Steve Wands
Released: Apr. 18, 2019
Genre: Horror
Occult investigator Sam Logan receives a cryptic call about a man's missing son that leads him and his partner, Carter Mason – a disabled veteran – into a small town infested with vampires. With each hour they spend in town after dark they discover just how deep the infestation runs and just how unlikely father and son will be reunited.
Trail of Blood is an exciting, blood-soaked, pause-resister for fans of The Lost Boys and Hellblazer.



At the age of 12, Keith read Dean Koontz's The Voice of Night. Thus, began his love affair with the things that go bump in the night and the things that are not easily explained. Cemetery Things is the author's second novel. Currently, he lives in a small town in the American South with his wife and is hard at work on his next novel.

STEVE WANDS is an Indie author, Artist, and Comic Book Letterer. He works on top titles at DC Comics, Image, and Random House. He's the author of the Stay Dead series, co-author to Trail of Blood, and is a writer of short stories. When not working he spends time with his wife and sons in New Jersey.


Matthew has been very active in his career as a radiologic technologist, but something was nagging at him. His urging to be involved with the written word. The medical journals he wrote did not fill the desire for the kind of words he wanted to be a part of. He had always considered himself a writer. But one that often had difficulties completing the story. So, how else could he be involved? Matthew began listening to audiobooks and decided in 2017 that he was going to give it a try.
He now has 9 audiobook projects on sale at Amazon, Audible, and iTunes with two projects in the works.

Latch and Wands created a very intriguing story here. A father hires vampire hunters to save his son who was recently turned. A lot of tension in this novel. Many characters almost at each others' throats trying to get on top of one another. I had a lot of fun getting through this novel and waiting to see how everything would turn out. Loads of twists and good amount of horror mixed in! 5/5 stars for this compelling story. I hope there's a sequel!
The narration is just as awesome. I found myself easily caught up in this world and in part was due to the narration. All the characters had different voices and were very distinct. No audio blips that I could tell. 5/5 stars.
I received this audiobook as part of my participation in a blog tour with Audiobookworm Promotions. The tour is being sponsored by Matt Berry. The gifting of this audiobook did not affect my opinion of it.


Q&A with Sam and Carter of Trail of Blood

Would you ever tell a lie to get yourself out of trouble?

Sam: Guess that depends on the lie and the level of trouble I'm in.

In moments of big decisions, do you listen to your head or your heart?

Sam: Heart or gut, always. Trust your instincts.

If you had to state one emotion that typically describes you, what would it be?

Sam: Overwhelming Joy.

Carter: Ha! Does a constant simmering rage qualify as an emotion?

Sam: Fuck off.

Do you prefer being by yourself (Introvert) or with other people (Extrovert)?

Sam: Carter, want to take this one, too?

Carter: No, no. I'm good.

Sam: Sorry, what was the question? Oh, introvert or extrovert, right? I definitely prefer being with other people.

Carter: Bartenders and the opposite sex, only though.

Sam: Fuck this. You do the damned interview while I go out for a smoke.

Who is the most important person in your life?

Carter: He'd say me. Definitely.

If you were filling out an online dating profile, what would you say you were looking for?

Carter: Sam would probably give you a wiseass remark like, "a way out."

What's your idea of romance?

Carter: I don't think Sam has an idea on romance.

How do you feel about black tie events?

Sam: I love them, most of my events are black tie be default.

Carter: That was a quick smoke. Just because you generally wear a tie, doesn't make an event 'black tie'.

What relaxes you when you are stressed?

Sam/Carter (in unison): Bourbon.

If you listen to music, what kind of music do you like?

Sam: All kinds. Depends on the mood. None of that top 40 shit, though.

Do you have any pet peeves?

Sam: I really can't stand it when a bloodsucker ruins a perfectly good shirt. I should just go hunting in a poncho.
src="https://audiobookwormpromotions.com/wp-content/uploads/2017/06/Narrator-Interview-1.png" alt="" width="493″ height="103″ />
Q&A with Matt Berry, Narrator of Trail of Blood
How did you wind up narrating audiobooks? Was it always your goal or was it something you stumbled into by chance?

I definitely never pictured myself becoming an audiobook narrator. I wrote a novel when I was a lot younger that I never published, but thought if I got to that point, I would probably want it in audio format. So I began investigating what it takes to get a book turned into an audiobook format and found ACX which allows authors to post narration needs and narrators to audition for titles. I've always wanted to be involved in fiction, either writing or some other way. I have a difficult problem finishing things I start writing, so I knew if I really wanted to be involved, I would have to do so in another way. I was lucky enough to get my first novel to narrate on my second audition. Which is also good as the editing takes quite some time and I probably wouldn't have kept auditioning if I didn't get the books.

A lot of narrators seem to have a background in theatre. Is that something you think is essential to a successful narration career?

While I agree it is very helpful for those with theatre backgrounds to apply their skills they have learned to voice acting, I don't think it is essential or necessary in any way to become successful in a narration career. As with any endeavor we embark on, we often learn as we go and become better with more practice. So really, I would only say that passion, practice and patience are really the essential needs for a narrator.

Are you an audiobook listener? What about the audiobook format appeals to you?

Most definitely! I listen to audiobooks on a daily basis and love the fact that I can do so while performing other tasks. I listen to them while I travel, while doing chores around the house, and pretty much anytime I am not actively working on something else. It's really a great way to keep up with your favorite authors without committing to solo time with the book.

What are your favorite and least favorite parts of narrating an audiobook?

My favorite part of narrating an audiobook is delving in to the characters mind and becoming them for awhile. It's also pretty fun to collaborate with the authors on their project and learning more about the characters and the written story on a level most people never knew existed. Editing the files after they have been narrated is the part I dislike the most. However, I pride myself in my editing skills, and haven't found someone who can do the job to my expectations.

What about this title compelled you to audition as narrator?

Trail of Blood was so fun to perform and I almost didn't get the opportunity. I was just finishing up work on a previous title when I was contacted by Steve Wands asking if I would consider auditioning for the title. He had listened to some of my samples on-line and thought I would be a great fit. I was actually planning to take a short break from narrating as I began to write my own novel, and I had quite a few to-do's on my plate, but once I read their script, I knew it was going to be a fun project. I put in my audition that week and didn't look back!

How closely do you prefer to work with authors?

I think author participation is paramount to publishing an audiobook well. Everyone thinks of characters in their own way, often not at all what the author was intending. Even with the books I have performed, I can tell a big difference when the author was involved and chose to have a say in what they were hearing versus an author who just lets me do my own thing.

Do you read reviews for your audiobooks?

I read every review that is posted for my audiobooks. For the most part, I enjoy this process and like hearing opinions that are offered on my performance. Then there are times where I wish I wouldn't have looked at all. Constructive criticism is an excellent tool to make a person better, but when it is just written in a rude or mean way, it isn't helpful at all. One of my first books I performed had three written reviews right away describing my bland performance and apparent speech impediment ect… I was in the process of recording the second novel in that five book series when those reviews came out for the first book. Shortly afterwards, the author let me know I would not be continuing as narrator after the second book was finished. After reading these negative reviews and losing out on the other three books of the series, I almost gave up altogether. I'm really glad that I didn't and I chose to continue.

Who is your "dream author" that you would like to record for?

If Brandon Sanderson ever asked me to work on one of his novels, I would be ecstatic. He would be my number one author I would want to narrate for. Stephen King would be a close second and I would love to work for either one.

Hint Hint

just give me a call fellows.

If you could narrate one book from your youth what would it be and why?

This is a pretty funny question to be asked right now as this is something that actually might be happening. Back in 1996 I was just finishing middle school when our class had a "reading" of Theresa Nelson's "The Beggar's Ride". I read the part of "Racer" and obviously nailed it perfectly. Later that year, Theresa came to a book signing where I told her all about my awesome performance and I picked up a copy of "The Beggar's Ride" She wrote me a very nice note in the book stating she wished she could have heard me read that part and she autographed it. Fast forward 23 years later, I now narrate audiobooks and I pull this book out of a small box that is one of the only things left from before I was married. After reading the inscription Theresa had left me, I wondered who performed the audiobook version of her book. After looking her up online, I found her website with a current email address listed and also found out the book was never made into an audiobook format. That was a couple of months ago and since then, we have been communicating back and forth over the possibliity of making an audiobook version. It certainly isn't official that "The Beggars Ride" will become an audiobook, or that I will be the narrator, but if it does happen, I think that would be one heck of a story.

What's next for you?

I have three projects in my current workqueue…I am currently in the process of recording "Dreamscape Adventures Inc." by author C.A. Gray. I have about 75% of the novel recorded and approximately 50% edited and complete. We are anticipating a release date in late June/July. After that, I will begin recording "Lovesick" by author Jon Athan, which has been fluctuating within the top 100 U.S Horror Fiction titles since its release. Once that title is out, my attention will then focus on recording "Overthrown – The Chronicles of Denoril: Book 1 The Delving" by Author Aaron Bunce.
Q&A with Steve Wands, Author of Trail of Blood
Tell us about the process of turning your book into an audiobook.

We initially had a different narrator that we had to part ways with. Keith and I were bummed out about it as it was a process that ended up wasting months. Then we found Matt and he's impressed us at every chance. We loved his audition and once we partnered up we delivered a bunch of notes and made sure Matt had everything he needed to focus on the production. Once we approved the first 15 minutes he was really on his own. As a creative I'm not a fan of being micro-managed on any project so it was important to give Matt room to make the audio his own.

Do you believe certain types of writing translate better into audiobook format?

Possibly. Trail of Blood is only my second audiobook. I've listened to hundreds, but I've only gotten a better understanding of them as I've been a part of them. I certainly can see how some books might be better as a performance than a narration, or how a book or story can be better served with a full cast and sound effects.

Was a possible audiobook recording something you were conscious of while writing?

With Trail of Blood it was, but it didn't affect the way in which Keith and I wrote it.

How did you select your narrator?

I came across his samples on ACX and shared them with Keith. We asked if he was interested in auditioning. Luckily for us, he said yes and we loved his audition.

How closely did you work with your narrator before and during the recording process?

Before he began production we gave him everything he wanted and maybe more. We put together a character list with how we heard them in our heads. We created a casting of sorts to give Matt some reference/inspiration. And we tried to give all the notes we could upfront. We wanted to be very mindful of the editing process and cut down on any extra work on account of any sort of lack of preparation.

Were there any real life inspirations behind your writing?

Much of Trail Of Blood is our love letter to horror, but the setting is very real in my mind. It's loosely based on a town I lived in for a number of years. How Paulie and his friends spend their nights are similar to how I spent mine—without the vampirism of course.

How do you manage to avoid burn-out? What do you do to maintain your enthusiasm for writing?

That's easy. Though I'd love to write full-time, I don't. I write when I can for as long as I can and every time I can carve out a little writing time I'm already enthusiastic about it.

Are you an audiobook listener? What about the audiobook format appeals to you?

I am. I spend most of my days lettering comic books so being able to listen to a book while I work is amazing.

Is there a particular part of this story that you feel is more resonating in the audiobook performance than in the book format?

I think you get a better sense of who the characters are because of Matt's performance. He got to know the characters before he began recording which I think comes through in his delivery. When you read the book, you get to know the characters over the course of the story, but with audio, Matt's already been able to distill some of that at the start.

If you had the power to time travel, would you use it? If yes, when and where would you go?

How could I not? I think seeing the dinosaurs would be awesome. The kids would certainly get a kick out of that! Probably to my younger self with a list of things to do and maybe more importantly not to do. I love the cars from the 50s-60s so I might have to make a stop and do a little cruising.

If this title were being made into a TV series or movie, who would you cast to play the primary roles?

Matt Ryan (Constantine) as Sam Logan, David Ramsey (Arrow) as Carter mason, Julianne Moore as June Zane, Ray Liotta as Mofan, Gary Oldman as Brannon Rekots, and Stana Katic as Melody Monroe. Netflix, call us!

What do you say to those who view listening to audiobooks as "cheating" or as inferior to "real reading"?

That audiobooks are their own thing and they should give them a try. Audiobooks have come along way since the first time I listened to one. However you can ingest stories you should. There's nothing wrong with watching a movie based on a book you like. It doesn't change the book. You can take a walk and listen to audiobook, hit the road and not worry about commercials. It's just one more way to entertain yourself and it doesn't have to be a matter of which form is superior or pure.

How did you celebrate after finishing this novel?

Pretty sure bourbon was involved.

What gets you out of a writing slump? What about a reading slump?

Walk away and come back when you're in the right headspace.

What's next for you?

I'm two books away from finishing my Stay Dead series, book 5 is next. I have a collection in the works, a stand alone novella and Keith and I are chipping away on a sequel to Trail of Blood.


June 23rd:
T's Stuff
Valerie Ullmer | Romance Author
Crossroad Reviews
June 24th:
The Book Junkie Reads . . .
June 25th:
Jazzy Book Reviews
June 26th:
Dab of Darkness Audiobook Reviews
eBook Addicts
June 27th:
Momma Says To Read or Not to Read
The Book Addict's Reviews
June 28th:
Notes from 'Round the Bend
From the TBR Pile
June 29th:
A Page to Turn
Turning Another Page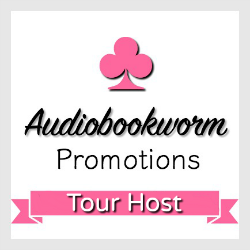 ➜Sign up as a host here