Author: Isobel Starling
Narrator: Gary Furlong
Length: 9 hours 43 minutes
Series: The Quiet Work, Book 1
Publisher: Decent Fellows Press
Released: Apr. 24, 2019
Genre: LGBT Fantasy Romance
A new LGBT fantasy series from award-winning author Isobel Starling
A lost lordling, a farm boy, and a tale of mystery, magic, and murder!
After a traumatic event, Winter Aeling finds himself destitute and penniless in the backwater town of Mallowick. He needs to travel to the city of Serein and impart grave news that will bring war to the Empire, but without a horse, money, and with not a soul willing to help him, he has no choice but to line up with the common folk seeking paid work on the harvest.
As wagons roll into the market square and farmers choose day laborers, Winter is singled out for abuse by a brute of a farmer. The only man who stands up for him is the farmer's beguiling son, Adam, and on locking eyes with the swarthy young man Winter feels the immediate spark of attraction.
Winter soon realizes there is a reason he has been drawn to Blackdown Farm. The farmer possesses a precious item that was stolen long ago from Winter's family, and he determines to retrieve it. He also cannot take his eyes off Adam, and as the young man opens up Winter can't help wondering if Adam is just kind or his kind!


Isobel Starling spent most of her twenty-year professional career making art in Ireland. She relocated to the UK and, faced with the dreaded artist's creative block, Isobel started to write fantasy and found she loved writing more than making art.
Isobel writes M/M fantasy, thrillers, and comedy, and to date, has written twenty books, 11 of which are audiobooks narrated by Gary Furlong .
In 2018 Isobel Starling and Gary Furlong won what is now called The Independent Audiobook Award – Romance Category with the audiobook "As You Wish" .
Isobel and Gary are also finalists for the 2019 Independent Audiobook Awards in the LGBTQ+ Category with the audiobook "Sweet Thing".


Originally from Ireland, Gary Furlong worked a teacher in Niigata, Japan; a puppeteer in Prague; an improv artist in Memphis, and a festival performer in Ireland.
A naturally-gifted mimic, Gary began narrating audiobooks for a living in 2015 and hasn't looked back.
Gary specializes in accents and dialect, with fluency in Irish, British RP, and Standard American.
In four years of working full-time with audiobook production, Gary has narrated over 100 audiobooks spanning Fantasy,Thriller, Romance, YA, and non-fiction for world-class publishing houses and independent authors.
In 2018 Gary won a much coveted AudioFile Earphones Award and the Independent Audiobook Award for Romance.
He now lives in Texas with his wife and their golden retriever called "Gansey," which means "Sweater" in Irish Gaelic.

So the synopsis of this story does a great job of explaining what this novel is all about! I really had a blast learning about these characters' lives and the mystery surrounding them. I definitely recommend taking this novel for a spin as you will be hooked after the first chapter. This author does n amazing job with their hooks. 5/5 stars.
The narration isn't excellent as well. He did an awesome job of inflections the perfect  tone! His pacing was on point as well. No complaints. 5/5!
I received this audiobook as part of my participation in a blog tour with Audiobookworm Promotions. The tour is being sponsored by Isobel Starling. The gifting of this audiobook did not affect my opinion of it.


Giveaway: Apple Boy Prize Pack
Apple Boy Giveaway: Apple Boy Prize Pack


May 29th:
Valerie Ullmer | Romance Author
Kimmers Erotic Book Banter
The Book Junkie Reads . . .
May 30th:
Jazzy Book Reviews
May 31st:
Dab of Darkness Book Reviews
Jun. 1st:
Turning Another Page
Jun. 2nd:
Notes from 'Round the Bend
Jun. 3rd:
Making it Happen
Jun. 4th:
The Book Addict's Reviews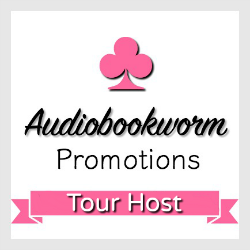 ➜Sign up as a host here