Author: B. T. Gottfred
Narrator: Rene Ruiz
Length: 9 hours and 39 minutes
Publisher: Forever Young Audiobooks
Released: Mar. 5, 2019
Genre: Young Adult Romance


When Carolina and Trevor meet on their first day of school, something draws them to each other. They gradually share first kisses, first touches, first everythings. When they're together, nothing else matters. But one of them will make a choice, and the other a mistake, that will break what they thought was unbreakable. Both will wish they could fall in love again for the first time – but first love, by definition, can't happen twice.

Told in Carolina's and Trevor's alternating voices, this is an up-close-and-personal story of two teenagers falling in love for the first time…and discovering it might not last forever.

BT Gottfred is a screenwriter, producer, director, playwright and young adult novelist. His third book, THE HANDSOME GIRL AND HER BEAUTIFUL BOY, was just released on May 8th by Macmillan/Holt. His debut novel, FOREVER FOR A YEAR, was followed by THE NERDY AND THE DIRTY. Brad wrote and directed the critically acclaimed play WOMEN ARE CRAZY BECAUSE MEN ARE A**HOLES that played to sold out audiences for over four years in Los Angeles, Chicago, and New York. He wrote and directed the digital series THE BOONIES, which premiered on go90 in 2017. Gottfred also wrote, directed, and executive produced the feature film THE MOVIE HERO, which played at over 20 film festivals worldwide, winning numerous awards including the Audience Award at the Austin Film Festival.
In June, 2017, Gottfred co-founded the film/tv/digital production house BOLD SOUL STUDIOS with new media pioneer Corey Moss. Their first feature, CONFESSIONAL, which Gottfred directed, will come out in 2019.

Rene was inspired to be a performer at an early age growing up in Austin, TX. He studied Music Education at the University of Texas and has won acclaim in local productions and musical revues including roles in WEST SIDE STORY, A CHORUS LINE and FOREVER PLAID. He relocated to Orlando, Florida where he began a long stint as a featured actor, singer and emcee/announcer for the Walt Disney World, Co. In his role as emcee/announcer, Rene recorded park announcements and hosted several live shows at the Disney/MGM Studios and EPCOT including the MONSTER SOUND EFFECTS SHOW, SUPERSTAR TELEVISION, and the INDIANA JONES EPIC STUNT SPECTACULAR. He was also an interviewer for hundreds of visiting celebrities including Madonna, Britney Spears and Ann Margret. As a singer at the parks, Rene sang with several of the acappella groups in the parks including the world-renowned VOICES OF LIBERTY at EPCOT and the male quartet FOUR FOR A DOLLAR. He also performed with the Hollywood Hi-Tones, a 50's doo-wop quartet based at Universal Studios Orlando. He has spent much of the last ten years performing with TOXIC AUDIO, an acappella concept show he created and directed in 1998. In 2004, the show opened Off-Broadway and quickly won the Drama Desk Award for Unique Theatrical Experience. He has toured the world with the show performing in New York, Las Vegas, Japan and Barcelona. The group still performs around the world as VOX AUDIO. While in Las Vegas he worked with BARRY MANILOW- THE HITS at the Las Vegas Hilton and hosted the $1,000,000 VEGAS GAME SHOW at the Planet Hollywood Resort and Casino. He has recently recorded several audiobooks for Audible.com and freelances as a performance coach, studio session singer, improv comedian and stage director.

Gottfred did an amazing job of creating a romance that was sweet and terrible all at the same time. It brought me back to my high school days and my feelings about love at that time. If you're looking for a time machine to give you that drama and teenage passion I definitely recommend reading or listening to this wonderful story! The characters are just so full of life and their situations all too real. 5/5 stars.
Ruiz was excellent as a narrator as well! Loved his voice acting and definitely think the two should pair up for more books in the future! There weren't any audio blips I noticed. 5/5 stars.
I received this audiobook as part of my participation in a blog tour with Audiobookworm Promotions. The tour is being sponsored by Forever Young Audiobooks. The gifting of this audiobook did not affect my opinion of it.

Apr. 25th:
Apr. 26th:
Apr. 27th:
Apr. 28th:
Apr. 29th:
Apr. 30th:
Valerie Ullmer | Romance Author
May 1st: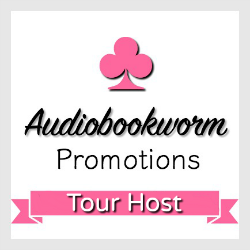 ➜Sign up as a host here