Author: Lars D. H. Hedbor
Narrator: Shamaan Casey
Length: 5 hours 41 minutes
Series: Tales From a Revolution
Publisher: Brief Candle Press
Released: Jan. 17, 2019
Genre: Historical Fiction
What does liberty mean for a freedman?
Calabar was brought from Africa to North Carolina as a boy and sold on the docks as chattel property to a plantation owner. On the plantation, he learned the intricacies of indigo production, fell in love, and started a family.
Abruptly released from bondage, he must find his way in a society that has no place for him, but which is itself struggling with the threat of British domination. Reeling from personal griefs, and drawn into the chaos of the Revolution, Calabar knows that the wrong moves could cost him his freedom – and that of the nation.
The Freedman is Hedbor's standalone novel set in North Carolina from his Tales From a Revolution series, in which he examines the American War of Independence as it unfolded in each of the colonies. If you like enthralling stories of familiar events from unfamiliar viewpoints, you'll love The Freedman.
Grab your copy of The Freedman today, and experience the American Revolution as a personal journey of discovery.


What made the American Colonists turn their back on their King, and fight for independence? How were they different from us–and how were their hopes and fears familiar to our own hearts?
These are the sorts of questions that Lars D. H. Hedbor thinks are important to ask in examining the American Revolution, and in the pages of his novels, he suggest some possible answers.
His first novel, The Prize, was published in 2011, followed by The Light in 2013, and The Smoke, The Declaration, and The Break in 2014; The Wind was published in 2015, The Darkness in 2016, The Path in 2017, and The Freedman in 2018. The Declaration, The Light, and The Wind were released in audiobook in 2018, and The Freedman in 2019.
Hedbor's also written extensively about this era for the Journal of the American Revolution, and has appeared as a featured guest on an Emmy-nominated Discovery Network program, The American Revolution, which premiered nationally on the American Heroes Channel in late 2014. He has also appeared as a series expert on America: Fact vs. Fiction for Discovery Networks, and was a panelist at the Historical Novel Society's 2017 North American Conference.
Hedbor is an amateur historian, linguist, brewer, fiddler, astronomer and baker. Professionally, he is a technologist, marketer, writer and father. His love of history drives his to share the excitement of understanding the events of long ago, and how those events touch us still today.

I was born in 1996 and raised in Converse, TX. Growing up, I always watched a lot of animation, which gave me a deep appreciation for voice acting, which only grew as the years went on. While initially starting school for culinary arts, I finally yielded to all of the advice I had received over the years and finally embraced getting into the world of voice-over by making audiobooks. In only 3/4 of the year, I started with nothing and have now released 14 audiobooks, with more on the way. I love to watch theater and read engaging stories, often noting how much the voice of the character (be it spoken or in text) adds to the overall story and engages the audience.

I found this an extremely emotional novel. It had a lot of ups and downs. As with this topic it's always important to keep in mind there are triggering moments. I thought overall it seemed realistic in that things did go well but not everything turned out completely the way we wished or the main character wished. I give this novel a 4.5/5 stars. And will say you should keep in mind the hardness of this topic and how it can be difficult to get through in a story.
Narration wise I felt everything was done professionally. No issues with the quality. No issues with voicing of characters. I think the narrator did an amazing job of keeping the emotion in. 5/5 stars.
I received this audiobook as part of my participation in a blog tour with Audiobookworm Promotions. The tour is being sponsored by Shamaan Casey. The gifting of this audiobook did not affect my opinion of it.


Q&A with Shamaan Casey, Narrator of The Freedman
Q: A lot of narrators seem to have a background in theatre. Is that something you think is essential to a successful narration career?

A: I certainly hope not, since I don't have one myself! I think that theatre can certainly help (specifically where characters are concerned), but acting with your body and acting purely with your voice are two separate beasts. If you have a background in theatre, it becomes easier to do things like improv or following directions, but a career in the field is not essential to making a successful narration career. At the end of the day, it all boils down to how good of a job you do, whether it's for narration or for character performance.
Q: What are your favorite and least favorite parts of narrating an audiobook?
A: My favorite parts of narrating an audiobook is when I get to voice a character I just can't get enough of. One book I did had a character who was the "schemer" character, always seeking to backstab others and work a situation to his advantage, while using his power to keep others in fear of him. I could be dead tired and willing to call it a night, and would wind up completing an whole extra chapter purely because that character was in it, and he was so much fun to voice. The least favorite parts involve reaching a character name or word that I can't pronounce, and having to learn how to properly say it. The absolute worst, though, is forgetting character ages (I once had to re-record dialogue for 3 chapters because I my notes mixed up two characters)!
Q: How did you decide how each character should sound in this title?
A: One thing I try to get from the author is a general estimate for the main character's ages. After that, I look at how they behave within the story (are they cowards, are they intimidating?), how often they appear in the story (can I maintain this voice for the whole book?), and also of what origin their name is. Sometimes, in order to ensure that every character has their own distinct voice, I may give a character an accent closer to the origin of their name (russian named character has russian accent, etc) so long as the character's origin is not explicitly stated in a manner that would contradict my performance choices. With Calabar specifically, being a slave of African descent, I chose to give him an accent that sounded like he could have been shipped in from anywhere, while making sure that he sounded far apart from other slaves and white settlers (who I chose to give Southern accents to help distance characters).
Q: Has anyone ever recognized you from your voice?
A: Yes! I got to be a finalist for the voice of Darth Vader in a fan film, and the finalists auditions were shared with the public for voting. One of my old managers from my first job actually reached out to me to congratulate me and catch up because of that video! It certainly helped drive home to me that voice work can connect (or reconnect) you to people you otherwise would not have reached.
Q: Have there been any characters that you really connected with?
A: In "The Freedman," Calabar has got to be my favorite character voicing in the series so far! Besides his voice not being hard for me to do, I really connected with his struggles as both a slave and freedman. One thing I love about the series is that Lars always brings focus to lesser known groups and struggles during the American Revolution. Concerning slavery, I myself was not aware of the unique struggles that freed slaves faced in North Carolina (I'm not spoiling it), as well as additional insight into the unique scenario of Americans fighting for freedom while at the same time keeping others enslaved. I got to learn all of that as Calabar did, so his story certainly left an impact on me.
Q: Do you read reviews for your audiobooks?
A: Always! I love to know what people think of the work I do, and I always take to heart any constructive criticism that can help me create better work for people to enjoy!
Q: If so, which ones stand out to you most, positive or negative?
A: I have (thankfully) received far more positive than negative reviews, and some of those are truly humbling and uplifting. One reviewer for a book in a series that I joined midway suggested that the previous books be redone with me instead! That's got to be one of my favorite reviews.
Q: What do you say to those who view listening to audiobooks as "cheating" or as inferior to "real reading"?
A: I would say that those people are woefully ignorant, or perhaps listened to POOR audiobooks. It's almost like saying that radio news is inferior to reading the newspaper. There are many people who cannot read books due to time restraints, blindness or other disabilities, or simple availability that makes physical reading difficult. Audiobooks allow for listeners to become immersed in a story through the style of the narrator, and give people who otherwise would not be available the chance to absorb a story at the gym, on the bus, or to help them fall asleep at night. How a person engages with a story does not discount the experience, or somehow rob the content of it's meaning.
Q: What's next for you?
A: For me, I am working on learning how to make my own website (very crucial in this line of work), and networking to connect to coaches, publishers, and others in the industry. I also hope to grow enough in audio work that I can leave my day job working in a restaurant, and pursue audiobooks and voice-over full time.

Another Tales From a Revolution audiobook is available for review from the ADOPT-AN-AUDIOBOOK program.

Giveaway: Signed Copy of The Freedman + Digital Audiobook Copy
The Freedman Giveaway: Signed Copy of The Freedman + Digital Audiobook Copy


Apr. 16th:
Lone Tree Reviews
Turning Another Page
Apr. 17th:
What Is That Book About
Apr. 18th:
Dab of Darkness Book Reviews
Apr. 19th:
Jazzy Book Reviews
Apr. 20th:
The Book Junkie Reads . . .
Viviana MacKade
Apr. 21st:
BookishOwlette
Apr. 22nd:
T's Stuff
The Book Addict's Reviews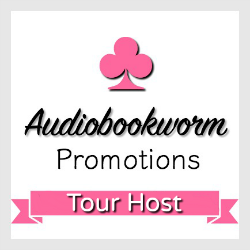 ➜Sign up as a host here