Author: Charissa Dufour
Narrator: Ian McEuen
Length: 3 hours 57 minutes
Series: Echoes of Sol Series, Book 1
Publisher: Charissa Dufour
Released: Nov. 28, 2018
Genre: Science Fiction, Space Opera
When space freighter pilot Calen Macleef accidentally wins Larissa "Bit" Earnest in a lucky hand of poker, his main concern is what his gruff and uncompromising brother, Jack, will say about it. Jack Macleef is the captain of the ship in a world where space travel has only recently become the norm and space piracy abounds.
Painful memories of prior abuse surface for Bit as she finds herself on a freighter full of rowdy, ungentlemanly merchant marines. Jack works to find a safe place for frightened Bit among the ungentlemanly crew, but good looks and innocent ways continually charm the men.
With tension and danger running high, each begins to wonder: Will they survive the pirates…and each other?


My journey to becoming a writer began in 8th grade when I was diagnosed with Chronic Fatigue Syndrome and pulled from school to recover. During this time, I was left alone for hours on end and it was then that I discovered new friends within the pages of books. I also learned the blessing of creating my own friends by writing down the stories that plagued my lonely mind–as demented as that sounds. Therefore at the ripe age of fourteen, I wrote my first novel. It sucked! But I kept going and now I am an Indie Author with numerous books out. I never imagined that first horrible novel about a man who crashlanded on his long-lost homeworld would turn into a lifelong passion.
I now live in Chicago, IL with my amazing husband and two rambunctious cats, Groot and Rocket.

I think Ian did a great job as narrator for the book! I hope he works with this author to create the rest of the audiobooks 🙂 I like his natural storytelling voice and feel he did an excellent job of creating realistic emotions for the characters. I give this narration a 5/5 stars.
Story wise I really liked the world and the concept. I do think explanations for why things happened could have been more fleshed out. As well as more in depth of the characters or potentially less characters so the rest of the story could focus on a few key people. I definitely recommend to read more books in this series in the future! I give it 4/5 stars.
I received this audiobook as part of my participation in a blog tour with Audiobookworm Promotions. The tour is being sponsored by Charissa Dufour. The gifting of this audiobook did not affect my opinion of it.


Charissa Dufour's Dream Cast

Giveaway: 3-month Audible Subscription
Trust & Treachery Giveaway: 3-month Audible Membership


Mar. 19th:
Lone Tree Reviews
The Book Junkie Reads . . .
Nerdy Dirty and Flirty
Mar. 20th:
Adventures Thru Wonderland
Mar. 21st:
Dab of Darkness Book Reviews
Mar. 22nd:
Lilly's Book World
Mar. 23rd:
Jazzy Book Reviews
Mar. 24th:
Book Addict
Smada's Book Smack
Mar. 25th:
T's Stuff
The Book Addict's Reviews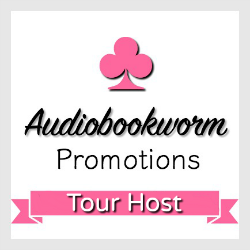 ➜Sign up as a host here