Author: Alan Felyk
Narrators: Noah Michael Levine
Series: Infinity's Trinity, Book One
Length: 8 hours 45 minutes
Publisher: Alan Felyk
Released: Oct. 12, 2018
Genre: Science Fiction, Humor
Extending the literary traditions of Kurt Vonnegut and Douglas Adams….

Paul Tomenko is no stranger to the improbable. He became a magazine sweepstakes winner and celebrated counterculture writer by age 19. Now, after reaching for a can of Chef Boy-ar-dee spaghetti and meatballs, he's traveling to and from God's library somewhere outside the Universe to prevent the end of eternity.

Because of a DNA flaw, humanity no longer can ascend through the Planes of Existence after they die. They can't access memories from countless past lives in previous versions of the Universe or acquire new recollections. That means no one will have the needed expertise to replace God when He dies. And, to complicate matters, Paul must enlist the help of his two lovers – Maggie Mae Monahan and Allie Briarsworth – because of their unique abilities. But the trio discovers the preservation of forevermore can turn someone's soul inside out. Literally.

The novel chronicles the life of an ordinary man under extraordinary circumstances. Paul is unwilling to accept a broken Afterlife that provides nothing more than eternal self-awareness. He is also reluctant to choose between Maggie Mae, a brilliant geneticist who has the uncanny ability to "connect the dots", and Allie, a novelist who inexplicably senses past and future events in the cosmos. The unexpected is to be expected from an unusual cast of supporting characters: Cher the Gatekeeper and Katharine Ross the Librarian, figments patterned after two celebrities for whom Paul has lusted; Gronk and Grita, two "resurrected" six-year-old neo-Neanderthals who are the most intelligent humans on Earth; Tsutomu Yamaguchi, an innovative bioengineer named after a Japanese man who survived nuclear bomb blasts in Hiroshima and Nagasaki; and Dr. Peter Lexington Townshend, the head of a genetics laboratory that already has prevented the Russians from stripping politicians in Washington, D.C., of all their memories.

Be prepared for a book that examines our metaphysical questions with a mixture of mind-bending possibilities, laughter, and tears.




The son of Ukrainian immigrants, Alan Felyk is a science fiction and humor author who has been involved in writing all his life. A University of Colorado graduate in news-editorial journalism, he has worked as a newspaper reporter/editor and a technical publications manager in the space industry.

After retiring, he pursued his life-long dream of writing a book. In 2012, he published Damaged Right Out Of The Box, a sometimes hilarious, sometimes wistful memoir. Then, while trying to determine what he should write next, he started reading Kurt Vonnegut's The Sirens of Titan. The comedic science fiction novel sparked inspiration, and Alan dusted off a short story about God that he had written in college. But the story started to expand in scope, and it became Damaged Beyond All Recognition, the first book in the Infinity's Trinity series. Now, he's working on the second book in the series—Damaged And No Longer Under Warranty.

In addition to Vonnegut, Alan is a disciple of Rod Serling, Gene Roddenberry, and Philip K. Dick. He calls himself a "what-if" writer who loves to keep expanding the storyline until the last page. And, just as importantly, he wants to blend a fair share of laughter through his words.

Alan is a sports fan, and he enjoys the mountains near his home in Lakewood, Colorado. He also loves music and has more than 27,000 songs on his iPod.


Noah Michael Levine is an Audie Award-Winning audiobook narrator and producer living in beautiful Nyack, NY. His over 180 titles include almost every genre. While he loves his work completely – and collaborating with all kinds of different authors, he does not love writing about himself in the third person.
Free copies of this audiobook are available to reviewers through the Adopt-An-Audiobook program.
Review:
Alan's story is very interesting. I enjoyed the time travel and found there were a good amount of jokes in the story. There were bizarre moments, which make sense for the premise of the novel. I do think some things could have been better explained in the world building, but overall I had a great time listening to this audiobook! So I'm giving it a 4/5 stars.
Narration wise I had a lot of fun listening to Noah do all the voices. He was able to make the characters distinct! I felt his emotions throughout the reading. I didn't notice anything wonky with the audio production. I give it a 5/5 stars as well.


Paul Tomenko
An "everyman" who seems to be repeatedly touched by the improbable, Paul is the son of Ukrainian immigrants. He sees himself as an average looking man: six feet tall, two hundred pounds, brown hair, and blue eyes. Intelligent, he has never had to push himself to succeed, but he harbors guilt because he believes his successes are undeserved. He respects the two women he loves for what he considers to be their superior abilities.
As a child, he lived on a small farm in Cañon City, Colorado, and dreamed about becoming a writer. Laid back, Paul is seldom ruffled by what he experiences, even if it seems overwhelming. At age 11, he witnessed the death of his parents: They were struck by lightning while accepting a magazine sweepstakes check. Raised by foster parents, he was eager to leave the trappings of rural life and absorb an urban environment.
Paul, who is intelligent, has never needed to push himself to succeed. When it comes to school, he does the minimum—something that jeopardizes his student status at the University of Colorado. But his outlook changes when he meets Margaret "Maggie" Mae Monahan, a remarkably brilliant scientist-to-be who places her career above all else. Responding to her drive, he writes a freelance magazine article while he is in college and that propels him to international fame. The accolades lead him to a sense of fear—that he will never be able to duplicate his flukish achievements.
He is a fiercely loyal individual who refuses to renege on commitments. Forced to separate from and discontinue all contact with Maggie Mae, Paul promises her that they will reunite sometime in the future. And when Alina "Allie" Briarsworth enters his life, he realizes that he can't have an intimate relationship with her because he is still devoted to Maggie Mae. Thus, tortured by his values, he feels that he is hurting both women.
Maggie Mae Monahan
Regarded by Paul as the "smartest woman on Earth," Maggie Mae is a career-driven individual who needs to prove her worth in a world dominated by men. She reminds people of Mr. Spock from Star Trek—a highly logical individual who suppresses emotions. But, unlike the television show character, her fiber comes not from heritage but choice.
A beautiful, well-built, blue-eyed blonde whose feathered hair descends past her jawline, Maggie Mae grew up in Denver and was drawn to science. She was ignored by boys in high school who felt intimidated by her brainpower, and she views college as an opportunity to develop her social skills—something she knows she will need in the workplace. Blessed with a brilliant analytical mind, she has a knack for "connecting the dots"—a talent so elevated that she is hired by Bioprovidence to lead perhaps the most important scientific mission since the Manhattan Project.
When she meets Paul during their freshman year in college, Maggie Mae is attracted to him. She is intrigued by his refusal to back down to her when she starts interrogating him like a prosecutor about his beliefs. Realizing she has found an intellectual sparring partner, she relishes that portion of their relationship. Still, for almost four years, she refuses to acknowledge her love for Paul for fear that it will sidetrack her career aspirations. When she is forced to leave him, only then does she realize how much she cares for him. In later years, she blames herself for her separation with Paul and tries to abandon her career for him. But ultimately, she is who she is.
No matter what task confronts her, Maggie Mae believes she can conquer it. Like Paul, she remains calm, but she becomes frenzied when she believes she has found an answer to a significant problem. Her resolve keeps her scientific team focused and confident.
Allie Briarsworth
Tall and slender, Allie is, as Paul describes her, "a smiling, freckled woman with irresistible emerald eyes and fire-red hair hanging over pointed breasts." A Denver-area native who aspires to be an author, she loves Paul's work and leaps at the chance to be his administrative assistant. She had attended Barnes Business College and worked as a waitress while she tried to find a publishing-related career.
A fan of the Grateful Dead, Jefferson Airplane, and Janis Joplin, she has two sides to her personality. With Paul, she savors the role of a playful coquette, knowing he won't respond to her sexual advances because of his commitment to Maggie Mae. She enjoys that her antics make him uncomfortable, but she harbors the distant hope that he will succumb to her charms. To the outside world, she projects as a vivacious visionary who weaves mind-expanding science fiction stories. Paul firmly believes that she is a far better writer than he will ever be.
A smattering of alien DNA fuels Allie's imagination—her father was abducted by the Cassamarians who injected their genetic material into him. For most of the novel, she doesn't realize that she possesses a keen understanding of how to solve the crisis that confronts humanity. Although she never expresses it, she is troubled by her DNA ties to an insectoid race. She is worried that some still-to-be-realized detrimental consequence from her genetic makeup will emerge.
Compared to Maggie Mae, Allie is far more vulnerable. She remains with Paul for 16 years despite their lack of sexual intimacy because she needs to be with the only man she loves "even if he can't love me back as much as I want him to." Quick to display her emotions, she worries that she will lose Paul if Maggie Mae ever returns to him. But she is headstrong, and Paul has learned that resisting her determination is useless.

Music Playlist for Damaged Beyond All Recognition by Alan Felyk
I consider Damaged Beyond All Recognition as words written to music. Before I started each chapter of the novel, I picked and listened to a few songs that would establish context and mood for what I would be working on that night. The result was a playlist of 269 songs—far too many titles to share here. So, I've pared the list to a manageable soundtrack of about 16 songs that relate to some significant events in the book.
Time Has Come Today by The Chamber Brothers (Paul Tomenko's life is at a crossroads while he awaits college graduation)

Crimson and Clover by Tommy James and The Shondells (Paul realizes that he has fallen in love with Maggie Mae Monahan)

Cover of the Rolling Stone by Dr. Hook (Paul's magazine article lifts him to counterculture icon status)

Broken Dream by Justin Hayward (Paul is forced to leave Maggie Mae)

Too Late to Turn Back Now by Cornelius Bros and Sister Rose (Paul agrees to hire Allie Briarsworth even though he is aware of their attraction for each other)

Show Me What I'm Looking for by Carolina Liar (Paul meets Katharine Ross the Librarian in God's archive)

I'm Getting Ready by Michael Kiwanuka (Paul loses Allie)

The Scientist by Coldplay (Maggie Mae wants to start over with Paul)

Spirit in the Sky by Norman Greenbaum (Paul and Maggie meet face to face with God)

Second Chance by Shinedown (The Bioprovidence team launches humankind's last hope for life ever after)

Can't Find My Way Home by Blind Faith (Maggie Mae suggests that Allie may be the only one who can find a "home" for humanity)

Expecting To Fly by The Buffalo Springfield (Allie begins her seemingly endless journey across the Universe)

Let Her Go by Passenger (Maggie Mae vanishes into the ether)

At This Point in My Life by Tracy Chapman (Paul discusses his regrets about hurting Maggie Mae and Allie)

One Woman Army by Kate Earl (Paul agrees he would never bet against Maggie Mae bringing two universes back together)

One More Time To Live by The Moody Blues (Facing an unknown future, humanity hopes for new life)

Q&A with Noah Michael Levine, Narrator of Damaged Beyond All Recognition
How did you wind up narrating audiobooks? Was it always your goal or was it something you stumbled into by chance?

I kind of just stumbled into it. I'd been acting and performing for most of my life. Music, theatre, voiceovers, TV, and film. In the years when audiobooks were becoming more popular, the thought of narrating them wasn't even on my radar. Not because I thought it wasn't a viable acting career choice. I just simply never made the connection or thought to investigate narrating. When I moved back home to Nyack, NY in 2012, unsure of what was next for me, I had been, for the most part, out of the acting world for a while. Then one day, shortly after Hurricane Sandy, I was sitting in a café charging a multitude of electronics (I was without power for ten days), and I ran into an old buddy of mine. As we were catching up, he told me that he had been editing audiobooks for the last ten years. He knew my background and suggested it might be worth looking into. He gave me the name of his contact at Audible. I sent over a demo. They liked it. And I've been recording ever since.

A lot of narrators seem to have a background in theatre. Is that something you think is essential to a successful narration career?

Personally, I feel that having a background in acting is critical for becoming a good audiobook narrator. And Audiobook narration, itself, is different than stage or screen acting. It's an incredibly intimate medium. You are performing, in most cases, directly into someone's ears. So, the nuances of pacing, cadence, pronunciation, volume, and intensity are very important to master. There are a lot of things an actor can get away with on stage or screen that won't fly in audiobook narration. So, on top of all the technical and process skills one needs, having those acting chops down – and incorporating them into the finer points of audiobook narration, is so important.
How do you manage to avoid burn-out? What do you do to maintain your enthusiasm for narrating?

Burnout can be an issue at times. For a variety of reasons, I probably don't record as much in one day as most narrators do. I typically record seven days a week, but not grueling sessions. I also make sure to get out every day and take a good, brisk walk, I spend lots of time in the kitchen cooking (and listening to Pink Floyd), playing piano and just chilling out. If things feel really burn-ee, I'll take the whole day off from recording, if my schedule can tolerate that.
What would you say are your strongest narration abilities?

My strongest narrating abilities? Hmm. I guess that's a subjective thing. There are things about my skillset that I feel great about, but that might not appeal to some listeners. I think I do a good job of finding those "actable" moments in the script and bringing the right amount of performance without going overboard or underselling it. Emotional, intimate (in all senses of the word, not just sexual) scenes are favorites of mine, as they really give me an opportunity to stretch my chops and get into that zone of flow. A great action scene is so much fun – finding those arcs of pacing that amp the listener up, pull them back a little, and then push them over the edge with the climax. I always try my best to bring as much reality to the characters and dialogue as I can – not make them too character-ish. (With the exception of some types of comedies and fantasies that may scream for a broader approach.) Even the most fantastical stories still contain characters that are multi-dimensional – whether they're human or something else. It's about conveying emotion and intent – that most characters, as with most people IRL, are complex, conflicted in some ways, and possess that duality of dark and light. I also love doing accents. I think they can bring that sense of diversity to a story that reflects the reality of the world we live in. Plus – they're just fun to do!
What about this title compelled you to audition as narrator, and how closely do you prefer to work with authors?

I loved working on Alan's book. His writing is crisp and quirky, funny and deeply heartfelt. Plus, the story and the characters were really compelling to me. And there's that component of time bending that, while sometimes makes my brain drain, I find fascinating. Alan's a very smart guy … and exacting. I really enjoyed working with him. As with most of my independent audiobook projects, Alan and I worked closely on getting the voices down, before I started recording, so we were both happy. I like working with authors in that way. While I'm tasked with performing my interpretation of the material, I do like to bring the author's vision to fruition as much as possible, while adding my own spin on things. When I record for the larger publishers, I don't often have that opportunity. I just get the book and figure it all out on my own. So, it's nice to have some outside input with these independent projects.
Have there been any characters that you really connected with?

There are a lot of characters that I've really connected with over the years. Too many to list. Part of our job as actors, I believe, is to put ourselves in the characters' shoes. So, finding that connection is super important to bringing a strong performance. I suppose I find the most magnetic connections with characters that are flawed in ways. I mean, we all are, right? So, allowing that vulnerability to seep out, insecurities, hopes, rage, and awe – all these things that we experience in shades of gray – is a big draw for me.
What do you say to those who view listening to audiobooks as "cheating" or as inferior to "real reading?"

For those who feel that listening to audiobooks is "cheating" or somehow inferior to reading, I would say, I respect the right for you to hold an opinion. I think though, when that opinion leads to chastising or denigrating others … that an air of superiority is used to create a sense of inferiority in someone else … no, no, no. That's not okay. Here's the thing … audiobooks are one of many mediums in the world of entertainment. The spoken word is, perhaps, the oldest of them all. And everything is subjective to the individual. I think audiobooks can be extremely powerful, moving entertainment. Music, books, plays, movies, TV shows and audiobooks, ALL can move the individual experiencing them. You don't like audiobooks? Don't listen to them. You prefer reading? Have at it, my friend. But don't try to make someone else feel bad or "less than" for enjoying something different than what you, yourself enjoy. Now someone lend me a hand getting down off this soapbox!
What bits of advice would you give to aspiring audiobook narrators?

Many of us currently working as audiobook narrators are frequently queried by those who are interested in becoming audiobook narrators. The number of times we hear, "So and so said I have a great voice and I should get into voiceovers. Can you help?" is pretty incredible. I heard it three times this week. The best advice I can give is – do your due diligence. Do your research. Don't try and take shortcuts. Unless you're doing this as a hobby, it's a long road. Most narrators will never be "really famous" or "really rich." But if you work hard and develop your craft, you can earn a decent living and have a LOT of fun. My best friend, Erin deWard, put together a great website for anyone looking to get into audiobook narration. http://www.stepuptothemic.net. It's still a work in progress, but there's so much great information on there about equipment and training and auditioning and so on.
What's the most fun about being a narrator that's different from other types of acting?

Being able to play ALL the characters. It can be challenging at times, but it's SO much fun. Switching back and forth between two, three or more people in a conversation – all with their own ways of speaking and their own vantage points to the situation. Sometimes you get into this flow that is like no other acting work I've done.I performed a five-book fantasy series, The Chronicles of the Black Gate, by Phil Tucker. I was incredibly immersed in it. All the main characters were good people who were forced to do, sometimes, horrible, unforgivable things to protect their people. And yet, they acted with such heroic, unflinching bravery and suffered the guilt and shame of their deeds. All of this intertwined against the backdrop of a religion that, while pure at its core, had become bastardized and, literally, demonized over time.
Some of my longest stretches of recording without having to stop were while working on that project. To be able to do that kind of acting is unlike any I've done before.

Do you ever goof up in the booth?

HAHAHA – Boy, do I EVER! ALL the time. And sometimes, it's hysterical. I do a lot of Duet narration with Erin deWard – and much of that is romance (both sweet and explicit). We're often asked, "So … does it get pretty hot for you performing all those "Steamy" scenes?" Well – sometimes it can. But if you listen to some of our outtakes – you'll get a sense of what REALLY goes on in the booth when things don't go quite right. You can listen to those outtakes by going to:

www.noahmichaellevine.com

– click on the DUET NARRATION tab and scroll down to the bottom of the page. WARNING: EXPLICIT LANGUAGE.

What are you working on now?

Currently, I'm recording several titles for Tantor media, including a Thriller and a Western Romance series. Independently, I'm recording a Regency Romance title and Erin, and I are finishing up the fourth book in a Motorcycle Club (explicit) Romance series – then starting a three-book set of Cozy Mysteries.
Prize: $100 Amazon Gift Card
Damaged Beyond All Recognition Giveaway: $100 Amazon Gift Card


Mar. 17th:
T's Stuff
Mar. 18th:
Lone Tree Reviews
Mar. 19th:
Jazzy Book Reviews
Mar. 20th:
Dab of Darkness Book Reviews
Mar. 21st:
Chapter Break
Mar. 22nd:
The Book Junkie Reads . . .
2 Girls and A Book
Mar. 23rd:
The Book Addict's Reviews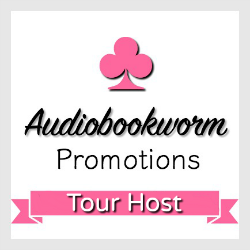 ➜Sign up as a host here