Author: AJ Eversley
Narrators: Chelsea Stephens, Steve Campbell
Length: 8 hours 55 minutes
Series:
The Watcher Series, Book 2
Publisher: Author AJ Eversley
Released: Dec. 10, 2018
Genre: Science Fiction; Young Adult
Strangers become allies. Lovers become enemies. And a destiny formed before birth unfolds.
Sawyer spent most of her life hunting the very thing she has now become. No longer the Watcher she once was, Sawyer struggles to make sense of her new identity. Though she now has the powers of a Carbon, she is also tied to the control Coleman has over all of his creations.
Desperate for help and answers, Sawyer travels to the United Isles with Max in search of an ally. Not only must she learn to harness her new abilities, she must find a way to mend a broken heart…if her past doesn't kill her first.
The epic journey continues, and the war for the human race draws ever closer. Join the resistance in the next chapter of the Watcher Series.






AJ Eversley is the author of the WATCHER series. A true north Canadian girl, AJ currently lives in Central Alberta with her husband and dog. When she's not writing, she can be found binge watching Harry Potter, quoting various movies in every day conversation, and eating copious amounts of candy.


Chelsea Stephens has a long time love and appreciation for the performing arts, with experience in on-stage acting, singing and voice over. Her love for reading books and the pursuit of the story led her to narration. She enjoys unfolding characters and bringing listeners into new worlds. Chelsea is an experienced voice actor with a talent for mystery, fantasy and YA novels. She's a mom to a gaggle of young ones living in the Midwest with her lumbersexual husband.

My first priority as a voice-over artist is to convey your thoughts and ideas in an entertaining and insightful manner; not distracting from your message, but enhancing your words. It is my personal goal to help your audience engage with the text in an immersive and memorable way.

As a techie with a passion for performance and a love of the written word, the voice-over industry called to me. I am now fortunate enough to be living my dream of audiobook narration from my home studio, in Calgary, AB, Canada.



I'll start with the narration since it was my favorite! I really loved that there were two narrators here. They made everything amazing with the range of voices used! I highly recommend this series just for their voices alone haha They also balance each other. I didn't notice any issues with quality of sound or editing. So I give it a 5/5 stars.

The story itself was great. I feel like I learned a lot more about all these characters! I really loved how the person I was rooting for in the last book changed to someone I am a bit more wary about. There are a lot of good twists and it wasn't predictable. So I give the story a 5/5 stars as well. Although I will say there's a love triangle which can be off putting.
I received this audiobook as part of my participation in a blog tour with Audiobookworm Promotions. The tour is being sponsored by AJ Eversley. The gifting of this audiobook did not affect my opinion of it.


Giveaway: 3-month Audible Membership
Watcher Series Giveaway: 3-month Audible Membership

BOOK ONE
Mar. 5th:
Lilly's Book World
The Book Junkie Reads . . .
Mar. 6th:
Buried Under Books
Mar. 7th:
T's Stuff
Dab of Darkness Audiobook Reviews
Mar. 8th:
Turning Another Page
Mar. 9th:
Jazzy Book Reviews
Mar. 10th:
The Book Addict's Reviews
Mar. 11th:
Lomeraniel
BOOK TWO
Mar. 12th:
Lilly's Book World
The Book Junkie Reads . . .
Mar. 13th:
Buried Under Books
Mar. 14th:
T's Stuff
Dab of Darkness Audiobook Reviews
Mar. 15th:
Turning Another Page
Mar. 16th:
Bound 4 Escape
Mar. 17th:
Jazzy Book Reviews
The Book Addict's Reviews
Mar. 18th:
Lomeraniel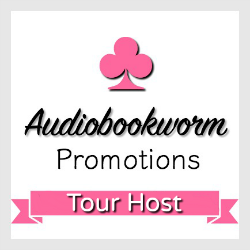 ➜Sign up as a host here