Author: Larry N. Martin
Narrator: Jeffrey Kafer
Length: 8 hours 56 minutes
Publisher: Tantor Audio
Released: Sep. 9, 2018
Genre: Military Science Fiction


Star Force pilot and hero Wyatt McCoy left his medals and career behind after the Rim Wars, disillusioned and bitter when he learns the truths behind the conflict. He takes his converted gunship, the Nellie B, and heads to the Near Fringe, salvaging derelict ships and abandoned stations and mining colonies.

Dr. Beth Parker is a space archaeologist, documenting the history of planetary expansion and colonization for Kalok Enterprises and the Interplanetary Mining Guild. A piece of alien technology embeds itself in Beth's arm, giving her the ability to see the energy impressions of long-ago people and events. When Beth uncovers proof of genocide that could bring down the big mining companies, she's the target of assassins.

Wyatt makes a split-second decision to intervene, launching them both into a high-stakes cat-and-mouse game with some of the most powerful organizations in the system. They can prove Kalok and Interplan killed millions – but can they live long enough to tell their story?




Larry N. Martin is the author of the new sci-fi adventure novel Salvage Rat. He is the co-author (with Gail Z. Martin) of the Spells, Salt, and Steel/New Templars series; the Steampunk series Iron & Blood; and a collection of short stories and novellas: The Storm & Fury Adventures set in the Iron & Blood universe. He is also the co-author of the upcoming Wasteland Marshals series and the Joe Mack Cauldron/Secret Council series.

Jeffrey Kafer – Jeffrey Kafer is a full-time SAG-AFTRA audiobook narrator. He has narrated over 450 books in almost every genre for such authors Clive Barker, Steve Alten, Maya Banks, Gregg Olsen and many others. He has 2 degrees in cinema and broadcasting and spent the first part of his career as a video game tester for Microsoft before following his true passion of acting. He's been on stage since he was 13 (his mom still has the bellhop costume she made) and currently lives in Los Angeles with his family and dog.
Free CD copies of the Salvage Rat audiobook are available to reviewers through the Adopt-An-Audiobook program.
Review:
Martin has a very interesting story here. I enjoyed the action and the description of space travel. It did get a touch boring in some places with the detail. I think it could have left out a little bit. But overall I had a good time with the story part of this audiobook. I give it a 4/5 stars.
Narration was more of a miss to me. His voice overall was good, but I would have liked more emphasis on emotional situations. Also there is a little bit of editing needing to be done with the audio. I would say 85% really great sounding. So to me I give the audio a 3.75/5 stars. Maybe needs a quick pass with the editing software to clean up some issues 🙂

Profile of Wyatt McCoy, protagonist of
Salvage Rat
Wyatt William McCoy
Height 6'2"
Weight 190 lbs
Muscled athletic build / gymnast build
Dark brown hair
Dark brown eyes
Medium skin tone
Age 32
Wyatt was born on Ceristan Station, an oribiting military base for Star Force. His mother Adrianna Marie Alfonsi, was a Vipor pilot for Star Force and moved to piloting military shuttles for officers when well into her pregnancy with Wyatt. His father was Brodie Callum McCoy, a gunship pilot for Star Force. Wyatt grew up on Ceristan, spending much of his time in the youth home with other military children, while his parents were on assignment. He grew up being groomed for Star Force and never considered another path. As he would later tell others, "piloting is in my blood."
Wyatt prefers reality in both his food and his experiences. In a world where virtual reality, synthetics, and artificial constructs are prevalent, Wyatt wants to plant his feet on solid ground and experience nature with all of her unpredictability. He'd rather have tasteless food that was harvested than a gourmet meal out of a food synthesizer.
Wyatt's favorite pastime is tinkering and improving the Nellie B. To him, she's more than a ship and has saved him countless times. Some might consider it an obsession but when you're in the Dark and there's no one for light years, your ship is everything.

Daniel Rostaven, PhD – Eric Bana

Elizabeth Parker, PhD – Olivia Wilde

Hendrick Turner "Codger" – Luke Hemsworth

John Bellant – Steve Howey

Katherine – Shannon Woodward

Miss Liddy – Carrie-Anne Moss

Worm – Khleo Thomas

Wyatt William McCoy – Steven Strait

Zigler – Tom Cavanagh
Larry N. Martin's Top 10 Literary inspirations
These are the books that jump-started my imagination. Not necessarily my favorites but where it all began and what hooked me into reading.
Brothers of Earth

, C.J. Cherryh

Cujo

, Stephen King

Downbelow Station

, C.J. Cherryh

Dune

, Frank Herbert

Earthsea

, Ursula K. LeGuin

Guardians of the Flame

, Joel Rosenberg

Lord of the Rings

, J.R.R. Tolkien

Mission to Moulokin

, Alan Dean Foster

The Chronicles of Thomas Covenant

, Steven R. Donaldson

The Last Herald Mage

, Mercedes Lackey
Q&A with LARRY N. MARTIN, Author of Salvage Rat
Were there any real-life inspirations behind your writing?

When working on a story, whether my own, one I'm co-authoring, or even those I'm working on behind the scenes, I try to immerse myself in the world with what I view and read. I am a visual person and having a picture of characters, the world, and its elements help me tell the story. For Salvage Rat, I switched my pleasure reading to science fiction and turned to every "space" movie I could find on streaming. For this book, it included The Expanse, Dark Matter, Altered Carbon and books by David Weber, Dan Simmons, and David Drake. A single image or situation will sometimes take hold, and my mind will start writing an entire story based on "what if?"

How do you manage to avoid burn-out? What to do you do to maintain your enthusiasm for writing?

I can't afford burn-out or writer's block. My partner and I are full-time writers and make our living from books. Regardless of whose name is on the cover, we work on everything together so there are often several works in queue. That helps when you get stuck because often the boredom or block comes from not having the story clear in your mind. I'll switch to another book, often in a different genre, until the pieces fall back into place and I can continue. The variety of working on multiple projects also helps because not all projects are in the same stage and it takes a different mindset to revise, edit, format, or promote than it does to write.
If you had the power to time travel, would you use it? If yes, when and where would you go?

Most definitely. While I enjoy works of fantasy, I know enough history to know that it wasn't nearly as mystical or magical as it is portrayed in the books and that the middle ages didn't smell so good. I'd opt for going forward in time to the major cities of the world to see what science and technology had been developed. I love science fiction and would love to see how things have evolved; that is if we haven't messed up too badly.
If this title were being made into a TV series or movie, who would you cast to play the primary roles?

This was a much tougher question than I thought it would be. I settled on Steven Strait (from The Expanse) to play Wyatt. Maybe bulk him up a little, but the overall presence and feel he lends is perfect. For Beth, I'd cast Olivia Wilde. She has the look and the strong personality that lends itself to the character. Beth isn't a follower and while not a soldier in the traditional sense, she can hold her own.
12. What do you say to those who view listening to audiobooks as "cheating" or as inferior to "real reading"?
To each, their own and we can agree to disagree. I grew up with a mother who read to me every night and hearing a book holds a special place in my heart. We did the same with our own children, carrying on the tradition. I enjoy being able to close my eyes and lose myself in the story (though not when driving). Hearing a book versus reading it is not better or worse, just different. Audio also is a great alternative for situations when you couldn't otherwise read. I no longer have to commute to work, but when I was spending hours on the road each day, audio books made it so much better. I still regularly listen to the BBC version of The Lord of the Rings on long car trips.
What gets you out of a writing slump? What about a reading slump?

Somewhat like writer's block, you can't afford to not keep at it. Often just working on another project for a short while will help. I've found a similar approach to reading slumps. I've now moved mostly to eReader and so have several in-process books at any given time. The slump is usually because what I'm reading doesn't fit with my mood and switching from one book or genre to another is all it takes.
In your opinion, what are the pros and cons of writing a stand-alone novel vs. writing a series?

To an extent, I believe it depends on the story you are trying to tell. Hopefully, when you are starting out, you know if you have a single story or a larger arc that will require more books. Another variable is what your publisher wants from you. Even if you are writing a series, I believe you owe it to the reader to give them a complete story within each book and not leave them hanging. Most readers understand the serialized approach, having grown up with television. It gives you the benefit of pulling them into your world and hopefully getting them to come back for the next book. If it's stand-alone, they may be interested in your future works, but aren't as invested.
Have any of your characters ever appeared in your dreams?

Not in interactions with me. However, I have dreamed about "their" story and what should happen next as if I were one of the characters. I attribute it to my brain working out the story while I sleep. Even if I don't always remember the details, I often find that issues or challenges work themselves out if I sleep on it.
What bits of advice would you give to aspiring authors?

Keep writing. Don't try to get it "right" or "perfect," as you go just get it all down and then come back later to fix. It's much easier to revise and tweak a book once you've got words down. It doesn't matter how much you end up throwing away or deleting, you'll still find yourself moving forward, and none of it was wasted. The words you didn't like will often inspire better ones to replace them.
What's next for you?

Lots more books. In addition to the sequel to Salvage Rat, several co-authored works are coming: the second in the Iron & Blood: Jake Desmet Adventures as well as a new urban paranormal fantasy series – the Joe Mack Cauldron books – based on the legend of Joe Magarac.
Prize: 3-month Audible membership
Salvage Rat Giveaway: 3-month Audible subscription

Feb. 28th:
The Book Junkie Reads . . .

Mar. 1st:
Dab of Darkness Book Reviews
Mar. 3rd:
Turning Another Page
Mar. 4th:
Book Addict
Jazzy Book Reviews
Mar. 5th:
Lomeraniel
Lynn's Romance Enthusiasm
Mar. 6th:
Lilly's Book World
The Book Addict's Reviews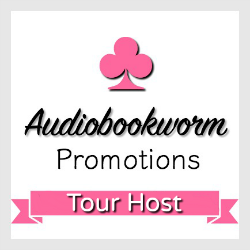 ➜Sign up as a host here