Author: Gail Z. Martin
Narrator: Will Damron
Length: 19 hours 58 minutes
Series: Darkhurst, Book 2
Publisher: Tantor Audio
Released: Aug. 31, 2018
Genre: Epic Fantasy
Fighting the monsters that killed their family and friends cost undertaker brothers Corran and Rigan Valmonde their home and livelihood and made them wanted men – but the worst is yet to come.
The city-state of Ravenwood is wealthy, powerful, and corrupt. Merchant princes and guild masters wager fortunes to outmaneuver league rivals for the king's favor and the best trading terms. Ambitious and ruthless leaders use betrayal and assassination to gain their ends. Blood magic conjures monsters to further the goals of the ruling class, and the price of stolen power is paid for by the deaths of commoners. Now, the fate of Ravenwood hangs in the balance as rival city-states maneuver to gain advantage.
When Corran and Rigan and their friends became outlaw monster hunters and fled beyond the walls of Ravenwood City, they thought they had defeated the source of the abominations that killed so many of their friends and loved ones. But the more successful they become at destroying the creatures, the more they realize a greater evil is at work – larger and more monstrous than they ever could imagine….



Gail Z. Martin writes urban fantasy, epic fantasy and steampunk for Solaris Books, Orbit Books, Falstaff Books, SOL Publishing and Darkwind Press. Urban fantasy series include Deadly Curiosities and the Night Vigil (Sons of Darkness). Epic fantasy series include Darkhurst, the Chronicles Of The Necromancer, the Fallen Kings Cycle, the Ascendant Kingdoms Saga, and the Assassins of Landria. Together with Larry N. Martin, she is the co-author of Iron & Blood, Storm & Fury (both Steampunk/alternate history), and the Spells Salt and Steel comedic horror series. Newest titles include Tangled Web, Vengeance, The Dark Road, and Assassin's Honor. As Morgan Brice, she writes urban fantasy MM paranormal romance, with her Witchbane and Badlands series


Will Damron is an Audie Award-winning narrator, as well as a three-time Voice Arts Award-winner, who has recorded books in genres ranging from thriller to fantasy, young adult, nonfiction, romance, memoir, and more. He has performed Off-Broadway and in regional theater throughout New England and his native Virginia, and is also a published fiction author. He lives in Los Angeles.
Free CD copies of the Vengeance audiobook are available to reviewers through the Adopt-An-Audiobook program.
Review:
I personally found this to be a very interesting fantasy sequel! I really like Martin's writing style and felt she did an excellent job with developing the characters and unfolding the backstory little by little. It was a well thought out novel taking place somewhere that I could easily see through the descriptions! There were a good amount of action and emotional scenes. I was surprised about halfway through. I give this novel a 5/5 stars.
The narrator did an amazing job as well. It was easy to distinguish who was talking and I enjoyed the different embellishments he gave to each character. His overall tone and pacing was easy for me to listen and get into the novel. I give this narration a 5/5 stars as well!
Medieval Monster Hunters
By Gail Z. Martin
How far would you go to protect your family and friends?
That's the question at the heart of Vengeance and my Darkhurst epic fantasy series. Undertaker brothers Corran and Rigan Valmonde and their friends have become outlaws because they dared to fight the creatures that killed their family and friends. But in doing so, they discovered something even more monstrous than the monsters—a plot that may run all the way to the highest levels of the kingdom, one that trades blood for power.
I've always loved books about monster hunters, but most of those series (including my own Deadly Curiosities, Night Vigil and Spells Salt and Steel books) are modern, urban fantasy. The idea of medieval monster hunters intrigued me. If we do see hunters set in an earlier time, it's usually the 1800s, with a Van Helsing-type character. I wanted to merge magic, monsters and myth to create a dire conspiracy that becomes worse and worse the more layers are revealed, something that seemed like a simple hunt and becomes so much more.


Profile of Corran Valmonde, protagonist of
Vengeance
Corran Valmonde is the oldest of the brothers, not yet twenty-one and forced to step into the role of provider and protector after the deaths of their parents. He's an undertaker by trade, a hereditary profession, so the family business falls to him, as well as training Rigan. Their mother was killed by the monsters that roam the city, and their father was beaten to death by the corrupt city guards. Corran's betrothed, Jora, and other friends also fell prey to the creatures, which the guards refuse to do anything about, but stop the citizens from hunting. Corran and his friends become illegal monster hunters, risking their lives and livelihoods to stop the mayhem.
Rigan Valmonde is two years younger than Corran. He's done his best to pitch in and help carry the load since their parents died. Then he discovered that he'd inherited their mother's forbidden magic, and Rigan has struggled to learn how to use his power without accidentally hurting anyone, while trying to avoid the notice of the guards.
Polly is fourteen, a street-wise and world-weary runaway who is part of Corran and Rigan's 'found family' of outlaws. Polly is quick with a knife and sharp with her wit. She can take care of herself, but just as importantly, she poses a deadly threat to anyone who threatens those she considers to be her kin.


Q&A with Corran Valmonde, protagonist of
Vengeance
Have things gotten better, now that you're outside the walls of the city?

Yes and no. We've gotten some breathing space, hiding in abandoned monasteries, and we've outrun the guards—so far. But they're never far behind, and we have to keep moving. Still, we fight the monsters on our own terms, and we're protecting the villagers and farmers. So it's a job that needs to be done, and I guess we're the ones to do it.

Do you miss being an undertaker?

Oddly enough, yes. The grave magic that Rigan and I use to send souls to the After makes it possible to assure that the dead rest as easily as they can. That made a difference to the families who paid us to take care of their loved ones. It's not a fancy job, but I believe it's honest and important work. Out here, on the run, we sometimes still take care of a burial, when the situation arises. That's when I know that the business doesn't just run in the family—it's a part of me. If and when we ever get to settle down again and give up hunting, I think Rigan and I will be undertakers again.

Did you ever think you'd be an outlaw?

I became an outlaw when I chose to hunt the monsters, since hunting is against the king's law. But I didn't see that there was a choice, since we lost so many people to the creatures and the guards wouldn't do anything. Now we know why. I wish that none of the deaths that led us here had happened. But they did, and someone needed to do something to stop the killing. We stepped up to the challenge, and being an outlaw came with it.

How do you feel about Rigan's magic?

I've never been afraid of Rigan, but I have been afraid for him. Magic is illegal in Donderath, except for the priests or the pet mages of the aristocracy. I wouldn't wish either situation on Rigan. He's done his best to learn how to control his power, how to use it to fight monsters and protect people. It's cost him a lot, and nearly killed him more than once. I know that officially, magic is supposed to be wrong. But Rigan's my brother, and the magic is a part of him—just as it was from our mother and grandmother. Wrong or right, he's my brother, and anyone who wants to hurt him has to come through me, first.
Gail Z. Martin's Top 10 Reasons to be a Monster Hunter
You have a reason to own really cool, unusual weapons

You don't have to get up early in the morning, because most monsters come out at night.

You'll meet the most interesting people—dead or alive

Rules for normal people don't apply to you

You'll get really good at picking locks and sneaking into crypts.

Some of your allies may not be entirely human.

You'll get good with magic—and explosives

You'll always have the best stories to tell at the pub.

Scars are sexy.

You'll save lives, and maybe the world, even if no one else ever knows it

Q&A with Will Damron, Narrator of Vengeance
When did you know you wanted to be an audiobook narrator?

I wouldn't say this was anything I KNEW I wanted to do; I kind of grew into it! What I remember was a specific moment in early 2015, where I auditioned for a book called The Memory Painter, by Gwendolyn Womack. It was a smart, sweeping thriller that dealt with reincarnation, love, deceit, the supernatural… I wanted so badly to work on it, and knew that if I booked it, it would give me the space to begin pursuing narration full-time.Well, I booked it :-). And that was when – with probably 10-12 books already recorded – I first began to take myself seriously as a narrator. And to approach this like a career.

How did you wind up narrating audiobooks? Was it always your goal or was it something you stumbled into by chance?

I had just moved to Los Angeles in late 2012, and knew that a few of my college friends were making a living as narrators. I'd heard enough audiobooks, and [thought I] had enough vocal training, so I just figured, "I can do this!" I did a few auditions, made a few samples, and months later I received my first offer, from Brilliance Publishing. Even then, it took me about a year and a half of doing a couple projects here and there before I realized, "Wait a minute. This is a thing I can really DO…. and maybe make a career out of." At that point I just jumped in feet first.
How did you decide how each character should sound in this title?

Unless there are specific vocal notes for certain characters – gravelly, airy, a voice like steel, etc – I really trust my intuition to create the voice in the moment, when I arrive at the dialogue in the text. Most major characters I have a strong sense of in my head before I read their lines, and that informs my choice. But the character voices have to arise out of the narration, and I've found that if I plan too much what each person should sound like, it can make for sort of a jerky, stop-and-go audiobook experience. Also, with books like Scourge and Vengeance that have so many characters over such a sweeping epic of a story, I rely on my trusty sound files to make sure I keep voices consistent. So the first time a character speaks, I'll grab a sample of that voice, save it, and reference it later when they return.
What type of training have you undergone?

I have a B.A. in Theater (Acting) from Middlebury College, where I did many stage productions and performed Off-Broadway. Once I moved to L.A. I began working intensely with a private coach on acting, vocal work, and personal/business development. But this work – and the volume at which I do it – feels like training in and of itself, as I try new things and hone my technique project to project.
Are you an audiobook listener? What about the audiobook format appeals to you?

I am absolutely an avid listener. Although I find myself more often listening to nonfiction and memoirs these days – when I'm not narrating, I find I want to learn something when I'm driving or doing laundry or cooking (audiobook-listening time!). But that's also where this format can shine: I love having an expert on something teach me about that thing. In all honesty, the main thing about this format that appeals to me is the convenience of listening to a great book on your phone (as in, WHILE doing something else!). I was feeling deeply frustrated by our political landscape earlier this year, so I took time during my meal breaks to listen to Suzanne Toren narrate Strangers in Their Own Land. It was like a balm for me.
What is your favorite part of narrating an audiobook?

Oh don't ask me to name just one! I think the undertaking of what is essentially a one-man show of an incredible story or idea, multiple times a year, is a joyful endeavor for any actor. I also LOVE our community. There are not many of us who do this job full-time, and we all know each other and are kind to each other and have holiday parties every year. It is the nicest bunch of actors you will ever meet. Beyond that…. Look, I'm an actor who loves books. And I'm a writer who loves to act. So right now, I act out books for a living. What could be better?
Did you find it difficult to "break into" audiobook narration? What skill/tool helped you the most when getting started?

I was very lucky – and persistent – with how I got started in this business, so breaking in was not terribly difficult for me. What helped the most was developing friendships with people who were willing to put me in front of more producers. But I think what allowed them to have confidence in recommending me (and why producers wanted to work with me) was that I was always pushing myself to develop and expand my craft with every project. If I was cast in a new genre, I would listen to some of the best work in that genre to find what I could connect to and where my voice could shine. If I noticed I was going a little overboard on volume or diction with some books (a common problem for new narrators), I would work with my coach on bringing the performance inside myself and trusting my voice. I've always seen each book as an opportunity to learn something new, and this has allowed me to narrate a very wide variety of books, and be recognized for excelling in multiple genres.
How closely do you prefer to work with authors?

It absolutely depends on the nature of the project. Most of the time I prefer to only consult the author on matters of pronunciation or if I have a significant character question, like what accent is intended or if there's any extra background I should know that's not in the text (if the book is part of a series, for instance, and I need to be vocally planting the seed for something NOW that the listener won't find out until the next book). On very rare occasions I will collaborate closely with the author if he or she wants something specific and we have to discuss that before I begin. But otherwise I rely on the trust inherent in our business: I trust they've written a text I can interpret, and they trust me to interpret it.
How do you manage to avoid burn-out? What do you do to maintain your enthusiasm for narrating?

Ahh, the dreaded "B"-word! First off, I don't feel I've had to do anything to maintain my enthusiasm for narrating. Even after over 300 audiobooks, I still feel that little uptick in my chest every time I receive an email offering me a new project. But burn-out is a real concern for us in this business, especially doing the amount of narrating I do. I'm developing a very strict personal regimen that encompasses a tight daily schedule, plenty of exercise and movement, training with a coach when I can do it (extra perspective is VITAL to avoid burn-out, I've found), and having a hard OUT time at the end of the day, after which I pursue other things. Even if it's just time spent with my wife :-).
Prize: 3-month Audible membership
Vengeance Giveaway: 3-month Audible subscription


Feb. 12th:
T's Stuff
Nerdy Dirty and Flirty
Feb. 13th:
Notes from 'Round the Bend
Feb. 14th:
Jazzy Book Reviews
Feb. 15th:
The Book Junkie Reads . . .
Feb. 16th:
The Book Addict's Reviews
Feb. 17th:
Dab of Darkness Book Reviews
Feb. 18th:
2turnthepage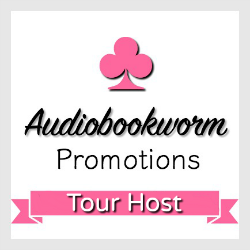 ➜Sign up as a host here