Author: Tabitha Lord
Narrator: DW Draffin
Length: 8 hours 15 minutes
Series: Horizon, Book 1
Publisher: Wave Equation Media
Released: Oct. 25, 2018
Genre: Science Fiction
Caeli Crys isn't living – she's surviving. On the run after the genocide of her empathic people, she witnesses a spaceship crash near her hidden camp. When she feels the injured pilot suffering from miles away, she can't help but risk discovery to save his life.
Commander Derek Markham awakens stranded on an uncharted planet. His co-pilot is dead, his ship is in ruins, and he's only alive because a beautiful young woman is healing him with her mind.
As Derek recovers, Caeli shares the horror of her past and her fear for the future. When Derek's command ship, Horizon, sends rescue, Derek convinces Caeli to leave with him. But his world is as treacherous as hers – full of spies, interplanetary terrorist plots, and political intrigue. Soon the Horizon team is racing to defend an outlying planet from a deadly enemy, and Caeli's unique skills may just give them the edge they need to save it.


Tabitha's HORIZON series has won seven independent book awards including the prestigious Writer's Digest Grand Prize in 2016. She has short fiction published by World Weaver Press, Electric Athenaeum Magazine, Grimbold Books, and more. Tabitha is also a partner and senior writer for Book Club Babble, and a managing editor for the Inkitt Writer's Blog. She lives in Rhode Island and is married with four independent-minded and creative kids, two spoiled cats, and lovable black lab. She holds a degree in Classics from College of the Holy Cross and taught Latin for years at a Waldorf school where she now serves on the Board of Trustees.


DW Draffin is an actor and narrator in San Francisco. He has founded his own science fiction theater company, sold screenplays to New Line and FOX2000, and narrated the books of authors he idolizes.

So for this narration I really loved Draffin's voice and the emotions he was able to put forth. I do think it would have helped the novel if there was a female narrator as well. DW didn't do a poor job with the female voices, I just think it would add more depth to the audio. I had a blast listening though and didn't notice any production issues! I give the audio a 4.5/5 stars.
Tabitha has created a wonderful world filled with suspense and romance. I feel like both the romance and world building were done equally in depth. The beginning is a tad slow though. If you stick it out it's worth it as there are quite a few action and steamy scenes that aren't worth missing out on! It ends but has enough questions for a second novel. I look forward to reading or listening to the next 🙂 I give this a 4.5/5 stars.
I received this audiobook as part of my participation in a blog tour with Audiobookworm Promotions. The tour is being sponsored by Tabitha Lord. The gifting of this audiobook did not affect my opinion of it.

Q&A with Author Tabitha Lord
Tell us about the process of turning your book into an audiobook.
I met David, the voice actor for Horizon, at World Con in San Jose. He picked up my book, browsed through, and asked if it was on audio yet. I'd investigated audio a couple of times and never followed up. I knew I was missing out on a huge market share and potential audience by not offering my books on this platform. David said he worked with ACX and was open to the royalty split option. It's incredibly easy to use ACX and the process went very smoothly.
How closely did you work with your narrator before and during the recording process? Did you give him any pronunciation tips or special insight into the characters?
David and I worked really closely and very well together. Something to think about when turning a novel into an audiobook is that audio is its own medium. Similar to translating a book to a screenplay or film, there is an interpretive element to changing forms, and you need to trust the artistry of the professional doing the work. So, I talked with David about each of the characters, gave him my insight as the creator of those characters, but trusted him to bring them to life in the best way he knew how for the audiobook. When I received the rough cut, I did give him notes, and he was happy to have them since he really wanted me to be happy with the results. I'm thrilled!
How long have you been writing? How did you start?
I've been writing for as long as I can remember. I loved to write stories as a child. In fact, when I was sorting through some of my grandma's things after she passed, I came across a whole collection of poetry and stories I'd written. It was very sweet. In my previous job, I'd written some ad copy, blog posts, and done some editing for school publications, but I had very little time or energy for creative writing, and I had that crippling notion that I couldn't write a whole book. Then, while I was in the middle of a work project, I just sat down and started writing my first book, Horizon. I remember the exact day. I was spending the weekend with my best friend. I woke up early, sat on her couch under a blanket, and opened my laptop. Nine months later, I finished the first draft. Being a mom, the significance of that timeline isn't lost on me!
What are the challenges of writing in the science fiction genre?
With science fiction, or any kind of speculative fiction really, it's the writer's job to convince the reader to join them on a journey, to a believably unbelievable world – a world we've created. To do that well, we have to make "rules" of magic or science or witchcraft or whatever, and we have to be consistent with them. I think successful world building is one of the biggest challenges in writing science fiction. When it's done well, it's seamless. When it's done poorly, it pulls the reader right out of the story.
How important are names in your books? Do you choose the names based on the way they sound, or the meaning?
For me, naming the characters and places in my stories is a really important, almost sacred activity. Sometimes I'll just use a name I've always loved, but often they have additional meaning. For example, Caeli's name is derived from the Latin word for sky, and some of the mountain ranges and bodies of water on her planet are taken from Greek words (my undergrad degree is in Classics). Her planet, Almagest, is named after the astronomical manual written by Ptolemy around 150 AD. When I'm looking to name cities on a particular planet, I'll look up obscure towns in foreign countries and use those. Honestly, I think I have a little too much fun with the whole naming thing!
Switch positions with one of your main characters in a scene. What is the outcome, disaster or divine intervention?
One of the first scenes in Horizon shows Caeli saving Derek's life with her empathic/telepathic healing powers. I was an EMT for many years, and worked in the ER for several more. I'm actually a medical school dropout, but that's a story for another day! It was important for me that Derek's injuries, and Caeli's approach to healing them, be accurate. BUT, if I had been out there in the middle of the wilderness instead of Caeli, well, that would have been pretty disastrous for Derek! I imbued Caeli with all the magical healing powers I always wished I had.
Tell us five random things about you!
Oh gosh, this is fun! I always turn to the "About the Author" page at the back of a book to get some insight into my favorite writers, but the info there is so generic! So, this will be more fun…
When a book is too suspenseful, I get stressed out and read the ending first. I always go back and read it through, but this takes the edge off so I can relax and enjoy the story without worrying about the end. I know it's cheating!

I climbed Mt. Kilimanjaro for my 40

th

birthday. It was very, very hard. Not Everest hard, but still a huge physical and mental challenge.

I've been married for 25 years. My husband and I were young and broke, but four kids and a lot of work later and we have a pretty terrific life. And my children are some of the finest people I know. I'll take a little credit. In our house there aren't many rules, but the important ones – respect, good manners, and personal accountability – are non-negotiable. Honestly, though, they are their own people and just came into the world full of awesomeness.

Zombie apocalypse or alien invasion? This is a serious debate in our house, and we discuss contingency plans for both.

I'm a huge sci-fi fan. Star Wars remains my favorite movie of all time and I consistently beat my children at Star Wars Trivial Pursuit. It's not even a fair fight.
Who do you consider your main audience?
I'd definitely recommend the series to fans of space opera, or lighter sci-fi. But I'd also say that it's a human story, painted on a science fiction canvas, and to tell it the way I wanted, I had to worry less about genre and more about authentically creating my characters and their worlds.
The relationship between Caeli and Derek, the two protagonists, is central to the story. I didn't want to water it down, or put less of a focus on it to please a segment of my audience who prefer more of the hard-core sci-fi. On the other hand, I didn't want to lose or disappoint those readers who were counting on a sci-fi action adventure.
Ultimately, my goal is always to tell a good story, and I think readers and listeners are willing to give something a try if they believe that's what they'll get. My characters face threats, they fall in love, they lose loved ones, and they have an epic adventure! Even readers who generally don't lean toward sci-fi might find something that resonates with them.
How do you find time to write? Do you have a set time you "get away" to write?
I'm hyper-organized, and if someone really wanted to mess with me, hiding my to-do lists and notebooks would send me into a tailspin! Seriously though, I work with a calendar and plan out my time so that I feel proactive instead of reactive, and I can ensure that I'm attending to my priorities first. But really, there's never enough time until you decide to make the time. Once I commit to writing a new draft, I protect my creative space fiercely. Over the years, I've learned a lot about effective habits, my personal rhythms, and the amount of time I need in order to have a productive creative writing session. I plan my schedule with this information in mind.
What's next for you?
Horizon is the first book in a trilogy. Infinity released in 2017 and we'll be producing the audiobook next month. Equinox, the final book in the series, is set to release in May 2019 and will be available on all platforms, including audio. I'm excited and a little sad to bring this series to a close. I've been working on it for over six years and it's both thrilling and disorienting to finally see it finished.


Author Tabitha Lord's Top Ten Reasons to Listen to this Book
Epic battles, spies, and revolutions, oh my!

A bad-ass pilot who crash lands on an uncharted world.

An empathic/telepathic healer who saves him.

Really bad, bad guys.

Cool planets.

There's a love story…

Space opera meets military thriller meets romance meets survival fiction.

David, the narrator, has a great voice.

It's won a couple of awards. Kinda cool.

If you like Horizon, there are two more books in the series.
Authenticity in a Fictional World by Author Tabitha Lord
I'm often asked where and when my personal experiences influence my writing, and how they add authenticity and believability to my work. Since I write science fiction, obviously much of the material comes directly from my overactive imagination! However, there's a good deal of survival fiction in my novels. Although I haven't had to run for my life through the uninhabited wilderness, like my protagonist Caeli in the Horizon series, I did draw on my own experiences growing up in a rural area and my later experiences hiking and camping.
As kids, my friends and I would explore acres of forest, gather berries by the bucketful, and spend entire days outside, returning home only when the sun set. The smell of pine needles and dirt still conjure memories of childhood. When Caeli was hiding in the forest for a significant part of my first novel, Horizon, and then had to cautiously trek through that same wilderness to find the resistance movement's hidden camp in the second book, Infinity, I knew this part of the story needed to be particularly authentic. I wanted readers to squint at the bright sun, feel the biting wind on their faces, smell the muddy river water, and hear boots crunch across the frosty fields.
Like Caeli, I've had to find water, make a fire, set up camp, and search for food. Unlike Caeli, I wasn't fleeing from a ruthless army at the same time! As an adult, I've camped on the uninhabited islands off the coast of Maine all the way down to the Blue Ridge Mountains, I've summited Mount Kilimanjaro in Africa, and I hike locally every week with a group of friends. Every one of these experiences informed and inspired my writing. There's a particular scene in Horizon where Caeli is teaching Derek, the pilot she's rescued, how to carve a spoon from a chunk of wood. I have a drawer full of hand carved spoons from my own adventures, and I actually imagined this scene for the book while I was sitting around a campfire whittling utensils.
Another aspect of the Horizon series that I felt needed to be well researched and accurate were the medical scenes. I chose to keep my characters human, with physical anatomies similar to ours, so when I made Caeli a healer, and had her dealing with emergencies on a regular basis, I drew from my own experiences as an EMT. And here's a little secret: I'm a medical school dropout. Attending med school with young children proved, for me, an impossible task. I don't regret my decision at all, but I'm particularly vigilant about describing authentic trauma scenes in my stories. And when I'm not sure about a treatment or procedure, I call my brother-in-law, who did finish medical school and is a practicing physician!
I have great latitude as a science fiction writer. The worlds I imagine aren't real. But to bring readers along for the ride, and ask them to suspend their belief for the duration of the journey, the places I create must feel authentic. I've tried to infuse my writing with color and life drawn from my own real-world experiences to do this. You'll have to let me know what you think!



Jan. 13th:
Lilly's Book World
The Book Junkie Reads . . .
Jan. 14th:
Amazeballs Book Addicts
Jan. 15th:
Dab of Darkness Book Reviews
Jan. 16th:
Turning Another Page
Jan. 17th:
Notes from 'Round the Bend
Jazzy Book Reviews
Jan. 18th:
Haddie's Haven
Jan. 19th:
Smada's Book Smack
The Book Addict's Reviews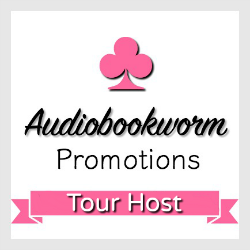 ➜Sign up as a host here