Author: Holly Ryan
Narrator: Melissa Schwairy
Length: 3 hours 34 minutes
Publisher: Holly Ryan⎮2018
Genre: Paranormal Romance
Series: The Slayer's Reverse Harem, Book 1
Release date: Aug. 20, 2018
"Marry the devil…or die." That's the ultimatum Belle Harrison, vampire slayer, just received from a demon. Belle has only one response: To hell with him.
Turns out it's not that easy, though – apparently the devil doesn't know the meaning of the word no. Lucky for Belle, three pantie-melting vampires come to her aid. Three hot vampires she can't resist. Hey, we all have our vices. Hers just happen to have fangs.
She's going to need these three to help her thwart the devil's marriage proposal and defeat the terrifying dark force that wants her dead.


Holly Ryan is a pen name for a USA Today bestselling author who one day said, "Screw it. I'm gonna write books with some serious sizzle." She's fueled by wine, which is where the idea probably came from.


Melissa Schwairy is a full-time narrator vocal age 20-30 living in Denver, Colorado. She has focused her acting career on narrating literature, completing titles in YA, Urban Fantasy, Murder Mysteries, and Romance. She has a BS in Counseling and Mental Health, and she is licensed in Healthcare Administration and Nursing. She loves to sing and dance in the car, and spend time with her family at home in beautiful Colorado.


Review:
I will start with the narration from Schwairy. She did an excellent job with the characters! Loved her interpretation of each one and how they were distinct from each other. But I did think there should have been a little more emphasis on the midwestern aspect. I give it a 4.75/5 stars.
As for the story itself I enjoyed the fast pacing and the suspense with the twists the author added in. Though I feel like there should have been more world building up front. There are a lot of missing pieces that I question how things happened. I had a lot of fun listening though 🙂 So I'm going to give it a 4/5 stars and hope there is more information in the next story!
Tell us about the process of turning your book into an audiobook.

It was surprisingly easy! Belle, my vampire slayer, is snarky, witty, but also has a huge heart, so I knew I needed a narrator who could pull all of that off at once. Melissa Schwairy, whom I believe was my very first audition for this project, completely nailed it. When I listened to her, I sat on the edge of my seat at the tense moments, even though I knew what was going to happen, and I laughed at her stellar comedic timing. She basically IS Belle!

Were there any real life inspirations behind your writing?

When I was in high school, some friends and I snuck into a graveyard on a foggy night. Nothing scary happened (darn it!), but I do remember the silence, the creepiness, especially when I saw a few tilted headstones. I wish I could remember where exactly, but I'd read that tilted headstones were a sign that a vampire had risen. It was definitely an experience that helped inspire this series.

Are you an audiobook listener? What about the audiobook format appeals to you?

I can only listen to audiobooks on long car trips, and I do better with them when I'm not driving. Other than that, I don't listen to them, mostly because of my brain's preference. I'm more visual than auditory, but if I had time, I bet I could train my brain to want to listen more. HA! My husband would probably appreciate that! 😉

If you had the power to time travel, would you use it? If yes, when and where would you go?

I would definitely time travel! I would probably go back to Victorian times just so I could wear those fancy dresses. I'm such a girl! I'd probably only last about five minutes in a corset though. I would love to chat with Franklin D. Roosevelt, Frederick Douglass, and Napoleon Bonaparte, and also find out what exactly happened to Amelia Earhart.

What do you say to those who view listening to audiobooks as "cheating" or as inferior to "real reading"?

I would tell them to go play in the street. Just kidding. Sort of. Closed-mindedness and an unwillingness to put yourself in other people's shoes really sets my teeth on edge. We all have different lives, different ways of doing things, different preferences, and none of them are wrong.

How did you celebrate after finishing this novel?

I immediately started the next one! Oh, and wine. 😉

What gets you out of a writing slump? What about a reading slump?

As both an author and an editor, I can't afford to let slumps happen. I try to power through them the best I can, usually with the help of cat snuggles, wine, and chocolate.

What's your favorite:

Food – chocolate. I always order anything called Death by Chocolate in restaurants, and oddly, I'm still alive, but that would be the ultimate way to go.

Song – the one that stops me in my tracks every time, no matter what, is "Ave Maria" by Franz Schubert.

Book –

Swan Song

by Robert R. McCammon. I cried when I finished it and then immediately went back to page 1 to reread it.

Television show –

Buffy the Vampire Slayer

. Shocking, I know!

Movie –

The Princess Bride.

It's perfection.

Band – Foo Fighters. Oh, and Lunachicks! I saw them both in concert, and I fan-girled so hard.

Sports team – Rock chalk, go KU!

City – Denver. There are some nice people there.

What's next for you?

A sexy dragon shifter reverse harem series, which will also be on audio! And after that, maybe a science fiction romance with aliens? And tentacles? Or wolf shifters? All of the above? I dunno.

BOOK ONE
Dec. 9th:
Lynn's Romance Enthusiasm
T's Stuff
Dec. 10th:
Notes from 'Round the Bend
Dec. 11th:
Jazzy Book Reviews
Dec. 12th:
Bookworms Corner Blog Spot
Dec. 13th:
Smada's Book Smack
Dec. 14th:
Turning Another Page
The Book Addict's Reviews
Dec. 15th:
Page Princess
Wonderlandiansbooks
BOOK TWO
Dec. 16th:
Notes from 'Round the Bend
Wonderlandiansbooks
Dec. 17th:
Jazzy Book Reviews
Dec. 18th:
T's Stuff
Dec. 19th:
Bookworms Corner Blog Spot
Lynn's Romance Enthusiasm
Dec. 20th:
The Book Addict's Reviews
Dec. 21st:
Turning Another Page
Dec. 22nd:
Page Princess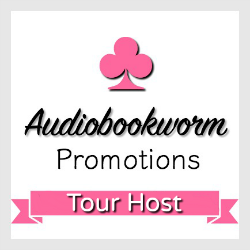 ➜Sign up as a host here