Author: Mackenzie Flohr
Narrator: Chris Walker-Thomson
Length: 6 hours and 57 minutes
Series: The Rite of Wands, Book 1
Publisher: BHC Press
Released: Sep. 24, 2018
Genre: YA Fantasy
One boy…one Rite… And a world of deadly secrets that could change the course of history—forever.
And so begins the tale of Mierta McKinnon. When a horrible fate reveals itself during his Rite of Wands ceremony, he must find a way to change not only his destiny but also the land of Iverna's.
Forbidden from revealing the future he foresees to anyone, he is granted a wand and his magical powers, but still must master the realm of magic in order to save himself and those he loves.
But Mierta is not the only one with secrets…especially when it's impossible to know who to trust.




Mackenzie is a multi-award-winning author of the YA Fantasy series The Rite of Wands, published by BHC Press, which has caught the attention of Doctor Who and Harry Potter fans worldwide. Readers agree that Mackenzie has crafted a robust tale of secrets, mystery, and uncertain destiny that rivals the works of Tolkien, Lewis, and Rowling.

A storyteller at heart, she loves to inspire the imagination. Mackenzie makes her home in Mount Morris, Michigan, where she is currently penning her next adventure.


Chris Walker-Thomson is a versatile British actor, voice artist and impressionist based in Chelmsford, Essex. He is most known for his highly-acclaimed portrayal of Doctor Who actor Patrick Troughton in various productions – as well as being a well-established character actor. Chris is also an exceptional impressionist, voice over artist and comedy performer.


I liked the world set up that Flohr did for the novel. I really loved the first part of this story. It had a lot of action and suspense! I was very connected to the characters and was excited to see how they would deal with everything when a time jump happened. Sometimes time jumps are great for novels, but in this case I feel it hurt it. There wasn't much character development that would make sense for their complete change of character. I'd like to have seen why they did a 180. So for me it's a 3.5/5 stars. I like the set up, I think she's a great author and storyteller, but there needs to be more information on the characters.
The narration was great. No complaint as I thought he did a great job with making each character feel distinct. Even with the time jump I could tell who was who. I give the narration a 5/5 stars!
I received this audiobook as part of my participation in a blog tour with Audiobookworm Promotions. The tour is being sponsored by Mackenzie Flohr. The gifting of this audiobook did not affect my opinion of it.

Q&A with Author Mackenzie Flohr
Tell us about the process of turning your book into an audiobook.

It wasn't easy, believe me! In fact, if anybody would have told me I would go through 3 narrators before finally getting the whole thing recorded, I would have probably thought "yeah, right". Normally making audiobooks isn't difficult at all, but my project, you could say was…unique. However, it has opened up some wonderful opportunities to appear at Comic Con and various writing conferences to teach others about the process of making an audiobook and especially, what not to do (because I probably did them all!)

Was a possible audiobook recording something you were conscious of while writing?

Oh, absolutely! My ultimate goal is to have The Rite of Wands series become either a movie trilogy or a television show (preferably done by HBO or the BBC), so I definitely had the idea of an audiobook in the back of my mind when I was writing the first book.
How did you select your narrator?

When I was auditioning various actors, I wanted someone who could do an impression of Matt Smith (11th Doctor/Doctor Who, Prince Philip/The Crown) since my MC was written for him, as well as someone who could read/perform Scottish dialect. I was fortunate to come across two actors, who are the best Matt Smith impressionists on the planet, and one of them was available and approached ME after hearing about my project through Doctor Who Online.
How closely did you work with your narrator before and during the recording process? Did you give them any pronunciation tips or special insight into the characters?

I was very fortunate to be able to work as close as I was with Chris, considering he lives in England and I'm in America. I do have a day job where I work as a manager at a call center, but I also wanted to be available for him as much as I could. Not only so I could answer any questions he may have, but also because I honestly wanted the opportunity to get to know him a bit on a personal level, so I could get an idea of how it was best to get the project completed as smoothly as possible. (I can be overwhelming sometimes because I am so direct). I did provide him a character sheet with descriptions of the characters as well as a language guide. But as some of my spells don't necessarily follow the mother language they came from, I had to occasionally provide some extra pronunciation help.
Were there any real life inspirations behind your writing?

Yes. As I mentioned above, I wrote the main character (Mierta McKinnon) for Matt Smith. There are personality characteristics of the character, which are similar to him, as well as some inside jokes, too. Other than that, there are some key elements Matt has stated he'd like to play in a character, and I'll admit I did give Mierta some of those, with more to come!
Are you an audiobook listener? What about the audiobook format appeals to you?

Audio dramas. When I have listened to audiobooks in the past, the narrator has been so monotone, I've honestly fallen asleep. But then I got introduced to Big Finish Productions, and my love for audiobooks regenerated.
Is there a particular part of this story that you feel is more resonating in the audiobook performance than in the book format?

Yes, there's a particular scene between two characters where one of the characters is near death, and the reaction of the second character just comes through as heartbreaking. I actually started crying the first time I heard it performed, which is strange for me because I've never cried at my own words before!
Do you have any tips for authors going through the process of turning their books into audiobooks?

Know what your budget is, determine where you want your audiobook distributed to, and, if you decide to do the 50% royalty share option with ACX, make sure that narrator actually honors the terms of the contract.
What's next for you?

I'm currently finishing up my first draft of The Rite of Abnegation, which is the second book in The Rite of Wands series. Then, I'll be working on a standalone novel called The Burning Man, which will be perfect for YA ghost hunting readers.

Author MACKENZIE FLOHR's Dream Cast for The Rite of Wands
Jacob Dudman/Matt Smith as Mierta McKinnon
David Tennant as Orlynd O'Brien
Tom Hiddleston as Lochlann McKinnon
Lily James as Queen Anya

Tom Felton or Toby Regbo as King Deor


https://open.spotify.com/embed/user/mackenzieflohr/playlist/2apT6qkA4wCHF0oT3uYnBC


Prize: 3-Month Audible Subscription
The Rite of Wands Giveaway: 3-month Audible subscription


Nov. 27th:
Dab of Darkness Book Reviews
Lynn's Romance Enthusiasm
Nov. 28th:
From the Heart of a Bibliophile Lair
Nov. 29th:
T's Stuff
Nov. 30th:
The Book Junkie Reads . . .
CLCannon.net
Author Tiki Kos
Dec. 1st:
Jazzy Book Reviews
Turning Another Page
Burning Out the Masses
Trish Beninato Books
Dec. 2nd:
TwintypeBooks
Just Books
Penticoff
Dec. 3rd:
Lilly's Book World
The Book Addict's Reviews
What Is That Book About
T. Moore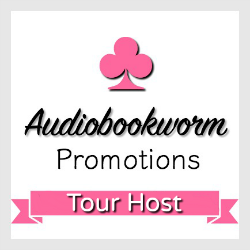 ➜Sign up as a host here