Author: Effie Kammenou
Narrators: Emily Lawrence
Length: 13 hours 21 minutes
Series: The Gift Saga, Book 3
Publisher: Effie Kammenou
Released: Aug. 27, 2018
Genre: Contemporary Romance


The Gift Saga concludes with the next generation coming into the forefront of the story during their tumultuous years between adolescence and adulthood.
Evvie has lived through more tragedy than a young girl should ever endure, having lost both her father and a most beloved grandmother at a young age. Her rebellious ways are her only defense to mask the ever-present pain in her heart. Closing herself off emotionally, Evvie vows to never let anyone into her heart. But will her determination to keep everyone out see her lose the only person who could heal her broken soul?
Over-achieving, focused, talented, determined to succeed. Those are the traits Stella envies in her siblings and cousins. Her insecurities and lack of confidence stunts her ability to realize her own worth. When an older, handsome young man claims her as his own, Stella believes she has finally found who she has been looking for—someone to love her enough to mold her into the best version of herself. But has she fallen in love too quickly for a man she barely knows anything about?
Chasing Petalouthes (Chasing Butterflies) is the coming of age story of two flawed, young women who push their way out from the confines of the cocoons they'd built around themselves and discover how to soar.
Chasing Petalouthes can be read as a standalone novel. To understand the full emotional impact of these characters histories and lives read Evanthia's Gift & waiting for Aegina.


Effie Kammenou is a first generation Greek-American who lives on Long Island with her husband and two daughters. When she's not writing, or posting recipes on her food blog, cheffieskitchen.wordpress.com, you can find her entertaining family and friends.

Evanthia's Gift: Book One in The Gift Saga was a 2016 Readers Favorite Awards finalist in the women's fiction category. Waiting for Aegina: Book Two in The Gift Saga is Kammenou's latest release. For updates on the release of Book Three, the conclusion of The Gift Saga, follow Effie on Twitter, Facebook or Amazon.


Emily is an actor and writer passionate about bringing stories to life. Her greatest strength as a performer is her ability to bring herself to the role, creating a wide range of emotionally resonant performances that leap off the page, stage, or screen. Her favorite characters are complicated, conflicted, and still searching for their inner truths. Emily's passion for her work is complimented by her persistence, resilience, and inexhaustible work ethic. She's narrated more than 160 audiobooks, half of which were USA Today or New York Times bestsellers, and has also worked in film, television, and theater. Born and raised in New York, Emily moved to Los Angeles shortly after receiving her BFA in drama from New York University's Tisch School of the Arts. She also had the privilege of living in London while studying at the Royal Academy of Dramatic Art (RADA).

​Emily's greatest loves are acting and reading, so narrating audiobooks is a dream come true. Her other passions include traveling, LARPing, aerial circus, and chocolate.

This is the third book in the series and I absolutely loved this the most! I recommend reading the first two to get the whole picture, but this can definitely be read as a stand-alone. This is a family novel series where each new book focuses on the next generation of this family. It was focused on Evvie and Stella this time around. I really loved these girls the best out of the other characters. Kammenou did an excellent job making them feel realistic and down to earth. The emotion was easily felt with their love stories and their journey through young adulthood. I enjoyed the twists as well. It reminded me in part of my own experiences at their age. I give this novel a 5/5 stars.
Emily does an excellent job narrating this last book as well. I enjoyed her accents and each voice choice she gave to each character. I was really impressed with her narration. I give her a 5/5 stars as well 🙂
I received this audiobook as part of my participation in a blog tour with Audiobookworm Promotions. The tour is being sponsored by Effie Kammenou. The gifting of this audiobook did not affect my opinion of it.


Author Effie Kammenou's Top Ten Books of 2018
Next Year in Havana by Chanel Cleeton
I've read quite a few incredible books this year but, by far, Next Year in Havana was my favorite. This bestseller is a historical and, at the same time, a contemporary fiction. The story drifts back and forth from past to present, shedding light on life in Cuba during Batista's reign, Castro's revolution and dictatorship, and the conditions of today.
Next Year in Havana is a love story. Love of country, heritage, tradition, family and romance. This is a story with substance. One where there is much to learn, much to ponder and consider. I found myself thinking about this book for many days after I had finished it.
The Man in The Black Suit by Sylvain Reynard
SR is my favorite contemporary author. I will read anything he writes. Not only is he a master at romance and sensuality, but the literary level of his writing is far superior to most in his genre. This standalone novel carries some weighty moral messages. In between the romance, intrigue, danger and gorgeous locals, I found myself contemplating right from wrong and what I might do if placed in the character's predicaments.
3 & 4. The Scrying & The Hallowed by Jaci Miller
These are books one and two of a fantasy / paranormal fiction trilogy. The Scrying gave me a taste of what was to come and I loved every second – best friends, a hot new, mysterious man, an awakening of powers. The Hollowed was a tornado of strange realms, revelations, and supernatural creatures. I can't wait for the last book in the trilogy.
White Horse Slave by Rett Tyler
This is a very unique story by a debut author. At first, i thought, 'This is nothing but a young woman spewing out foul language.' But as I read on, I was soon hooked. Rhiannon was sold as a sex slave from the age of four and remained one until she was rescued when she was eight years old. Now, at twenty-three, the repercussions are long lasting and debilitating. This is not a story of what happened to her, but rather how it has affected her life and her inability to live a normal one. A beautiful romance blossoms, if she will only let it fully bloom. Ethan knows her history. He fights for her and tries to pull her from the darkness.
6 & 7. Constellation & Chaos by Jennifer Locklear
These are books one and two in a trilogy. I could not put them down. I was so invested in the characters. Jack was a man, disappointed in his failed marriage. Katherine was a woman who was never able to find love. Not as a child in her family home and not as a woman. These two souls were fated to be together but there were so many obstacles in their path.
8 & 9. TouchStone for Play & TouchStone for Giving – Books one and two in The Story of Us Trilogy.
I'm about to read the third book in the trilogy. This is a sweep you off your feet, fantasy romance with two star-crossed lovers – true soulmates. And the love scenes are smoking hot!
Losing Hope by Colleen Hoover
I had read, Hopeless, a while ago and I really enjoyed this sad, haunting tale. Losing Hope, is the same story, but from the young man's perspective. It answers quite a few questions and gives insight into what he was feeling through some very dark days.

This Or That? With Author Effie Kammenou
Waffle fries or curly fries? Both!

GIF with a hard g or soft g? I never know. I think soft.

Fantasy or science-fiction? Fantasy

Superman or Batman? Superman. I love Henry Cavill and he will always be my Superman

Text message or call? Text. It's easier and I can answer when I'm in between other tasks.

Pancakes or waffles? Waffles! I make delicious Liege waffles. If you don't know what they are or have never tasted them, you must. You can find a recipe on my food blog.

Doctor Who or the Walking Dead? Neither. I have never seen any episodes, but if I was to watch one, I would choose Walking Dead.

TV Shows or movies? I like both! I love a good series, like The Crown, Downton Abbey, or The Affair. But i like my guilty pleasures too, like The Bachelor. I love sappy Hallmark movies, Oscar nominated movies, romantic comedies and psychological thrillers.

Facebook or Twitter? Both. Facebook is great because the interaction is not limited and you can post a lot of pictures. I've kept up with many personal friends through it. I've also made a lot of new friends, contacts, and have been able to hear from readers. Twitter is quick, easy, and I have made some amazing contacts through it.

Alice in Wonderland or Robinson Crusoe? Alice in Wonderland

Being too warm or too cold? I'll take the heat any day! I hate being cold.

Netflix or Hulu? I have Netflix. I don't subscribe to Hulu. I also have Amazon prime TV and Passionflix

Work Hard or Play Hard? Both. I work hard so that I can play hard. I've always had a strong work ethic. But i love to have fun too!

Passenger or Driver? Definitely driver.

Amusement Park or Day at the Beach? Amusement park if it's Disney. I'm not much for the fairs and the other ride parks. I live on an island surrounded by beaches and I rarely go. I prefer my swimming pool. But I do love the port towns, boating and being near the water.

Honesty or Other's Feelings? You must always consider others feelings. However, if you think something must be said for their own good, there is a delicate way to say it.

Movie at Home or Movie at the Theater? I enjoy both. I love seeing a new movie in the theater. At home, especially in the winter, I like to bundle up on the couch under a blanket with the fireplace ablaze and binge watch my favorite movies.

Prize: Audible 3-month membership
Chasing Petalouthes Giveaway: 3-month Audible subscription


Nov. 1st:
T's Stuff
Nov. 2nd:
Jazzy Book Reviews
Nov. 3rd:
Chapter Break
Nov. 4th:
Lynn's Romance Enthusiasm
Nov. 5th:
The Book Junkie Reads . . .
Nov. 6th:
Book Lover in Florida
Nov. 7th:
The Book Addict's Reviews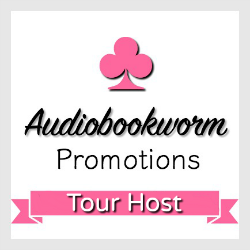 ➜Sign up as a host here