Author: Elizabeth Kirke
Narrator: Starla Huchton
Length: 14 hours and 34 minutes
Publisher: Elizabeth Kirke
Released: July 4, 2018
Genre: Young Adult; Fantasy
Jen Maddox is a few days into her summer study-abroad program and has loved every moment on her cruise ship turned college campus. Everyone tells her the experience will change her life, but none of them realize just how right they really are.
One night, Jen goes out on deck and encounters five other students. She knows Charlie from one of her classes, and he's a funny, friendly, regular guy. Picture-perfect Dani and his gorgeous wife, Mariana, live right down the hall from Jen, and she has seen TS, who's built like a truck, around the ship, and recognizes the cute but quiet Thomas as well.
Then Jen sees something that isn't humanly possible. Jen would have thought that it was all a dream if not for the fact that Charlie, Dani, Mariana, TS, and Thomas are making every effort to cover it up. Suddenly, the five of them are everything but normal, and Jen is determined to figure out what they're hiding.
When she does, her life really does change. Jen expected to spend her summer studying the cultures of Latin America; she never dreamed she'd learn about a magical culture instead.
But Jen's childhood fantasy come true is about to turn into a nightmare; there's something on the ship. Something dangerous. Suddenly, everyone on board is threatened by a creature that Jen never even believed existed. Jen and her new friends might be the only people who can stop it!
Now Jen has to learn everything she can about her new world before it kills her. And her friends. And maybe everyone on the entire ship.



Elizabeth Kirke lives with her husband, two young sons, a hound-mix, and two turtles. She wanted to be an author before she even knew what an author was. She used to say that she wanted to be an artist, but that was only because she was too young to write and had to tell stories with pictures instead. She hasn't stopped writing since she learned how. It wasn't long before she dreamed of becoming an author and couldn't be happier now that that dream is a reality.

If she isn't writing, she's probably doing something involving books, baking, gardening, or yarn.

Like most slightly-nosy, avid readers, Elizabeth can't resist trying to catch a peek at books she sees people reading when out in public to see if she can figure out what it is. While doing just that one day, she realized that it would probably be the coolest-thing-ever if she caught a complete stranger reading one of her books. That's her new dream.


Since debuting her narration skills in 2009, Starla Huchton has lent her voice to many podcasts and audiobook productions. She has read both character parts and main narration for authors such as Tee Morris, Philippa Ballantine, and Lindsay Buroker, and her work spans across both fiction and non-fiction in multiple genres.


So Kirke has created a really intriguing paranormal story with vampires! Yes YA is kinda filled with vampires and it's a big trend that seems to be going out of style, BUT this right here will make you renew your passion for vampire books. There are some tropes, but written in a fun way that don't make you think cheesy. I really love the setting and the mystery in the novel. Everything seems spooky and uncertain being told through our main character. Everyone also seems to have a very in depth backstory even if we don't know what it is yet. I found myself captured by this novel and I look forward to more in this series! I give it a 5/5 stars.
Huchton does a good job of making these characters come to life. I felt like she did a good job with emotions and character distinctions. Pacing was excellent and no weird audio production issues that I can note. I would love to have her continue with this series! I give it a 5/5 stars as well.
I received this audiobook as part of my participation in a blog tour with Audiobookworm Promotions. The tour is being sponsored by Elizabeth Kirke. The gifting of this audiobook did not affect my opinion of it.

Was a possible audiobook recording something you were conscious of while writing?

Never in a million years. When I originally wrote the book I was actually posting it, chapter by chapter, in the Original Works section of a fanfiction website! Back then, ebooks were hardly even a thing. Merely publishing Semester Aboard was a pipe dream and having an audiobook never even crossed my mind. I hardly even expected to be where I am now, with three (plus a short story collection) books in the series and three more on the way. Not to mention having Semester Aboard win an award for Best YA Paranormal!
How did you select your narrator?

Sheer luck! Starla and I were already Facebook friends thanks to the networking power of the author world. We actually sort-of worked together before, when she made a wand for me. (Actually, she made the top half of a wand to fit onto the bottom half of my existing one. The top broke off and I buried it with my beloved cat, but hated to have a broken wand just sitting around.) Anyway, I posted on Facebook asking my friends if they know any narrators and briefly described what I was looking for. Starla replied and sent a link to books she had already done. I knew she was the perfect fit right away, and the rest is history!
How closely did you work with your narrator before and during the recording process?

Did you give them any pronunciation tips or special insight into the characters?
I gave Starla an absurdly detailed document with pronunciation, bios, and even descriptions and pictures. It was probably above and beyond what she needed, but since she brought it to life, it was worth it! We chatted back and forth a lot for the first couple of chapters, but after she had the characters down I just let her do her thing!

Were there any real life inspirations behind your writing?

Big yes! I was part of the Semester at Sea program back in college. I spent a summer on a cruise ship, operated (at the time) by the University of Virginia. I took college courses with UVA and visiting professors, while touring Latin America on the ship. I strongly encourage college students to do it! That experience inspired this book, in which the main character is a student in the same program. As she navigates magic and vampires, her voyage takes her to the same ports that I visited. While a lot more magic is thrown in, the characters do have many of the same experiences in different countries and on the ship that I did.
In your opinion, what are the pros and cons of writing a stand-alone novel vs. writing a series?

Interesting question. I think each pro and con play off each other. A con of plotting a series is that you need to plot out multiple books, and come up with character development and arcs that span more than one book. So, the pro of a stand-alone is that you can wrap it all up with a bow. However, it could also reverse! A con of a stand-alone is that you have to keep everything succinct enough to be contained in one book, but exciting enough to keep readers interested. Likewise, a pro of a series is that you can get really in-depth and intricate, and you have room to grow. I think it all depends on your strengths and weaknesses as a writer.
Is there a particular part of this story that you feel is more resonating in the audiobook performance than in the book format?

I think it all benefits from Starla's amazing performance. That said, I've gotten some negative feedback in the past regarding how slow some of the portions in the ports go. As you just read, they were based on my real experiences, so I think I got a bit too wordy and nostalgic as I describe them. But, Starla brings them to life and you really feel the excitement through the main character's eyes as she reads. I think it really picks up the dragging parts. She also adds a wonderful sense of urgency to the fight scenes!
If you had the power to time travel, would you use it? If yes, when and where would you go?

I would head straight to 1797 and visit George Washington. I worked for several years as a historical interpreter on his estate and would love to pop in and see it in its prime. Not to mention catch some time alone with the General to talk to him.
What do you say to those who view listening to audiobooks as "cheating" or as inferior to "real reading"?

People say that!? Ugh, people will complain about anything for the sake of taking enjoyment away from someone else. 100% disagree. First, there are numerous medical reasons to listen to audiobooks, and that alone should be worth something. Vision impairment, arthritis, dyslexia…The list goes on. Heck, even a nasty migraine that makes opening your eyes torture, but you can't fall asleep. And who doesn't want to read a book while stuck in traffic? Why not listen? And, most importantly: people enjoy them. That should be enough. We should be rallying against people who want to censor or limit access to books, not people making them more accessible.

What's next for you?

Phew! The very next is Wrought-Iron Roses, the 2nd book in my paranormal romance series, The Curse Collectors. The first book opens with three sisters who inherit their aunt's antique shop. Upon arrival, they discover that she was a rune-caster, and was in charge of breaking the curses cast upon all of the antiques in her shop. One of the sisters gets cursed, so they have to learn how to cast runes to save her.
After that, I'm working on the fourth (fifth if you count Danio's Prelude) book in the More than Magic series! I'm also hoping to get the audio for the next one lined up.
Lastly, I'm working on the outline for a brand new series! This one is a paranormal cozy mystery series. I'm quite looking forward to writing it.

Jennifer Maddox
Height: 5' 4" and slim
Eyes: Blue
Hair: Brown
Favorite Food: Pizza
Favorite Movie: Twilight
Birthday: June 17

Born: Oregon

Occupation: College student
In this book: Jen thinks the only "magical" thing about her summer on a cruise will be the cruise itself, little does she know, some of her new friends are quite a bit more magical. In fact, they aren't even human. Learning about magic seems like a dream to Jen, but it quickly turns into a nightmare; something is on the ship with them. Something dangerous. Now, the lives of Jen, her new friends, and everyone on the entire ship are threatened by a creature Jen never even believed existed. And it's up to Jen to stop it.
Thomas Clark
Height: 5' 8" and borderline too thin
Eyes: Green
Hair: Brown
Favorite Food: Teppanyaki
Favorite Movie: Journey to the Center of the Earth (the original)
Birthday: October 8
Born: New York
Occupation: Special Agent with the Magical Enforcement and Secrecy (MES) agency
In this book: Taking time off for college is encouraged by MES, although Thomas and his friends are pushing the limits by signing up for a college cruise. Nevertheless, he's ready for a fun summer of cruising and a three-month break from his job as the Resident Magic Coordinator with MES. In spite of all of his experience welcoming magical beings to town, he's never seen anything like Jen. He's never felt this way about anyone either. But, when a dangerous magic sneaks aboard the ship, Thomas knows it's his duty as a Special Agent to stop it, and the lives of everyone on the ship may depend on what he can, or can't, do.
Char Smith
Height: 5' 6" and stocky
Eyes: Red
Hair: Red, orange, and yellow
Favorite Food: Anything spicy
Favorite Movie: The Shop Around the Corner
Birthday: June 7 (shared with twin sister, Callie)
Born: Arizona
Occupation: MES Agent, Magic-Owned Business Liaison Department
In this book: Charlie is less than thrilled to spend a summer surrounded by water; he's out of his element, literally. But, as long as the ship doesn't sink, he supposes he can give it a whirl. With the power of fire at his beck and call, he makes a powerful ally for Jen and the others. But, if he loses control, he could sink the very ship they're trying to save…
Tethys Conall
Height: 6'3" and broad
Eyes: Dark brown
Hair: brown
Favorite Food: Meat
Favorite Movie: The Shining
Birthday: February 10 (shared with four siblings)
Born: Ireland
Occupation: MES Senior Field Agent
In this book: The only downsides to spending the summer on a ship, as far as TS is concerned, are his seasickness and monthly problem. A potion for the seasickness is easy enough. As for his other issue… well, he'll just have to spend full moons in his cabin. Of course, it's also annoying to speak seven languages and find yourself in a country that doesn't speak any of them. For a Senior Field Agent, thinking on his toes is exactly what TS excels at. Handling a rogue magic on board should be a piece of cake. Of course, he's also used to having back-up, weapons, and a wider field to work in.
Danio Pelagos
Height: 6' 4" and lithe
Eyes: Blue
Hair: Blue
Favorite Food: His mother's cooking, not that he'd admit it
Favorite Movie: The cheesier the better
Birthday: November 14
Born: Off the coast of Greece
Occupation: MES Special Agent, Secrecy Breach Cover-Ups
In this book: Prank-loving Dani was, naturally, the mastermind behind pulling some MES strings to get an all expenses paid vacation. The icing on the cake is being on a ship. Had he known the danger lurking, however, he would've taken a rain check. Dani's no stranger to threats on his life, but he prefers to face them without the people he loves along for the ride.
Mariana Bar
Height: 5' 10" or 7'2"
Eyes: Blue
Hair: Blonde or Green
Favorite Food: Fish
Favorite Movie: The Little Mermaid
Birthday: April 2
Born: Maine
Occupation: MES Intern
In this book: Mariana is eager to go along on a cruise with her friends, even if her bestie couldn't make it. She's ready for sun, sand, and (mostly) the depths of the ocean. There's plenty of exploring to do with Dani by her side. But take her out of the water, and she's not nearly experienced enough to take on the creature hunting them. Mariana feels more like a liability than a future MES agent. Nevertheless, she's ready to do whatever it takes to defend herself and her friends.



Sep. 13th:
T's Stuff
What Emma Read Next
Sep. 14th:
Patriotic Bookaholic
What Is That Book About
The Book Junkie Reads . . .
Sep. 15th:
Turning Another Page
Sep. 16th:
Smada's Book Smack
Sep. 17th:
Book Addict
Bookworms Corner Blog Spot
Sep. 18th:
Lilly's Book World
The Book Addict's Reviews
Sep. 19th:
Jazzy Book Reviews
Guilty Indulgence Bookclub
Declarations of a Fangirl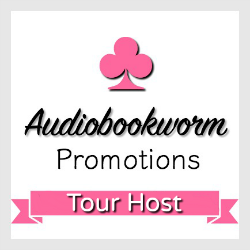 ➜Sign up as a host here