Author: Kathryn Guare
Narrator: Wayne Farrell
Length: 10 hours and 26 minutes
Publisher: Kathryn Guare
Series: The Virtuosic Spy, Book 2
Released: Feb. 20, 2018
Genre: Romantic Suspense


Those who love romantic suspense and thrillers with heart have found their new literary crush.

An Irishman on the run. He's left a lot of things behind him…but they're not far enough back.

Conor McBride has lost everything, and if he can't find a way to disappear in a hurry, the next thing he loses could be his life. Running from enemies he's never met and haunted by his own destructive actions, Conor needs a refuge secure enough to hold his secrets. A farmhouse inn tucked amidst the green mountains of Vermont seems ideal, but when his past catches up with him, Conor discovers the beautiful young innkeeper has secrets of her own, and hers are more likely to get them both killed.



Author of the award-winning Conor McBride Series, Kathryn Guare's character-driven novels are all somewhere on the spectrum between romance and suspense, and some are even perfectly balanced between the two. She has a passion for exploring diverse cultures and cuisine, Classical music and all things Celtic, and has a habit of mixing these into her stories along with other topics and enthusiasms that capture her interest. Formerly, as an executive with a global health advocacy organization, she traveled extensively throughout the world. Currently, as a native Vermonter, she hates to leave home during foliage season.

Internationally acclaimed voice actor Wayne Farrell began his professional career at The National Theatre of Ireland, where he met the legendary Irish seanachai Eamon Kelly and became fascinated with the art of storytelling. Using skills learned during this time, Farrell has worked extensively in both documentary and audiobook narration and is widely admired for the rich clarity and versatility of his voice. His credits include award-winning authors such as Donal Ryan, whose debut novel The Spinning Heart won The Guardian's First Book Award as well as Irish Book of the Year; and New York Times and USA Today bestsellers such as Morgan Rice, author of the fantasy epic The Sorcerer's Ring.

Kathryn Guare gives us a second story in this universe that I definitely wasn't expecting from listening to the first book, but happy to come across! Much like the first book, this is full of information and it is important to listen through carefully. It may be an easier read, since there is a lot to take in, but then you would not get the amazing voice of Wayne Farrell! There are some return characters, but it's not necessary to read/listen to the first book to understand this one. It is exciting and has a very complex mystery that will take all your focus to get to the bottom of! I give it a 4.5/5 stars.
Farrell also narrated the first book in the series. I love his voice acting so much. He does excellent accents! Especially Irish 🙂 Each character feels new and distinct. The pacing is great and audio production is also amazing. I give it a 5/5 stars.
I received this audiobook as part of my participation in a blog tour with Audiobookworm Promotions. The tour is being sponsored by Kathryn Guare. The gifting of this audiobook did not affect my opinion of it.
Tell us about the process of turning your book into an audiobook and how you selected your narrator.

I used "ACX", which is an audiobook platform offered by Amazon to match up authors with narrators. It's great, because all the technical bits and bobs that I know nothing about are taken care of. All I had to do was upload a script for the auditions and agree on the contract with the narrator to get it all started, then upload an audiobook cover and description for the Audible and iTunes listings. There was a process for giving narrators an opportunity to audition, using the script I'd provided. I was beyond thrilled to have Wayne Farrell agree to take on the work. He'd narrated one of my all-time favorite books ("The Spinning Heart") and I could hardly believe my luck!

Are you an audiobook listener? What about the audiobook format appeals to you? What do you say to those who view listening to audiobooks as "cheating" or as inferior to "real reading"?

Yes, I love audiobooks. I once had a job with a 1-hour commute both ways and I went through dozens of audiobooks. I love having someone tell me a story. It can be captivating in a way that's different from reading it on the page, and I don't think it's cheating at all. It's just a different sort of experience, and I just read a news story that science suggests listening to a book is a more emotional experience than seeing a movie based on it!. There are so many books and so little time! I'm happy to use anything that helps me get through more of them and I always have a paperback and an audiobook going at the same time (Well, not at the

same

time, but you know what I mean!)

Do you believe certain types of writing translate better into audiobook format?

I'm sure that's true. Probably books that are strong on plot, action and dialogue work the best, but whatever the genre, the things I find tedious when reading a book are the same things I have trouble with when listening to one. If there is too much exhaustive description of setting, or facts and figures, and too little language that pulls me into the story or subject matter, I start to get impatient. But for me, the narrator is key more than genre. If I am enjoying the voice, and the storytelling skills of the person narrating, I can put up with almost anything else.

Was a possible audiobook recording something you were conscious of while writing?

I think I probably had a movie more in mind than the audiobook. Not because I really wanted to see the book made into a movie, but because I could see the movie in my head as I wrote it. Some readers have mentioned that the book feels "cinematic" and they can also easily picture a movie. However, I recently read a news story that scientists believe an audiobook can be a more emotionally involving experience for a reader than seeing a movie based on the book!

If this title were being made into a TV series or movie, who would you cast to play the primary roles?

Oh, I've had this conversation with so many readers and friends! He's probably a little too old for the role now, but I've always said I'd be happy with Hugh Jackman as Conor. The role he played in the film "The Fountain" struck me as closest to the appearance and personality of Conor. And I think Aaron Paul (Breaking Bad) would do a great job as Sedgwick. And for Kate, hmmm, maybe Alexis Bledel?

How closely did you work with your narrator before and during the recording process? Did you give them any pronunciation tips or special insight into the characters?

I did provide some brief descriptions of how I viewed the characters, but I thought it best to let the narrator develop his own approach, rather than asking him to adopt an accent or particular vocal style he may not be comfortable with. For me, it was most important that Conor McBride sound authentically Irish, which is why I was determined to have an Irish narrator. There were a few corrections when the UK/Irish pronunciation of a word slipped into an American character's dialogue, but not often. Wayne has a remarkable range and facility with accents, and by the time I was listening to the chapters he'd already done his own editing and correcting.

Were there any real life inspirations behind your writing?

This book is mostly set in Vermont, and I am a native Vermonter, so there are a lot of settings drawn from my own experience. The setting for the Rembrandt Inn was inspired by my cousin's gorgeous house in Greensboro, VT, which does overlook a gorge that has a brook running through it. My heritage is Irish, so the scenes in Ireland were also drawn from my experiences visiting the places on the Dingle Peninsula.

Is there a particular part of this story that you feel is more resonating in the audiobook performance than in the book format?

Well, I have to admit that ever since I wrote the book, I was looking forward to having the romantic chemistry between Kate and Conor brought to life. I almost think hearing it in audio is better than the movie, because it is still the book the way I wrote it rather than an adaptation, and it was really a treat for me to hear!

How did you celebrate after finishing this novel?

Probably with a little "happy dance" and an ice-cold cocktail.

Have any of your characters ever appeared in your dreams?

Yes, and it was fantastic. I'll say no more. 😉

What bits of advice would you give to aspiring authors?

The standard advice to writers is "write what you know" and I think that is very limiting and intimidating. My advice is "write what you

want

to know" because that opens up the world for you. Take the time to do the research to learn what you need to, then just go at it and don't let anyone tell you that you can't or shouldn't do it.

Do you have any tips for authors going through the process of turning their books into audiobooks?

After you've found a narrator who has the voice and skill that you want, and you've given them some basic guidelines, you have to let it go and let them do the work. It's like turning your screenplay over to the director and actors. If the narrator is focused on responding to your detailed direction it means they aren't developing their own relationship with the story and the result will be less than it could have been.

What's next for you?

I'm working on writing the fourth book in the series, and the audio version of the 3

rd

book,

City Of A Thousand Spies

is in production so it will be available on Audible and iTunes before too long. Stay tuned!


The Secret Chord Giveaway: ZEUS Bluetooth Headphones Wireless

Aug. 23rd:
Dab of Darkness Audiobook Reviews
Aug. 24th:
Aug. 25th:
Aug. 26th:
Aug. 27th:
Aug. 28th:
Aug. 29th: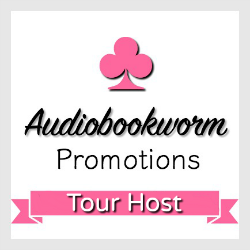 ➜Sign up as a host here