Author: Kathy Coopmans
Narrators: Lacy Laurel & Lorenzo Matthews
Length: 8 hours and 1 minutes
Publisher: Kathy Coopmans
Series: Sweet Sin, Book 2
Released: May 22, 2018
Genre: Romance


From a USA Today best-selling author comes a standalone in the Sweet Sin series.

The lives of Dean Wagner and Tatum Fields have been ruled by the hand of fate.

The past six years of my life have been consumed by guilt. Since we lost Landon to a fire, I've done everything in my power to protect my daughter, Leila, from finding out the truth about how her twin brother died. Nothing in my life means more to me than her.

Not my band, not my reputation. Nothing.

Until I see Tatum, the woman I saved on the beach the same night she dealt with a loss of her own.

The daily routine I've settled into is what keeps me going. Work at my chocolate shop, pay the bills, repeat. I don't date. I don't trust. And I have never forgotten the man who walked away from saving my life without allowing me to thank him.

I know how to reach him, but I avoid him at all costs.

Until fate decides to make another appearance.

This is a story of how destiny ends up bringing these two souls back together, and how fate, the word very little people believe in is really their friend, after all.




USA Today Best Selling Author Kathy Coopmans is a Michigan native where she lives with her husband, Tony. They have two son's Aaron and Shane.
She is a sports nut. Her favorite sports include NASCAR, Baseball, and Football.
She has recently retired from her day job to become a full-time writer.
She has always been an avid reader and at the young age of 50 decided she wanted to write. She claims she can do several things at once and still stay on task. Her favorite quote is "I got this."

Lacy lives the life of a full time wife, mother and household manager. Needing a temporary escape from time to time Lacy returned back to her first love – reading! After devouring everything she could get her hands on she thought, -what if she could mix her love of performance and literature in a professional capacity? Once getting involved in the world of book narration she quickly became hooked and when not with her family you can find her in her studio working hard to grow in her own storytelling abilities.

For me I felt like this story was very emotional. Coopmans did a good job of making us aware of how these characters felt and the struggles they were going through. It was very raw and real. I do wish that the story had played more outside of their heads. There was a lot of point of view narration, rather than speaking and action. And it got a little boring in some parts. I also felt that I was able to easily predict some of the things these characters did in regards to their budding relationship. With these negatives out of the way I will fall back on the positive, which is an emotional journey that got me hooked right away. I recommend if you want something you will cry at. I give it a 4/5 stars.
The narration was great with two narrators! I'm a big fan of dual POV having two narrators for the story. Lacy is the better narrator for me personally, but Lorenzo does a great job with the male voices and his sexy voice is nothing to laugh at. I give the narration a 4/5 stars as well!
I received this audiobook as part of my participation in a blog tour with Audiobookworm Promotions. The tour is being sponsored by Lacy Laurel. The gifting of this audiobook did not affect my opinion of it.

Where There's Smoke Giveaway: 3-Month Audible Membership

Aug. 16th:
Aug. 17th:
Aug. 18th:
Aug. 19th:
Aug. 20th:
Aug. 21st:
Aug. 22nd: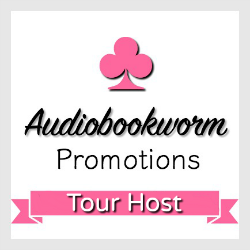 ➜Sign up as a host here