Author: Traci McDonald
Narrator: Amanda Stribling
Length: 9 hours and 49 minutes
Publisher: TraciMcdonaldAuthor.com
Series: Ice and Stone, Book 1
Released: June 20, 2018
Genre: Romance
Danielle Lyndon, owner of a 200-year-old bookstore in Greenville, Alabama, has built a fortress of suspicion around her heart. A tragic fire has taken the lives of her beloved Grandmother and mother, leaving her with nothing but an ancient collection of magical books.
Facing what seems like an eternity of loneliness and abandonment, her life is inexorably altered late one night when a runaway teenage girl breaks into her store and Danielle receives a mysterious text message…from her dead mother.
The only person who can help her is Aaron Donnell, a reckless, tormented drifter with haunting silver-blue eyes who is searching for the burglar, his younger sister. Aaron somehow holds the answers to the mysterious texts, but he's arrogant, dangerous, and is clearly no good for her. The problem is . . . . she's falling in love with him.
Consumed with Aaron's mysterious darkness and the prospect of locating the source of the texts, Danielle allows him to unwittingly drag her into an insane, mystical world where human trafficking is the usual, black magic reigns supreme, and inhuman power lasts forever.
Are the dark chasms of magic and eternity too wide and deep for love to cross? Is the collateral damage in their battle too high of a price to pay if it leaves someone with their soul encased in stone?


Traci McDonald is a blind author of clean romance novels, including Burning Bridger (Muse It Up, 2015), Killing Casanova (Crimson Romance, 2012) and the forthcoming Soul of Stone. She believes that falling in-love is the greatest risk of all, and her non-explicit romances are about hurting, healing and finding true love. Traci has been blind for 20 years. When she isn't writing she is an editor for Ink and Quill Press and the co-host for a blogtalk radio show on The World of Ink Network. Traci is an active member of the National Federation of the Blind, on the board of her local writer's guild, and a speaker for various writing conferences and book fairs. She is a full time wife and mother of three boys, an avid reader, and loves living in a small town on the fringes of Nevada's Mojave Desert.


So the narrator Amanda does a really great job with this book! In fact the reason I was able to get all the way through would be mainly in part due to the narrator. The only voice I did not like was the British student. It sounded too airy. I would have also liked her to be a bit more deep with the male voices, but I think she did such an excellent job with the southern accents! And the production is good too. No weird pauses or trouble hearing. I give the narration a 4.5/5 stars.
As for the story. It was hard on me. I was instantly very intrigued about the books and about our main character's family and backstory. Yet we got no backstory. It just starts in the middle and continues on. We get 1-2 sentences of backstory really with knowing there was a fire and it left her mom and grandma dead or maybe not her mom? And we know she used to be a college student but left to go mind the store. The mystery surrounding this family and the books really hooked me in, I just wish the author had done a better job of following through.
What I had issues with were how fast paced everything was and there was no real direction things seemed to be going in. It was like: ok we did this now, so we should go here next…Also why does she distrust men so much? Her father died and didn't leave her like I thought, so I don't get the issue with men thing at all. And I'm concerned she's hearing voices from the walls in her bookstore/house telling her not to trust men. And the rules for the books are so extremely vague I don't understand how she even knows what to do and what not to do with them. There are minor things that confused and frustrated me such as when she asks Aaron if he's from around here when in the sentence before he said he was from out of town looking for his sister and also does not share a southern accent, so it should have been obvious…and no matter how many times this guy says he doesn't want the books she keeps asking him to stay away from her because he wants the books. Like if you don't trust him don't get in a car with him and go all over town! Call the police on him!
The last major thing I'll discuss is the love story. It goes from this chick accusing him of using her for her books to making out in the span of a couple paragraphs…no. If you wanted to set up the romance you needed to get her to trust him first and let her guard down. What part about him saying he didn't want the books for the 50th time in a row helped her get over her  mistrust of men? I cannot get behind the romance in this story at all. I can understand how they could be together, but it was developed all wrong
So for me this really falls between 3-3.5/5 stars. I wavered so much in what I felt reading so I don't know my final verdict yet. The story behind everything is so fascinating I want to know more about the books and our main character. It's andhame this doesn't happen. And I would have been fine with the romance if it hadn't come out of nowhere. But again it's well written, it just needs tweaks with these things for me to personally love it more. It's possible someone else would feel differently. So I do recommend checking it out!
I received this audiobook as part of my participation in a blog tour with Audiobookworm Promotions. The tour is being sponsored by Traci McDonald. The gifting of this audiobook did not affect my opinion of it.



Soul of Stone Giveaway: Amazon Echo Dot


Aug. 14th:
Notes from 'Round the Bend
Writing Pearls
Aug. 15th:
Writers N Authors
Aug. 16th:
T's Stuff
What Emma Read Next
Aug. 17th:
Jazzy Book Reviews
Book Addict
What Is That Book About
Aug. 18th:
The Book Junkie Reads . . .
Aug. 19th:
The Book Addict's Reviews
Page Princess
Aug. 20th:
2 Girls and A Book
Lilly's Book World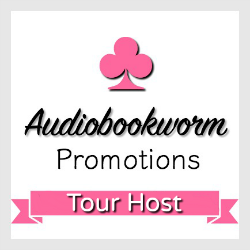 ➜Sign up as a host here