Author: Olivia Boothe
Narrator: Vanessa Moyen
Length: 11 hours 29 minutes
Series: Chronicles of a Dancing Heart, Book 1
Publisher: The Wild Rose Press
Released: Apr. 23, 2018
Genre: Contemporary Romance


Former dance student Sara Hart had aspired to grace the stage on Broadway, but a reckless decision forced her to renounce that dream. Years later, while struggling with an unsatisfying job and an even more unsatisfying love life, she literally stumbles upon a dangerously sexy stranger who sends her heart – and her body – into hyper-drive. His touch makes her feel alive again and sparks a desire to rebuild her dance career. But Sara is still haunted by the demons of her past. One dark lie could cost her everything.

Real estate mogul Tom Wright caters to the rich and famous. He lives the life of the perfect bachelor, partying hard, and dating the most beautiful women in Manhattan. But he has one golden rule – no commitments. Ever. Then he meets sexy Sara Hart, and something about her makes him want to throw the damn rule book out the window. Every time she's near, the blood in his veins pulses with a raging fire he can't contain. But Tom's shadowed history is resurfacing, unearthing ghosts he'd rather remain buried.

Will this wicked dance be their last?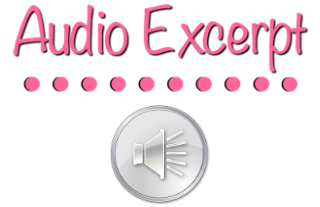 An author of deep and sexy contemporary romance, Olivia Boothe enjoys crafting novels about complex characters and compelling storylines. Her romances encompass a blend of heartfelt emotion and steamy passion.

A coffee addict and red wine lover, when she's not busy conjuring up a new story, Olivia likes to binge read across genres. You'll typically find her with one book on her e-reader, a second on her phone, and a print book in her oversized handbag. Olivia resides in Northern New Jersey with her husband, their three boys, and a miniature dachshund.

A California native, Vanessa grew up tapping her toes in the theatre world and holds a Bachelor of Fine Arts in Musical Theatre from Emerson College in Boston. She now lives in New York City where she works as an actress and producer for the stage, screen and behind the mic! Aside from audiobooks, her voice can be heard on Nickelodeon, MTV and HGTV.
Do you believe certain types of writing translate better into audiobook format?

Yes. I think 1st person works best for audio in my opinion, especially if the narration portions are written in a more conversational tone rather than straight descriptions. Great dialogue also makes for a fun listen.

Was a possible audiobook recording something you were conscious of while writing?

No. When I signed my contract, my publisher did not have a contract with ACX. About a year later, my publisher provided its authors the option to add an audiobook to our existing contracts. I opted in, but by that time my book was almost done going through the first round of edits, so I didn't originally write it with the intent of it going to audio.

How did you select your narrator?

While my publisher holds the rights and they put the project up for bid on ACX, I searched for narrators on my own and invited them to submit an audition through ACX. When I found Vanessa Moyen I knew she had to be one. Her voice was perfect and embodied the essence of my main female character.

How closely did you work with your narrator before and during the recording process?

We emailed back and forth many times.

Did you give them any pronunciation tips or special insight into the characters?

Yes, Vanessa is very committed to her work and she wanted to make sure she portrayed every character as they were written. We discussed character bios, personalities, and physical traits (including celebrity look-a-likes)

Were there any real life inspirations behind your writing?

While the story is fictional, I did draw from some real life experiences. Some were my own, others I borrowed from the life around me. My characters all have traits of people I know.

How do you manage to avoid burn-out?

What do you do to maintain your enthusiasm for writing?

I take writing breaks. Sometimes, I take too many and it pulls me out of my writing zone more than I intended. My first book took me 5 years to write. I can't let that be my average rate. TV and social media can be very distracting, so while it's good to break from the writing screen, unplugging is also necessary if you want to get stuff done.

Are you an audiobook listener? What about the audiobook format appeals to you?

Yes, but I only became a listener about a year ago. I tried it because people were raving about the narrator for a book series I loved (The Red Rising Saga) and I figured I'd give it a go. Once I started, I fell in love. A great narrator can bring a book to life almost as vividly as a movie can. Plus, I get to listen as I go, which means I get to "read" more books than I normally would. Helps me catch up on my TBR list.

Is there a particular part of this story that you feel is more resonating in the audiobook performance than in the book format?

I think Vanessa did a phenomenal job at bringing forth Sara's pain and guilt for the loss of her mother. I wanted to write the character as a spunky, witty, strong female, but I know she can come off too headstrong at times. I think Vanessa was able to soften Sara's character, making Sara even more relatable to women her age.

If you had the power to time travel, would you use it? If yes, when and where would you go?

I am a bit of a sci-fi junky so time travel is a very interesting topic for me. The answer is complicated. As I understand it to be, if time travel were possible, it would only be possible to travel through time as long as you were traveling on a different plane/dimension. You couldn't really time travel within our own dimension. Something to do with the space time continuum. Or maybe I made that up lol. So, yes, I'd time travel, although I don't know when/where I'd go. I'd spin the wheel and let it take it me wherever whenever.

Do you have any tips for authors going through the process of turning their books into audiobooks?

Finding a narrator is not easy. Many do not do royalty share as the pay off can be small, especially for unproven work. And unless you are with a big publishing house, paying out of pocket for the per finished hour rates can be very expensive. Still, there are new emerging narrators out there trying to get their feet wet who are willing to take a chance on you because you are taking a chance on them. It will take a while to find a great one, but he or she is out there. Don't settle just because you want that audiobook. Find the perfect match. It will make all the difference.

What's next for you?

I am currently working on the sequel and conclusion to Wicked Dance. I also have an urban fantasy on the back burner, and I can't wait to bring those characters out to play soon.


For me I didn't love the story as much as I had hoped. It was interesting and spicy in the beginning and then just kind of sits there for most of the book not really escalating at all. I also didn't feel a big connection to the main characters and their romance. I would have liked to have things go more in depth and more events to have happened within the story. I give it about a 3.5 for having interesting enough characters and a good start, but lack of follow through brought it down.
The narration for me was good. Moyen does a good job portraying characters and emotions. There are different voices for everyone and there doesn't seem to be any weird pacing issues or pauses in the audio. I think she could have spiced up some sections a bit, as with the novel parts of the audio got a little boring for me. I give it a 4/5 stars.
I received this audiobook as part of my participation in a blog tour with Audiobookworm Promotions. The tour is being sponsored by Olivia Boothe. The gifting of this audiobook did not affect my opinion of it.

Jun. 12th:
Jun. 13th:
Jun. 14th:
Jun. 15th:
What I Read and What I Thought
Jun. 16th:
Jun. 17th:
Jun. 18th: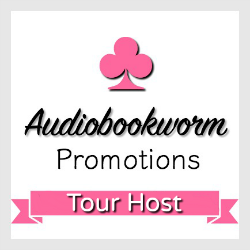 ➜Sign up as a host here