Author: Kathryn Knight
Narrator: Kristin James
Length: 7 hours 46 minutes
Publisher: The Wild Rose Press
Released: Feb 14, 2018
Genre: Paranormal Romance
When Claire Linden's job sends her to the sleepy town of Gull Harbor, she never expects to encounter her ex-boyfriend. As a medium, the prospect of tackling a haunted house is less daunting than seeing Max Baron again. Throughout their passionate college relationship, he promised to love her forever. Then, without explanation, he abandoned her on graduation day.
Max never intended to break Claire's heart – a cruel ultimatum forced him to disappear from her life. While he's shocked to find her in Gull Harbor, he isn't surprised by the bitter resentment she feels for him…or the fiery attraction that remains between them.
Claire is determined to rid her temporary home of its aggressive ghost, but Max soon realizes she's facing a danger beyond the paranormal. When Claire risks everything to help a desperate spirit, Max must race to save her – before another tragedy tears them apart forever.




Kathryn Knight spends a great deal of time in her fictional world, where mundane chores don't exist and daily life involves steamy romance, dangerous secrets, and spooky suspense. Kathryn writes contemporary romance spiked with mysterious hauntings as well as YA paranormal romance filled with forbidden love. Her novels are award-winning #1 Amazon and Barnes & Noble Bestsellers and RomCon Reader-Rated picks. When she's not reading or writing, Kathryn spends her time catching up on those mundane chores, driving kids around, and teaching fitness classes. She lives on beautiful Cape Cod with her husband, their two sons, and a number of rescued pets.


Kristin "KJ" James was born and raised in the Nashville, TN area. Acting has always been a passion of hers. Starting on the stage as early as preschool, KJ pursued her passion into college where she received a BA in Communication with a double emphasis in Theatre and Public Relations from Mississippi State University. After college she found herself more and more drawn to voice overs. Several classes, coaching sessions, seminars, research, and a closet-turned-studio later, and she now records and produces audiobooks on a regular basis. She has also done several radio commercials for clients such as Advance Financial, TriStar Health, and GAC. Her ultimate dream is to work in video games and animation, so hopefully in the not-too-distant future you'll hear her in an RPG or cartoon. When she's not in her booth, you can find her crocheting, playing video games, or running agility with her dog, Phoenix.

I'll write first about the narration. For the most part James did a good job with expressions and character distinctions. However at the beginning there was a weird thing going on with her where she sounded like she was whispering, and it really bothered me. So for me the narration is a 4/5 stars.
The book is also a 4/5 stars. The plot is interesting and complex and the storyline hooks you instantly. Where an issue pops up is that the end didn't have much thought put into it. It just ended with a few sentence wrap up.
I received this audiobook as part of my participation in a blog tour with Audiobookworm Promotions. The tour is being sponsored by Kathryn Knight. The gifting of this audiobook did not affect my opinion of it.



Jun. 10th:
Happily Ever BookWorm
The Book Junkie Reads . . .
Page Princess
Jun. 11th:
Audiobook Romance
Authors' Secrets Blog
Jun. 12th:
Lilly's Book World
Jazzy Book Reviews
Jun. 13th:
T's Stuff
2 Girls and A Book
Jun. 14th:
Notes from 'Round the Bend
Bookworms Corner Blog Spot
Jun. 15th:
Wall-to-Wall Books
Angel's Guilty Pleasures
Jun. 16th:
The Book Addict's Reviews
Smada's Book Smack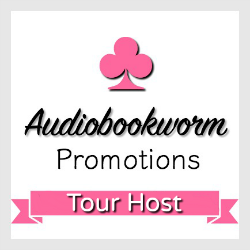 ➜Sign up as a host here