Author: Lilly Atlas
Narrator: Noah Michael Levine and Erin deWard
Series: Trident Ink, Book One
Length: 5 hours 51 minutes
Publisher: Lilly Atlas Books LLC
Released: Apr. 16, 2018
Genre: Erotic Romance
Alyssa Jackson is one of the lucky ones. She has a thriving business, great friends, devoted husband, adorable daughter, and a scorching hot sex life that would be the envy of any married couple. Then, one tragic loss flips her world upside down. Floundering and unsure of how to cope with their grief, Alyssa and her husband drift apart until they are living as roommates instead of a deeply connected couple. Alyssa will do anything to get the intense passion back into her life and marriage, no matter how far out of the box she has to step.
If there is one thing tattoo shop owner Derek knows, it's that once he set his sights on his wife, he never wanted another woman. Years together haven't begun to put a dent in his desire for her. But everything falls apart when the anguish of loss barges into their lives. Adrift in his own suffering, Derek doesn't realize how damaged his marriage is until his wife forces him to confront their issues. Now, he'll do whatever it takes to get their lives back on track, even if the plan seems outrageous.




Lilly Atlas is the contemporary romance author of the award-nominated No Prisoners MC series. She's a proud Navy wife, mother of two spunky girls, and one crazy pug. Every time Lilly downloads a new EBook, she expects her Kindle to tell her it's exhausted and beg for some rest. Thankfully that hasn't happened yet, so she can often be found absorbed in a good book.


Noah Michael Levine is an Audie Award-Winning audiobook narrator and producer living in beautiful Nyack, NY. His over 180 titles include almost every genre. While he loves his work completely – and collaborating with all kinds of different authors, he does not love writing about himself in the third person.


Erin deWard is an Audie Award-Winning narrator with over sixty titles in genres ranging from Spirituality to Young Adult to Adult Contemporary and others. She's worked on stage, screen, and behind the mic for over thirty years. She is beyond grateful to have come to this place in her life and thanks all of the people and organizations that sped her on her way.

In addition to her love of acting, Erin is passionate about her work as an audio describer, translating visual images in media and performance into aural pictures for people who have low or no vision. She studies and performs Shakespearean text and can most frequently be seen cavorting onstage with The Strange Bedfellows, the adult troupe of the Children's Shakespeare Theatre of New York.

Erin lives in lovely Nyack on Hudson, New York with her husband, daughter, sometimes her college-aged son, and two ill-behaved but loveable dogs, Annie and Benevolio.

Proud member of SAG/AFTRA

So Atlas has here a very emotional story of a couple who are trying to get back to the way they were before their daughter died. It was sweet the way that they cared enough to go to therapy about it. However the techniques the therapist used seemed to not be realistic. I've taken classes on differing techniques and I don't think this would necessarily fix something that has been troubling these people for 2 years so quickly….I would say the advice given would be for recently feeling glum couples. So I give it a 4/5 stars.
I liked deWard's narration a lot. She did great with the emotion of these characters and the sexy scenes as well. I think she added a lot to the story, which is always excellent with audio novels! I give it a 5/5 stars!
I received this audiobook as part of my participation in a blog tour with Audiobookworm Promotions. The tour is being sponsored by Lilly Atlas. The gifting of this audiobook did not affect my opinion of it.


Top 10 Reasons why Lilly Atlas turned Escapades into an audiobook and why she chose Noah Michael Levine and Erin deWard as narrators
Fun! It's so much fun to hear my written word come to life. I get so antsy waiting to hear the chapters as Noah and Erin get them recorded.
Award-winning narrators – Noah and Erin won the 2016 Audie award for Best Erotica Audiobook. You know that means they're going to set your ears on fire.
Love working with Noah and Erin – You can tell that both Noah and Erin really love what they do, and that comes through in their narrations. They are great friends and fantastic to work with and that really shines through in their audiobooks.
Sexy – Let's be honest here, this is a sexy book! Listening to it takes it to a new level. Audible didn't make the "skip to the good parts" feature for nothing!
Emotional story – Alyssa and Derek's story is an emotional journey. You may have to grab a tissue or two (though I promise the HEA). There's something about hearing the emotions acted out by Noah and Erin that makes the story really gripping.
Growth as an author – Putting my books in audio has given me the opportunity to grow as an author. Part of that is expanding my reach to different readers/listeners, but a larger part is growing my actual writing. I now spend time thinking about how the books will sound as well as how they'll read while I'm writing.
Duet – I love duet narration, which is when the female narrator reads all female parts in each chapter regardless POV and vice versa with the male narrator. I think it makes conversation flow so well and feels like listening to a movie or play. Erin and Noah are lucky enough to be able to record together and their duet narrations are wonderful!
Have you ever listened to anything by Noah and Erin before? If you then you know that they are just plain fantastic together. They play off each other so well and make the story come to life in a way that is very different but no less captivating than reading. Neither of them is ever just reading the book, they are acting out the story taking it to another level! They give good aural, as they say in the world of steamy audiobooks.
Love giving the option of reading/listening – Audiobook lovers are popping up all over the place these days. For me, it's a no-brainer to put my books in audio format. There are so many readers/listeners who like to switch between the written book and audiobook. Of course I'm going to give them what they want!
Allows me to give my stories to people who don't/can't read traditionally – I'm obsessed with reading. To me, there is nothing better than getting lost in an author's fictional world. There are many people who, for various reasons, aren't able to read a traditional book. Be it time constraints, dyslexia, vision impairments, or any other host of reasons, no one should be denied the ability to dive into fiction for a while.


Escapades Giveaway: $25 Amazon Gift Card


Jun. 7th:
Jazzy Book Reviews
The Book Junkie Reads . . .
Lynn's Romance Enthusiasm
Jun. 8th:
Happily Ever BookWorm
What I Read and What I Thought
Jun. 9th:
PT Minor
T's Stuff
Luna_Roja
Jun. 10th:
Avephoenix Naughty Readings
Nadine's Obsessed with Books
Jun. 11th:
Book Addict
Lilly's Book World
Jun. 12th:
Red Hatter Book Blog
Blogger Nicole Reviews
Jun. 13th:
The Book Addict's Reviews
In Patti's Imagination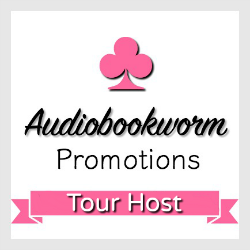 ➜Sign up as a host here