Author
: D.L. Orton
Narrators
: Noah Michael Levine and Erin deWard
Length
: 5 hours 5 minutes
Publisher
: Rocky Mountain Press⎮2017
Genre
: Science Fiction, Romance
Series
: Between Two Evils, Books 2
Release date
: Jul. 28, 2017
If someone took everything you live for, how far would you go to get it back? When a faulty time machine deposits Diego at the top of a pine tree, he knows he's in the wrong place – but has no idea he's in the wrong time. Naked and shivering in the chilly mountain air, he attempts to climb down, but slips, whacks his head, and falls into oblivion. He wakes up inside a darkened room, crippled and disheartened, and must come to grips with the realization that he is marooned in a bleak alternate future. In this universe, what remains of the human race is trapped inside a handful of aging biodomes. With his mission failed, his world destroyed, and the one woman he loves dead, he can find no reason to go on living. But Lani, the emotionally scarred doctor who finds him, refuses to let him give up, and as Diego heals, their relationship becomes complicated. He struggles to let go of the past, but is unable to get Isabel out of his head or his heart. Just when it seems he may be able to find some measure of happiness in a world teetering on the edge of extinction, another note arrives from the future: Isabel is alive – but not for long.


AWARD-WINNING AUTHOR D. L. ORTON lives in the Rocky Mountains where she and her husband are raising three boys, a golden retriever, two Siberian cats, and an extremely long-lived Triops.

In her spare time, she's building a time machine so that someone can go back and do the laundry.


Noah Michael Levine and Erin deWard are Audie Award-winning narrators who have recorded over 40 titles together. They are passionate about acting and, in particular, the medium of audiobooks. The two love working together and have a ridiculous amount of fun playing off each other in the recording booth. Erin is deeply involved in the Audio Description community, translating visual images in media into aural pictures for people with low or no vision. She also performs Shakespearean text with The Strange Bedfellow actors troupe. Noah is a recovering 80s rock musician and an ardent home chef. Both Erin and Noah hail from the beautiful Hudson Valley Village of Nyack—and both are proud members of the Stage Actors Guild.


For me I really liked the two narrators! They had a lot of fun with the characters and I had a good amount of happiness listening to them as well! They had good teamwork and both did the voices similarly! I would give them a 5/5 stars for the great studio production and the awesome narration!
I also enjoy this author's writing style. It is mysterious and intimate at the same time. The big thing for me though is that this book ends up being slower paced at the beginning and then speeds up too fast at the end. I was very confused as to what happened and how we got from point A to B. So this is more a 3.5-3.75/5 stars.
I received these audiobooks as part of my participation in a blog tour with Audiobookworm Promotions. The tour is being sponsored by D.L. Orton. The gifting of these audiobooks did not affect my opinion of them.



Between Two Evils Giveaway: $50 Amazon Gift Card

Book 1
May 20th:
Happily Ever BookWorm
The Book Junkie Reads . . .
May 21st:
Book Addict
Hall Ways Blog
May 22nd:
T's Stuff
Lilly's Book World
May 23rd:
Notes from 'Round the Bend
May 24th:
Jazzy Book Reviews
May 25th:
The Book Addict's Reviews
May 26th:
Smada's Book Smack
Book 2
May 27th:
Happily Ever BookWorm
Book Addict
May 28th:
T's Stuff
May 29th:
Lilly's Book World
May 30th:
Notes from 'Round the Bend
May 31st:
Jazzy Book Reviews
Jun. 1st:
The Book Junkie Reads . . .
Jun. 2nd:
The Book Addict's Reviews
Hall Ways Blog
Book 3
Jun. 3rd:
Happily Ever BookWorm
Book Addict
Jun. 4th:
The Book Junkie Reads . . .
Jun. 5th:
T's Stuff
Jun. 6th:
Notes from 'Round the Bend
Jun. 7th:
Hall Ways Blog
Jun. 8th:
Jazzy Book Reviews
Jun. 9th:
Lilly's Book World
The Book Addict's Reviews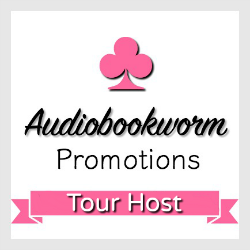 ➜Sign up as a host here