Author: Bree Moore
Narrators: Rebecca McKernan
Length: 13 hours 49 minutes
Publisher: Books by Bree, LLC
Released: Mar. 28, 2018
Genre: Epic Fantasy
For 30 years, Elaina has sat in her tower, fingers caught in an eternal dance, cursed to weave the tapestry of life on her loom. Bound by an enchanted mirror whose magic shows her the distant lives of the people of Camelot, she must forever watch a land which remains ever beyond her reach. Elaina despairs that she will ever experience more than just the shadows of life, until one day, a face appears in the mirror that will change her life, and possibly her fate, forever.
Guinevere is losing her mind. When a severe injury to her head nearly kills her and awakens alternate personalities suppressed from her past, Guinevere learns that one of them is plotting with a knight of the round table to murder King Arthur and take control of Camelot. In the midst of war, Guinevere fights to save both her own life and the man she loves, each day coming closer to succumbing to the violent personalities within her.
Inspired by Arthurian legend and Lord Alfred Tennyson's ballad, "The Lady of Shalott", Woven spins a tale of two women who must risk everything to save those they love most into an epic of enchantment, love, and madness.


Bree Moore has been writing fantasy since the fourth grade. She lives in Ogden, is wife to an amazing husband, and the mother of four children. She writes fantasy novels between doling out cheerios and folding laundry. In real-life, Bree works as a birth doula, attending women in pregnancy and labor, which is huge inspiration for her writing. Bree loves shopping for groceries like other women like shopping for shoes (no, seriously), movies that make her cry, and Celtic music. She likes both her chocolate and her novels dark.

"Woven" is Bree's first published novel, the start of what she intends to be an epic writing career.


Born in the eighties with her formative years in the nineties, Rebecca's taste in music and fashion never really had a chance. Fortunately, you can't tell these things from her writing or voice-over work. HEr first novel, Trespasser, is as dark as her neon is bright, and you'd never guess from hearing her that she's narrating science fiction in nothing but unicorn pants. Currently residing in London, Rebecca is passionate about travel, and has a good – albeit sometimes dubious – ear for accents. She graduated from the Royal Central School of Speech and Drama with a degree in something or other, has a background in musical theatre, a past career in burlesque, and is a classically trained opera singer. Oh, and she likes greyhounds. And wine.

Notes from Bree Moore:
"The Lady of Shalott" by Loreena Mckennit – This song inspired "Woven". My mom challenged me to write a scene based on the song, and a book was born! The song is based on a poem by Alfred Lord Tennyson by the same name.

"In my Arms" by Plumb – This song always makes me think of my main character and how she must have felt holding her baby for the first time. It's so sweet and sad.

"Never saw Blue" sung by Hayley Westenra – I probably listened to this song a thousand times while writing Woven. Its message of hope fit the theme of Woven perfectly. It even inspired the blue jay that "talks" to Elaina and keeps her company in the tower.


Moore did a good job with the retelling of this fairy tale. It was splendidly dark and sad with just enough hope that things could turn around that caught me up easily. I absolutely loved the characters and the depth to which they were described. I would certainly read and listen to more of Moore's work in the future! She is great at transporting you back in time to a world full of chaos! I give the story a 5/5 stars!
The narrator for this book did an excellent job as well. Her voice and pacing were very even throughout. She managed to pull off great accents and differences for each character so that within a couple words I knew who was talking! I hope that she stays with this author and they are able to create some more excellent quality audiobooks! I give the narration a 5/5 stars as well!
I received this audiobook as part of my participation in a blog tour with Audiobookworm Promotions. The tour is being sponsored by Bree Moore. The gifting of this audiobook did not affect my opinion of it.


May 22nd:
Dab of Darkness Audiobook Reviews
May 23rd:
Bookworms Corner Blog Spot
May 24th:
History from a Woman's Perspective
May 25th:
Jorie Loves A Story
May 26th:
T's Stuff
Lilly's Book World
May 27th:
Author C.A. Gray
Lomeraniel
May 28th:
The Book Addict's Reviews
The Voluptuous Book Diva
Holed Up In A Book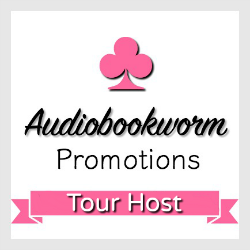 ➜Sign up as a host here