Author: Christine Evelyn Volker
Narrator: Gabrielle de Cuir
Length: 12 hours 6 minutes
Publisher: Christine Evelyn Volker
Released: Mar. 27, 2018
Genre: Mystery
Struggling to forget a crumbling marriage, 40-year-old Anna Lucia Lottol comes to Venice to visit an old friend – but instead of finding solace, she is dragged into the police station and accused of murdering a money-laundering count with whom she had a brief affair. A US Treasury officer with brains and athleticism, Anna fights to clear her name in a seductive city full of watery illusions. As she works to pry information from a cast of recalcitrant characters sometimes denying what she sees and hears, she succeeds in unleashing a powerful foe bent on destroying her. Will she save herself and vanquish her enemies, including her darkest fears?
A captivating tapestry of murder, betrayal, and family, Venetian Blood is a story of one woman's brave quest for the truth – before it's too late.
"A riveting whodunit that makes full use of its dramatic setting." (Kirkus Reviews)


Christine Evelyn Volker became intrigued by foreign cultures at an early age, which propelled her to study Spanish, German, and Italian. After securing a BA in Spanish and an MLS at University at Albany – SUNY, followed by an MBA at UC Berkeley, she was drawn to international banking and became a senior vice president at a global financial institution. Her career brought her to Italy, where she immersed herself in the language and made frequent visits to Venice. Venetian Blood marks a return to her roots in the humanities, and just won the Sarton Women's Book Award for contemporary fiction.

She is currently at work on her second international mystery, this one set in the rainforest of Peru.


Gabrielle has narrated over 400 hundred titles specializing in fantasy, humor, and titles requiring extensive foreign language and accent skills. Her "velvet touch" as an actors' director has earned her a special place in the audiobook world as the foremost choice for best-selling authors and celebrities. Short list of those directed: Anne Hathaway, Emilio Estevez, Wil Wheaton, Dr. Daniel G. Amen, Elijah Wood, Deepak Chopra, Eric Idle, Nancy Cartwright, Michael York, Ed Herrmann, and Joe Mantegna. She is the writer and director of the Award winning short film THE DELIVERY, which deals with an Alice-in-Wonderland version of audio books. She spent her childhood in Rome growing up with her wildly artistic and cinematic father, John de Cuir, four-time Academy Award winning Production Designer, an upbringing that her to be fluent in Romance languages and to have an unusual appetite for visual delights.)

The narration for this book was pretty good. I liked Gabrielle's voice overall, but I didn't exactly like all her accents. I would say the annoying ones were the Italian accents which is funny because the book takes place in Italy. The puertorican and Irish accents were just fine though! I give it a 4/5 Stars.
Volker did a great job with the story. It felt a little suspenseful with the arrest at the beginning. I was actually scared for the heroine the whole way through. Though at times it was a little confusing, such as the beginning of the novel. I was kind of confused with the prologue and some transitions in the novel. I would give it a 4/5 as well!
I received this audiobook as part of my participation in a blog tour with Audiobookworm Promotions. The tour is being sponsored by Christine Evelyn Volker. The gifting of this audiobook did not affect my opinion of it.

Q&A with Author Christine Evelyn Volker
Was a possible audiobook recording something you were conscious of while writing?

Yes. But it didn't enter the choices that I made. If you're a writer doing your job, you're already making decisions based on the cadence of words, their sounds, how realistic your dialog is and how it would be spoken. All of these factors are critical for a good audiobook. After the first few drafts, I read the book out loud to hear how the words sounded and made changes if they didn't work well together.

How did you select your narrator?

Gabrielle de Cuir auditioned, and I loved her voice – its pitch and expressiveness. She brought out the characters' emotions while also creating interest in paragraphs of pure description. Once I heard her Italian pronunciation (I also speak it), I knew she could handle the super-challenging text I had written: lots of Italian and Spanish words, plus six types of accents in English. I checked her background. She had won awards, and was highly experienced. She didn't have to learn the craft via my book. I used Audiobook Creation Exchange (acx). Despite the audition and the first fifteen minutes where the author listens to the narrator's recording and provides feedback, going forward there's a lot riding on faith. Faith that the rest of the voice actor's work holds up to the standard of the first part. Given the linguistic and emotional complexity of my book it would have been easy for someone with less talent and experience to go astray.

How closely did you work with your narrator before and during the recording process? Did you give them any pronunciation tips or special insight into the characters?

We worked together very smoothly. I spent a lot of time at the beginning by preparing six pages of written character descriptions, including minor ones. I boiled the key characters down, their attitudes, what made them tick, and where important, how I thought their voices could sound. This allowed her to reflect before she started, to figure out how she'd breathe life into their words. Since Gabrielle grew up in Rome, I didn't need to give her Italian pronunciation tips. That was a huge boost. We did have a back and forth, surprisingly to me, about the first name of the main character, Anna. I didn't have to consider this at all when writing the book. But Anna's name would sound different when pronounced by Italians or Americans ("Ah-na" vs. "Anna.") This could confuse listeners. Gabrielle needed to nail it down. We decided on the "Ah-na" pronunciation, no matter which character was saying it.




Were there any real life inspirations behind your writing?

Certainly there's my visceral love for Venice which becomes a character in the novel. I tried to bring out the city's rich and storied past, its faded glory and its contradictions. Venice still exists, against all odds. Then there are bits of my own life hidden away in the pages. In 1992, I went to Italy for work but also to seek space from a troubled first marriage, so I fused pain with my love of Venice and the desire to create. The time period for the book is the same. Also, wildlife is a sub-theme in the book; nature and the future of the earth are important to me.

Is there a particular part of this story that you feel is more resonating in the audiobook performance than in the book format?

Definitely when there are two characters engaged in a suspenseful or moving dialog, like Anna being grilled by Detective Biondi, Anna and Pablo confiding in her about Sergio – the dead man, Anna, Margo and Agatha together later in the book when Agatha reveals shocking secrets. I've listened to my audiobook three times now, and its emotional punch is greater throughout. Whether it's the fact that language is meant to be spoken, or that in our history, the spoken word came before the written one, or that many of us had the pleasure of hearing our parents tell us stories before we learned to read, or that listening is a more elemental pleasure than following dots across a page, or that hearing is something we engaged in before we were even born, or that it's all of the above—I can't say. But a well-narrated story is more gripping than the written one.

If this title were being made into a TV series or movie, who would you cast to play the primary roles?

This is a fun question. Anna: Rachel Weisz, Margo: Jennifer Connelly, Alessandro: Giancarlo Giannini, Detective Biondi: Daniel Craig (I think he can pronounce Italian well), Dudley: Gary Oldham, Agatha: Helen Mirren. Pablo: Javier Bardem or Edward James Olmos. I could go on, but I'll stop there!

What do you say to those who view listening to audiobooks as "cheating" or as inferior to "real reading?"

Stop being so judgmental. Each has its advantages. Certainly, it's important for all of us to be literate, so reading is a skill we all must master. Assuming we have, then a written book or a spoken book is a choice we're free to make. Technology made audiobooks portable, and that means people who endure commutes to work can benefit, folks who exercise can get involved in a story as they're on the treadmill, and even dreaded housework can be made more pleasurable while listening to a book. Everybody's short of time and may not be able to just sit and read. I fail to see a problem.

Is your favorite food, song, or city referenced in your work?

Yes. Anna manages to savor a lot of food in my mystery. We're talking about Italy – so how could I leave food out? One of my faves is porcini mushrooms crowning warm polenta. Outstanding. I first ate it in Verona, but it makes its way onto Anna's plate in Venice. I can't resist getting into wine. The first time I drank fruity and sublime Amarone was at the Hotel Metropole in Venice with my husband, Stephan. Of course, I had to feature it.

A unique and moving song I love came out around the time of the book. Eros Ramazzotti sings the story of two dolphins, Missie and Silver, almost from their point of view. They were real dolphins, kept in a small tank in England, and eventually set free. One of my characters, Angela, listens to the song; it has a special meaning for her. My favorite city, Venice, infuses the entire book, even when I don't mention it.

What bits of advice would you give to aspiring writers?

Reach high, get uncomfortable, and repeat after me: "I am the only one who can tell my story."

What's next for you?

Polishing my novel, Jaguar Moon. It's a mystery based in Peru, with a Latina journalist. She returns to Cusco to find out what happened to her parents many years ago. On assignment, her photographer goes missing. Her journey takes her through Cusco's cobbled streets to the lushness of the rainforest. Will she be as fearless as her father in seeking the truth?

Christine Evelyn Volker's Dream Cast for Venetian Blood
Anna Lucia Lottol

: Rachel Weisz

Detective Niccolo Biondi

: Daniel Craig

Margo Fruhling

: Jennifer Connelly

Count Alessandro Favier

: Giancarlo Giannini

Pablo Morales

: Javier Bardem or Edward James Olmos

Dudley Filbert

: Gary Oldham

Agatha Filbert

: Helen Mirren

Roberto Cavallin: Raoul Bova


Venetian Blood Giveaway: Kindle Fire HD8


May 8th:
Dab of Darkness Audiobook Reviews
May 9th:
Happily Ever BookWorm
The Dragon Slayer
May 10th:
T's Stuff
May 11th:
Jazzy Book Reviews
AudioSpy
May 12th:
Lilly's Book World
May 13th:
2 Girls and A Book
Lomeraniel
May 14th:
The Book Addict's Reviews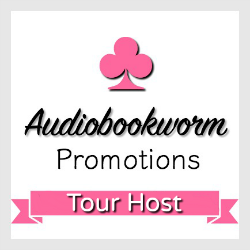 ➜Sign up as a host here