Author: Bella Andre
Narrator: Eva Kaminsky
Series: The New York Sullivans, Book 3
Publisher: Oak Press, LLC
Released: Jan. 9, 2018
Genre: Contemporary Romance
Alec Sullivan has always believed he has it all. A billion-dollar private aviation business. A penthouse apartment in New York City. Beautiful women who know better than to expect him ever to fall in love. And great siblings for whom he'd do anything. But when Alec's business partner passes away and leaves everything to a daughter Alec never knew about, in an instant everything in his life turns upside down – all because of Cordelia.
Cordelia always thought she was perfectly happy with her life. She owns a garden store she loves, lives in a pretty little cottage in the same town as her adoptive parents, and figures there's plenty of time to meet Mr. Right. But she never counted on becoming the surprise heir to a fortune – or on meeting a man like Alec Sullivan. A shockingly sexy billionaire who makes her heart race and melt all at the same time.
Neither Alec nor Cordelia plans on getting any closer than they have to. Only, how can either of them fight this kind of heat, this depth of desire? And when Cordelia needs Alec's support, it's pure instinct for him to be there for her. But when it's her turn to help him confront his deepest pain, will Alec let her in? Or will he push her away, just as he's pushed away everyone who's loved him for the past 30 years….


Bella Andre is the New York Times, USA Today, Publishers Weekly and Wall Street Journal bestselling author of "The Sullivans", "The Morrisons" and "The Maverick Billionaires" series.

Having sold more than 7 million books, Bella Andre's novels have been #1 bestsellers around the world and have appeared on the New York Times and USA Today bestseller lists 64 times. She has been the #1 Ranked Author at Amazon (on a top 10 list that included Nora Roberts, JK Rowling, James Patterson and Stephen King). Apple iBooks named her one of their "Bestselling Authors of All Time" (alongside Nicholas Sparks, Nora Roberts and EL James). And Publishers Weekly named Oak Press, the publishing company she created to publish her own books, the Fastest-Growing Independent Publisher in the US. After signing a groundbreaking 7-figure print-only deal with Harlequin MIRA, Bella's "The Sullivans" series is being released in paperback in the US, Canada, and Australia.

Known for "sensual, empowered stories enveloped in heady romance" (Publishers Weekly), her books have been Cosmopolitan Magazine "Red Hot Reads" twice and have been translated into ten languages. Winner of the Award of Excellence, The Washington Post called her "One of the top writers in America"; and she has been featured in Entertainment Weekly, NPR, USA Today, Forbes, The Wall Street Journal, and TIME Magazine. A graduate of Stanford University, she has given keynote speeches at publishing conferences from Copenhagen to Berlin to San Francisco, including a standing-room-only keynote at Book Expo America in New York City.

Bella also writes the New York Times bestselling Four Weddings and a Fiasco series as Lucy Kevin. Her "sweet" contemporary romances also include the new USA Today bestselling Walker Island series written as Lucy Kevin.

If not behind her computer, you can find her reading her favorite authors, hiking, swimming or laughing. Married with two children, Bella splits her time between the Northern California wine country and a 100-year-old log cabin in the Adirondacks.


Eva Kaminsky is a New York born and NYC based actor and narrator. A 2014 Audie nominee, she has recorded over 150 audiobooks in many different genres ranging from Romance to Young Adult. Eva can often be heard on TV and radio commercials for such products as Intel, Publix, Neulasta and Tide, and spent her earlier years in the world of animation voicing characters for Teenage Mutant Ninja Turtles, Pokemon, Yu-gi-oh, among many others. Recent recurring and guest appearances on television include Chicago Med, Billions, Madam Secretary, Madoff, Blindspot, and The Blacklist, and on the larger screen she can be seen in Extremely Loud and Incredibly Close, Three Generations, and Stephen King's The Dark Tower. She has spent over 20 years working in the theatre, both on and Off Broadway, and extensively in regional theatres all over the country.


Overall this was my favorite of the three books in this series I've read so far! The characters are really interesting and their backstories got me excited and into the book immediately. Alec has been through a trying time but he does well with getting over things. I feel like Andre did better with this book in describing things and giving us an overall picture of people, developing the romance slowly instead of rushed like the previous books. I give it a 4/5!
The narrator does a really fantastic job. I enjoyed that she was able to give each character a unique voice. It felt very smooth! And the studio quality seems excellent as well! I give it a 5/5!
I received this audiobook as part of my participation in a blog tour with Audiobookworm Promotions. The tour is being sponsored by Bella Andre. The gifting of this audiobook did not affect my opinion of it.

Waffle fries or curly fries?

Curly

GIF with a hard g or soft g?

hard

Text message or call?

Text

Pancakes or waffles?

Both!

TV Shows or movies?

Depends on the show and movie!

Facebook or Twitter?

FB

Alice in Wonderland or Robinson Crusoe?

Alice

Being too warm or too cold?

Neither. I like to be right in the middle. ☺

Netflix or Hulu?

Netflix

Work Hard or Play Hard?

Both!

Passenger or Driver?

Driver

Amusement Park or Day at the Beach?

Both

Movie at Home or Movie at the Theater?

Theater


The New York Sullivans Giveaway: 3-Month Audible Membership

Book 1
Mar. 4th:
The Book Junkie Reads . . .
Mar. 5th:
Red Hatter Book Blog
Audiobook Romance
Mar. 6th:
Jazzy Book Reviews
Booktalk with Eileen
Mar. 7th:
Lilly's Book World
Mar. 8th:
Lynn's Romance Enthusiasm
Mar. 9th:
Haddie's Haven
Book Lover in Florida
In Patti's Imagination
Mar. 10th:
The Book Addict's Reviews
Guilty Indulgence Book Club
Cali Book Reviews
Book 2
Mar. 11th:
The Book Junkie Reads . . .
Mar. 12th:
In Patti's Imagination
Mar. 13th:
Red Hatter Book Blog
Audiobook Romance
Mar. 14th:
Lynn's Romance Enthusiasm
Booktalk with Eileen
Mar. 15th:
Lilly's Book World
Jazzy Book Reviews
Book Lover in Florida
Mar. 16th:
Haddie's Haven
Mar. 17th:
The Book Addict's Reviews
Guilty Indulgence Book Club
Cali Book Reviews
Book 3
Mar. 18th:
The Book Junkie Reads . . .
Mar. 19th:
What Is That Book About
Lynn's Romance Enthusiasm
Mar. 20th:
Audiobook Romance
Mar. 21st:
Jazzy Book Reviews
In Patti's Imagination
Mar. 22nd:
Lilly's Book World
Booktalk with Eileen
Mar. 23rd:
Haddie's Haven
Red Hatter Book Blog
Book Lover in Florida
Cali Book Reviews
Mar. 24th:
The Book Addict's Reviews
Guilty Indulgence Book Club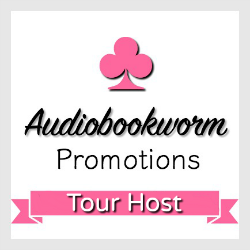 ➜Sign up as a host here