Author: William Todd
Narrator: Ben Werling
Length: 2 hours 4 minutes
Publisher: William Robert Todd
Released: Jan. 5, 2018
Genre: Classic Detective


After months of inactivity, Holmes and Watson have two cases thrust in their lap in a single day. First, a mysterious woman from Swansea, Wales, seeks Holmes' help finding her husband who has disappeared in the middle of the night. As soon as she leaves, Holmes receives word that there has been a prison riot with several dead and a few inmates missing. Lestrade is asking for his services.

Holmes believes the two cases are not a coincidence, but he has no idea who is behind it and to what end. They go to Swansea in what could be either a wild goose chase or a setup. Will Holmes unravel the mystery before they get to Swansea? If not what will be in store for them when they step off the train?




I have been writing online since the early 2000's, primarily writing horror stories in the style of Poe and Lovecraft. I was the 2nd most popular author on the website storiesbyemail.com for two years before moving on. I had my first book, a Victorian era horror compilation called Bumps in the Night, published by Mystic Moon Press just a week before they closed their website and never saw my hard work pay off. Afterwards I took publishing into my own hands, became an Indie author and haven't looked back. My first self-published book was Dead of Night, another compilation of Victorian horror stories, published September 2016 by Createspace and on Kindle by KDP. After its publication I left my comfort zone for mystery and wrote a short story about Sherlock Holmes in the Conan Doyle style. I loved it so much I then did a longer story A Reflection of Evil, both published in 2017 through Createspace and KDP. I have just release Beyond the Gossamer Veil, another compilation of both Victorian and modern supernatural/horror stories and am in the beginning stages of my third Sherlock Holmes installment.

Ben is an award winning actor and voice over professional, who has performed all across the United States. From Shakespeare to Neil Simon, he has displayed a versatility and diversity in the characters and dialects he has portrayed. Ben received the Joseph Jefferson Award for Leading Actor as abusive talk show host Barry Champlain in Eric Bogosian's TALK RADIO, and was nominated for Best Supporting Actor as Prosecutor Villeforte in Alexander Dumas' THE COUNT OF MONTE CRISTO, also in Chicago. He has worked with an extensive list of theaters in Chicago over the last three decades: Steppenwolf, Bailiwick, Famous Door, Next, A Red Orchid, Raven Theater, First Folio, Writer's Theater, Buffalo Theater Ensemble, as well as Utah Shakespeare Festival, Illinois Shakespeare Festival, Indiana Repertory, Madison Repertory, and Allenberry Playhouse in Boiling Springs, Pennsylvania. He is an Ensemble member of Shattered Globe Theater in Chicago. For almost a decade he was the voice of the Adler Planetarium, hosting live shows and pointing out the stars, planets and constellations on the big dome. Ben has an eponymous weekly vlog on YouTube, that he films, produces, edits and narrates. He lives in Chicago with his wife Amy, two dogs and three cats.

I personally really really love Sherlock Holmes and people who write in that world when they write well. So I was very excited to start reading this! And Todd did not let me down. It feels like a Sherlock Holmes novel with his strangeness and cool wit and Watson being dragged around. I absolutely had a blast listening to this! The characters are oodles of fun and the mystery is confusing yet comes together in the end when explained! I give the story a 5/5.
The narration is excellent as well. Werling has a great voice that just works for this type of detective novel. I will say the one let down I do have with him is that some characters were too similar to each other for me to figure out who was saying what. But for the most part there were fun accents and speech differences for each one and the studio production was smooth and clear! I give the audio a 4/5.
I received this audiobook as part of my participation in a blog tour with Audiobookworm Promotions. The tour is being sponsored by William Todd. The gifting of this audiobook did not affect my opinion of it.
Q&A with Author William Todd
Tell us about the process of turning your book into an audiobook?

My part was easy. Well, easy might be the wrong word. Familiar might be a better word. I think the hard part was narrowing the list of narrators and the actual narration of the book. That was a process I had never been involved with before. Sherlock Holmes has a certain style, which I believe the narrator Ben Werling nailed. But there were several different characters throughout the story he had to portray. Doing it on paper sometimes can be easier than doing it out loud because each reader can put their own spin in their head as to how each character sounds. In audiobook you have the narrator doing it for you. I believe Ben's part was every bit as difficult as mine was writing it..

Was a possible audiobook recording something you were conscious of while writing?

No. This is my first foray into audiobooks. Digital and hardcopy was all I thought about while writing. But I have to say that hearing my book narrated for the first time gave me chills. I thought to myself, "Why on earth didn't I do this before now?"

How did you select your narrator?

I was brought up on the Jeremy Brett Sherlock Holmes, and I believe he is the standard. I wanted someone who could emulate that. I believe Ben Werling did just that. But having said that, most of the Holmes stories are narrated by Watson, and as with Holmes, I had a certain "voice" in mind for Watson, which Ben nailed. He is very adept at changing between the two seamlessly.

How do you manage to avoid burn-out? What do you do to maintain your enthusiasm for writing?

I have a more-than-full-time job in healthcare and a family with two teens, one with Down Syndrome, so I learned early on burn-out is not an option. Whether at work or at home between whatever it is I'm doing, I find time to read and work out story plots. My mind never stops and that keeps my enthusiasm for writing.

Are you an audiobook listener? What about the audiobook format appeals to you?

I am now. I drive an hour and a half a day to and from work. It makes perfect sense to listen to a book rather than listen to the same 30 songs played over and over again on the radio.

Is there a particular part of this story that you feel is more resonating in the audiobook performance than in the book format?

I think in the times that Holmes conveys his feelings through his words. It's one thing to read them on paper, but when you actually hear them it helps you realize that despite his intellect and often dispassionate demeanor, Sherlock Holmes was a person and things affected him.

If you had the power to time travel, would you use it? If yes, when and where would you go?

I would absolutely. Since almost everything I write takes place in late Victorian times I would love to go back. Victorian England if I had to pinpoint a particular place.

A Reflection of Evil Giveaway: $20 PayPal Cash

Feb. 20th:
Feb. 21st:
Dab of Darkness Audiobook Reviews
Feb. 22nd:
Feb. 23rd:
Feb. 24th:
Feb. 25th:
Feb. 26th: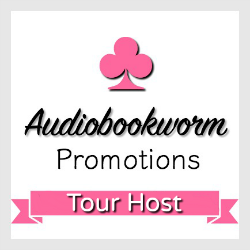 ➜Sign up as a host here