Author: Howard Weiner
Narrators: Laura Copland
Length: 7 hours 51 minutes
Publisher: Howard D. Weiner
Released: Jun. 38, 2017
Genre: Technothriller
Two physicists are in a race with federal authorities and three former CIA agents to detonate a dirty bomb in Las Vegas. The physicists deploy several explosive devices, hidden in plain sight, that can be detonated at any time. Federal authorities realize too late that their best technologies, people, and staff cannot detect the existence and movement of small bombs. The safety of Las Vegas depends on three former CIA agents brought together by an employer with ill intent and strong ties to venture capitalists funding the latest crop of entrepreneurs. Who will win? Will Las Vegas be saved?


Howard Weiner was born in Washington, DC, in the distant past when Congress returned home during the summers, new best friends moved in every four years, and old ones never stayed. He attended local public schools and graduated from Pennsylvania State University with a BS in computer science and a spouse.
For the next forty years, he pursued an extensive graduate education, served as a member of the professoriate, an entrepreneur, and leadership positions in information technology in the private and public sectors. He lived during his working years in the Washington DC suburbs and exurbs, Richmond, Virginia, in three locations on Long Island, New York, Pittsburgh, Pennsylvania, and finally, the upper west side of New York City.
Weiner's first work of published fiction, It Is Las Vegas After All, introduces three unlikely partners who stumble upon two refugees from higher education who abandon their promising academic careers to build and detonate a dirty bomb in Las Vegas. The story takes place in the U.S., U.K., and the former communist east Germany, and ends following a high stakes winter pursuit along the Appalachian Trail.
His second work, Serendipity Opportunity, tells a tale of the dark web meets mayhem, murder, and an international incident involving Russian and U.S. intelligence agencies.
His latest work, Bad Money, takes place in 1993 and features two unlikely heroes trying to escape members of Manuel Noriega's former intelligence staff in a drugs for money story. The story begins, simply enough, with two suit cases accidently switched at the Miami Airport.
He is also working on two other manuscripts: One for the Price of Two and The Big Lowandowski.


Giving characters on the page a voice, an accent, and a manner of speaking is an exhilarating adventure. ​Through audio book narration, Laura Copland combines her classical training as an actor with her rigorous training as an attorney to approach each manuscript with intelligence, creativity, and honesty. She has appeared on Broadway and in regional theaters, and in many on-camera commercials. Her audio books include murder mysteries, time-travel, vampires, and thriller about a dirty bomb in Las Vegas. Her timing and sense of humor also enable her to give interesting reads in nonfiction, including coping with a cheating spouse, a primer for a "decent divorce," mindfulness to combat obsessive behavior, and a Martha's Vineyard memoir. She is the founder and director of the Women Playwrights' Initiative at Connecticut's Ivoryton Playhouse, which provides a workshop for women to realize their one-act plays in an environment both safe and nurturing.

Weiner has created a very fascinating tale here! In Las Vegas there is a bomb about to go off and you learn why as the tale is told to you by Copland. It's very narrative heavy which can be great, and I do think most of it is done well. Although I did wish for more dialogue in places and sometimes there were issues of confusion that I believe could have been cleared up with less narrative description. I give the story a 4/5.
Copland does an excellent job with her narration. She makes it exciting even when there is heavy description! I was able to listen to most of this without feeling bored or like I was losing my attention. She has a very nice voice that I would probably listen to a good amount of things being read with. I give the audio a 4.5/5.
I received this audiobook as part of my participation in a blog tour with Audiobookworm Promotions. The tour is being sponsored by Howard Weiner. The gifting of this audiobook did not affect my opinion of it.

Q&A with Author Howard Weiner
Tell us about the process of turning your book into an audiobook.

I started the process of commissioning the audiobook while completing my second novel,

Serendipity Opportunity

. Working with Amazon's Kindle publishing program was providing good feedback and results, and so it wasn't a dramatic leap of faith to investigate Amazon's audiobook publishing division, Audio Creation Exchange (ACX).

ACX has an efficient process for publishing a sample of the novel and soliciting auditions among interested publishers and narrators. I received a surprising number of submissions and set about listening and evaluating each audio segment.

Laura Copland's submission was clearly the best of the bunch. We promptly agreed to the terms and conditions facilitated by ACX, and Laura began her work in earnest.

After reading the novel, Laura had a number of questions regarding the characters. I was pleasantly surprised at how well she had managed to climb into the skin of each. Her formal education and training in the theater arts clearly marked her as the consummate professional, and for that reason working with her to complete the book took about six-to-seven weeks.

For my part, working on a novel at some point is less about the story and the characters and more about issues of presentation. Getting the book into print is the point, and very quickly you transform from storyteller to scrivener. Listening to the chapters Laura submitted rekindled my joy and excitement about the story and the characters she so ably brought to life.

Do you believe certain types of writing translate better into audiobook format?

No one appreciates a good story more than a story writer. Beyond the entertainment value of a good engaging book, listening to an audiobook is like taking a master class in writing from authors you enjoy and even envy.

I'm (an old) computer scientist by formal education and industry training. It's difficult to imagine any of the many textbooks in computer science, mathematics, or the sciences in general, working well as an audiobook–no matter how written and enlightening they may be.

In the fiction genre, I find it easier to listen to an audiobook where the author provides the context for characters and the situations in which they find themselves rather than straight character dialog.

Was a possible audiobook recording something you were conscious of while writing?

I'd like to say

yes

, but it isn't true.It wasn't until the publishing process came to an end that I started to contemplate turning it into an audiobook.

I'm in the midst of my fourth novel now,

One for the Price of Two

, and I still do not find myself designing the storyline, mapping out character development, or doing the research my books require with an audiobook in mind. But I have given the matter some thought, and for now I've elected to focus on the written word first, middle, and last.

How closely did you work with your narrator before and during the recording process? Did you give them any pronunciation tips or special insight into the characters?

I knew from the moment I listened to Laura's audition that I'd stumbled on to an extraordinarily talent. I've learned throughout my professional career that finding such people can too often be good fortune rather than intent, and it's important to let someone like Laura "do her thing." I didn't always agree with her take on a character's spoken dialog, but I always found her interpretation to be at least as good as what I intended when putting pen to paper.

We did have a couple, very minor, issues about pronunciation, but again, Laura made those few circumstances a breeze.

Were there any real life inspirations behind your writing?

I recently finished reading John Grisham's,

The Rooster Bar

. Grisham relates that he read a news story about for-profit law schools and instantly knew he had a story.

It Is Las Vegas After All

was born out of a similar set of circumstances. I'd read several news stories about dirty bombs and that became the straw for binding together other professional and personal experiences.

How do you manage to avoid burn-out? What do you do to maintain your enthusiasm for writing?

I'd imagine everyone encounters burn-out at some point. I've certainly read about the issue enough. For me, getting out from behind the keyboard and doing something physical is almost magical in a way.

More recently, I found myself as a member of a team of two providing home care for my 93 year old mother-in-law. My wife of 45 years did all of the heavy lifting and unglamorous chores of caring for someone slipping rapidly into dementia. While I did some of that, I was more…logistical. I did the cooking, cleaning, shopping, and chauffeuring. Writing became a respite, when I suffered through many bouts of burn-out in home health care.

Are you an audiobook listener? What about the audiobook format appeals to you?

Yes

and

no

.

When we travel–especially long distance by car–I find an audiobook is a great way to both ease the journey and feel enriched by it. When I'm stationary, I confess my preference is for "reading" the old fashioned way.

Is there a particular part of this story that you feel is more resonating in the audiobook performance than in the book format?

There are several, but one stands out in my mind.

It's challenging to write an engaging, pulse raging, your mouth goes dry chase scene. Chapter 14, in

It Is Las Vegas After All

, has Alice Linda being chased through a high-rise office tower under construction.

My great fear in writing a chase scene is becoming too clinical at the loss of emotion and fear that keeps the reader glued to the page–where you absolutely must know the outcome before you can put the book down. Laura Copland's reading of that scene kept me glued to my chair listening to the details, wanting to know the outcome–and I wrote the book!

In your opinion, what are the pros and cons of writing a stand-alone novel vs. writing a series?

Talk about pressure. Writing one good story is challenging enough. Writing two or more with a continuing set of characters or theme reminds me of chess. Chess players begin each game with more moves and options than each succeeding move. Soon enough, the options a chess player faces are more about failure than success.

Take Lee Childs' Jack Reacher series. Let me be clear: I will always read the latest Reacher book, and often re-read earlier ones as well. While each book is always a "great read," I know too much about Reacher. I know when he's about to engage in a brawl. I know how he sees each step, swing, and kick in a mathematical precision and slow motion before I read the words. And yet, Childs' still makes me want to read the scene, see how it develops, and how badly the bad guys suffer physical damage.

The same is true of Janet Evanovich and her Stephanie Plum novels. I know–know–the car she's driving will meet its demise. I know Ranger will look at her and what remains of his latest expensive vehicle and say only, "Babe." I know it. And after 24 installments, Evanovich pulls it off, well.

I am envious and I know better. It's like batting after Babe Ruth. Why bother?

What bits of advice would you give to aspiring authors?

Like the folks at Nike used to say: Just do it. Tell your story. Find a willing reader. Listen to what they have to say.

"I love criticism," said no one ever. I know no one who loves criticism, enjoys it, revels in it. No one. And yet…if you're not writing for an audience, then why bother?

I find the best writers are always readers who are the best listeners.

Do you have any tips for authors going through the process of turning their books into audiobooks?

As a long time manager, I found planning the best preparation for providing the survival and coping skills when things do not go according to plan. Fortunately for me, my narrator, Laura Copland, found me.

Good partners make great things happen. The old saying: The whole is greater than the sum of its parts," was never more true than when an aspiring, mediocre writer is paired with a talented narrator. That may not be what Aristotle had in mind when giving us his sage wisdom, but true it is.

What's next for you?

I'm deep into my fourth novel,

One for the Price of Two

. This story grew out of a very bad joke between myself and a good neighbor. I shared the plot line with a well known blogger-editor whose reaction was priceless–something along the lines of: "It sounds like quite a romp. Any Marx brothers in it?"

My fifth novel,

The Big Lowandowski

, tells the story how a driven, type A personality, an out-of-the-box thinker comes back from a humbling failure (see my second book,

Serendipity Opportunity

). Whatever you do, don't think of the two books as a

series

. The pressure is too great!


Todd Adams
Child prodigy raised by parents who sacrificed much to provide their son with the opportunities to develop his gifts. Holder of a recently conferred doctoral degree in physics from Stanford, appointed to a prestigious post-doc at UC-Berkeley. He falls in love with a Jordanian student at UC-Berkeley much to the dismay of both sets of parents.
The death of his pregnant girlfriend, the loss of his parents' support, the enmity of his late girlfriend's father, and the loss of focus in his own discipline's research causes him to become unmoored producing profound changes in his character. He leaves Berkeley for a career with Apple and Google ultimately becoming an entrepreneur in a promising start-up. Meanwhile, he conspires with his former office mate to build and detonate a series of dirty bombs in the Las Vegas casino strip—his means of expressing the loss of much he once held dear.
Achmed Al Hami
Todd Adams' office mate at UC-Berkeley where his interest in advising foreign students takes precedence over his post-doc research—the reason the University ends his appointment. He sets up one of his students, Leyla Hafnawi, on a date with Todd Adams, ultimately accepting responsibility for Adams' downfall.
Joe McRory
Works in Las Vegas for a resource recovery firm. Conspires with Adams to build and detonate the dirty bombs.
One-time CIA operative, now retired, works for an international firm providing questionably obtained background materials to venture capitalists on promising entrepreneurs. Excellent researcher and investigator whose talents are often overlooked. Initially, a reluctant partner to Alice Linda whose methods he finds questionable.
Alice Linda
Also a former CIA operative working for the same firm As McRory. Unlike McRory, she works in quality assurance activities making it possible for the firm to guarantee the work of its researchers and investigators. She's tasked by her firm to assess McRory's performance but employs highly idiosyncratic methods and approaches to all of her assignments—charitably described as an out-of-the-box thinker and doer.
Evangeline (Eddy) O'Conner
Youngest daughter of a successful NY state family who comes of age during the Kennedy presidency. Responds to his assassination by joining the CIA as an undercover agent operating behind the Iron Curtain in East Germany. Her cover—she is a member of a religious order—continues after her return to the US.
Served as a mentor to women agents in the CIA, including Alice Linda. Leaves her vocation to help Linda (and Linda's reluctant partner, McRory) determine why the firm that employes them is also trying to have them killed.
Boots Tyendinaga
Nephew of Nelson, brother to Elisabeth, Boots is now a junior member of the family business—a murder for hire firm that once worked for the intelligence services but is currently employed by the firm trying to murder McRory and Linda.
Nelson Tyendinaga
Uncle to Boots and Elisabeth, a former high steel worker whose health ends that career in favor of his activities in the murder for hire business. Too fond, too eager, and too dedicated to his current line of work, he no longer receives commissions from foreign intelligence agencies. Attempts to avenge the death of his nephew.
Elisabeth Tyendinaga Ristovski
Unable to fit-in to society outside of the Indian Reservation, she returns to care for her mother and avoid the unending questions about her parentage during her brief time away. Avenges the death of her mother and brother by murdering the founder of the information gathering firm employing her brother and uncle.
Alec Winston
An entrepreneurial member of the British middle class responsible for envisioning and founding the information gathering firm providing background materials to venture capitalists contemplating investing in start-ups headed by (often) at-risk entrepreneurs. Murdered by Elisabeth for his responsibility in the deaths of her brother.
Detective Inspector Henry Wallard
A British police constable operating in the Bristol-Bath area of Southwest England. Assigned to investigate the death of Elisabeth Ristovski in her unsuccessful attempt to murder Joe McRory and Alice Linda for their role in the death of her brother.
Director, National Counterterrorism Center
One of those extraordinary leaders who motivates his staff to deliver by use of questionable techniques, methods, and the verbal abuse you'll never find in a "how to" book.
Leyla Hafnawi
Jordanian undergrad at UC-Berkeley who falls in love with Todd Adams and becomes pregnant with his child. Like Adams, she has difficulty coming to grips with the strong adverse reactions from both sets of parents regarding their relationship and her pregnancy. Dies after being struck by a car in Berkeley.
Khaled Hafnawi
Wanted international arms seller who is captured by US authorities when he comes to Berkeley to bring his pregnant daughter back to Jordan. His reported death while in custody masks his rendition to a black site used by the CIA and his ultimate imprisonment in Guantanamo Bay.


It Is Las Vegas After All Giveaway: $25 PayPal Cash


Jan. 30th:
Dab of Darkness Audiobook Reviews
Jan. 31st:
La libreria di Beppe
Feb. 1st:
Mystery Thriller Week
T's Stuff
Feb. 2nd:
Jazzy Book Reviews
Feb. 3rd:
AudioSpy
Feb. 4th:
Bookworms Corner
Feb. 5th:
The Book Addict's Reviews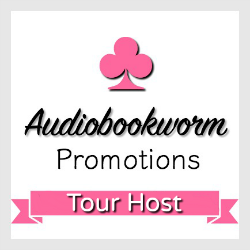 ➜Sign up as a host here