Author: Effie Kammenou
Narrators: Emily Lawrence
Length: 17 hours 22 minutes
Publisher: Effie Kammenou
Released: Dec. 1, 2017
Genre: Contemporary Romance


In the year 1956, Anastacia Fotopoulos finds herself pregnant and betrayed, fleeing from a bad marriage. With the love and support of her dear friends Stavros and Soula Papadakis, Ana is able to face the challenges of single motherhood. Left with emotional wounds, she resists her growing affection for Alexandros Giannakos, an old acquaintance. But his persistence and unconditional love for Ana and her child is eventually rewarded and his love is returned. In a misguided, but well-intentioned effort to protect the ones they love, both Ana and Alex keep secrets – ones that could threaten the delicate balance of their family.

The story continues in the 1970's as Dean and Demi Papadakis, and Sophia Giannakos attempt to negotiate between two cultures. Now Greek-American teenagers, Sophia and Dean, who have shared a special connection since childhood, become lovers. Sophia is shattered when Dean rebels against the pressure his father places on him to uphold his Greek heritage and hides his feelings for her. When he pulls away from his family, culture and ultimately his love for her, Sophia is left with no choice but to find a life different from the one she'd hoped for.

EVANTHIA'S GIFT is a multigenerational love story spanning fifty years and crossing two continents, chronicling the lives that unify two families.




Effie Kammenou is a first generation Greek-American who lives on Long Island with her husband and two daughters. When she's not writing, or posting recipes on her food blog, cheffieskitchen.wordpress.com, you can find her entertaining family and friends.

Evanthia's Gift: Book One in The Gift Saga was a 2016 Readers Favorite Awards finalist in the women's fiction category. Waiting for Aegina: Book Two in The Gift Saga is Kammenou's latest release. For updates on the release of Book Three, the conclusion of The Gift Saga, follow Effie on Twitter, Facebook or Amazon.

Emily is an actor and writer passionate about bringing stories to life. Her greatest strength as a performer is her ability to bring herself to the role, creating a wide range of emotionally resonant performances that leap off the page, stage, or screen. Her favorite characters are complicated, conflicted, and still searching for their inner truths. Emily's passion for her work is complimented by her persistence, resilience, and inexhaustible work ethic. She's narrated more than 160 audiobooks, half of which were USA Today or New York Times bestsellers, and has also worked in film, television, and theater. Born and raised in New York, Emily moved to Los Angeles shortly after receiving her BFA in drama from New York University's Tisch School of the Arts. She also had the privilege of living in London while studying at the Royal Academy of Dramatic Art (RADA).

​Emily's greatest loves are acting and reading, so narrating audiobooks is a dream come true. Her other passions include traveling, LARPing, aerial circus, and chocolate.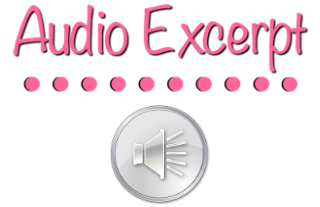 I got hooked on this story very early! I enjoyed Anastacia and Alex's story. They were two very interesting characters who have lived through a terrible time of WWII in Greece. They are telling the younger generation their struggles and their heartbreaks. It got me very emotionally invested. Their love was very beautiful and I was happy to hear about how they overcame such trials.
Then it moved onto Sophia, their daughter, and her love interest Dean. Sophia is just blah. She is whiny and totally dependent on Dean, who is a jerk waffle and doesn't deserve her. I hated their relationship, I wanted to punch something every time Sophia cried over Dean and every time she accepted him back…..I don't understand how it went from such a beautiful and touching story to something just angsty and annoying. This is my opinion, you may perhaps enjoy angsty books and girls who super pine after dudes that are not good enough for them. For that reason I give the story a 3.5/5.
The narration was beautiful! Lawrence has an amazing accent for the first generation characters and I am in love with it!!! I think she had a great tone and pacing throughout the story. Even if I was extremely mad at certain parts, I cannot fault her voice as it was steady and clear, and had great emotion throughout. Her audio I give 4.5/5 stars!
I received this audiobook as part of my participation in a blog tour with Audiobookworm Promotions. The tour is being sponsored by Effie Kammenou. The gifting of this audiobook did not affect my opinion of it.
Q&A with Author
Effie Kammenou
How did you select your narrator?

Selecting my narrator was quite a process for me and one that delayed my decision to put the book onto audio. Several of my characters have Greek accents and I wanted their voices to sound authentic. I also had in mind the age and gender of my narrator, so this narrowed my choices down further. I listened to hundreds of samples on the audible site, but I only contacted three narrators. The fee for my number one choice was more than my budget allowed, but after listening to the accents of the other two women, I knew they weren't right for my book. Two other narrators contacted me on their own, sending me their audition tapes. One woman, I could tell by listening to her, must have been a Greek-American. Her Greek was impeccable. She would have been the perfect choice had she not sounded like a woman in her sixties. It was important that I do my book justice, so I contacted my first choice and she was who I'd hired. Just as I had with my print and kindle formats, I wanted every aspect done professionally and I knew I had chosen well.

How closely did you work with your narrator before and during the recording process?

I was in contact with Emily before she started. I wrote out detailed notes chapter by chapter. She will also be doing book two in the saga and she wanted to know which characters would be featured in that book as well.
Did you give them any pronunciation tips or special insight into the characters?

Yes, I did. As I mentioned, I gave her chapter by chapter notes. Mainly because of the Greek words, customs and foods that were included within the text. I wanted her to fully understand what the characters were experiencing. I wrote out each Greek word phonetically. In addition, I sent her a recording of each word and phrase so she could hear the proper pronunciation.

Were there any real life inspirations behind your writing?

Yes, there was. Real life was what inspired me to write this story in the first place. My mother passed away a little over five years ago from pancreatic cancer. I needed an outlet for my grief. I'd spent six months comforting my dad, sisters, my daughters and nieces and nephew. You have no idea what a hole in our lives losing my mother was to our family. I had a story in my mind for a long time, one I had never written down. It was a 'someday' thought. I expanded that story and began writing a character based on my mother – her strength and will to live for all of us, her love of life, and her beautiful, graceful spirit. I had no idea when I began that it would become what it had – a multigenerational saga filled with heartache, undying love and vital life lessons. There are many other aspects of the book that were based on true life events. Stories I've heard from grandparents and of generations before me were a subtle but important backdrop to the themes in the saga. My own life had influence in the second half of the book as the next generation comes to adulthood.

Are you an audiobook listener? What about the audiobook format appeals to you?

I am a huge audiobook listener. Since I began writing, I've found it difficult to read all the books on my 'to be read' list. Audio is the perfect solution for me. I listen while driving, cooking and cleaning. It's a great way to pass the time while doing otherwise boring chores. Also, if I've read a book that I absolutely love and can't get enough of it, I'll listen to it on audio when I'm done reading it. I really enjoy hearing how the actor interprets the dialogue. In many ways it's a lot like watching the movie after reading the book.

What do you say to those who view listening to audiobooks as "cheating" or as inferior to "real reading"?

This has crossed my mind and I wondered how it would be viewed that I, and author, listen to audiobooks. It's not that I don't read anymore. I have a book I'm reading on my kindle and one I'm listening to. The truth is that I'm learning that many people I regard as being highly intelligent listen to audiobooks. Even an Ivy League college professor who is also a novelist admitted to enjoying audiobooks. She said that she'd never get through her list otherwise. We live in a busy, over-scheduled society and there are so many books and so little time!

Have any of your characters ever appeared in your dreams?

They haven't quite appeared in my dreams, but as I'm falling asleep I sometimes get storyline ideas and I pop out of bed to jot them down before I forget them. I suppose that when my mind is relaxed, the ideas flow. I do, however, have very interesting dreams where I get 'visits' from relatives who have passed. I've included similar dream sequences in the book.

What bits of advice would you give to aspiring authors?

My biggest piece of advice is to take your time and do it right. Don't cut corners. Every first-time author writes their story and is anxious to put it out into the world. But it takes more than writing one or two drafts and self-editing. Recently, in a chat room a young writer said that he didn't have the money to have someone edit and thinks he can do a fine job on his own. The truth is he can't. No one can. Even the most seasoned writer has an editor. You need objective eyes. Take all the steps to make your hard work shine. Find beta readers, a critique partner, and an editor. But that's not where it ends. Find a cover designer and inside formatter. Do everything you can to make your product professional.

What's next for you?

Aside from writing the last book in

The Gift Saga, Waiting for Aegina: Book Two in The Gift Saga

will start audio production in late December.

Effie Kammenou

's Top 10 Reasons To Hear Evanthia's Gift
To lose yourself in an epic love story and family saga that lasts decades.

To feel like you are part of this loyal and loving group of family and friends.

To fall for Alex and Ana & Dean and Sophia as they fall for each other.

To visualize beautiful locals throughout Greece and New York as you listen.

To immerse yourself into the Greek culture and traditions.

To hear the narration of the talented actor, Emily Lawrence.

To be able to replay it again to refresh your memory when Waiting for Aegina is released on audio.

To learn some Greek words and customs before your vacation to Greece.

Because you're Greek and you love Greek related fiction.

Because you enjoy stories where you can learn about people who have backgrounds and histories different from your own.

Evanthia's Gift Giveaway: $25 Amazon Gift Card

Dec. 14th:
The Audiobookworm
Dec. 15th:
Dec. 16th:
Dec. 17th:
Dec. 18th:
Dec. 19th:
Dec. 20th: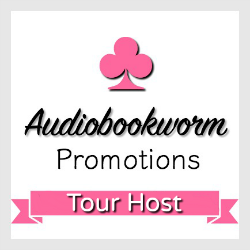 ➜Sign up as a host here