Author: Pamela D. Beverly
Narrator: Arnetta Ellinwood
Length: 6 hours 2 minutes
Publisher: Pamela D. Beverly
Released: Oct. 11, 2017
Genre: Contemporary Romance
Frustration.

Temptation.

What's a woman to do?

Noelle Harrison had everything she ever wanted – a handsome, hard-working husband, healthy children, and a comfortable life.

Now it doesn't seem to be enough.

When did that happen?

Enter Clark Johnson and suddenly what was a nagging issue has become a full-blown problem for Noelle and her husband, Wayne.

Join Noelle on her tumultuous journey of self-discovery.




Pamela D. Beverly resides in southern Maryland and has been writing for almost as long as she has been living. This is her second novel, now available as an audiobook.


Beverly did a great job of setting up this scenario of a love triangle, is what I will call it. Although it makes sense for the book to give it a maze sounding name as the love here is complicated and has lots of twists and turns, not sure where the characters will end up. You kind of feel for both men in the story. Although both can be asshats in certain scenarios. I tried to feel for the gal of the story, but I wasn't really on board with her wushu washiness. Maybe she should've chosen none? I do appreciate the growth each character goes through during the novel and it's an interesting exploration for a love story. I'd give it 4/5.
For the narration I really loved it! Ellinwood does such a great job with each character. Her voice is clear and the characters are voiced differently so that I know who is speaking. I really enjoyed the way she talked basically! I'd give her a 5/5!
I received this audiobook as part of my participation in a blog tour with Audiobookworm Promotions. The tour is being sponsored by Pamela D. Beverly. The gifting of this audiobook did not affect my opinion of it.



Nov. 29th:
The Book Junkie Reads . . .

Nov. 30th:
Mood Swingin

Dec. 1st:
terriluvsbooks

Dec. 2nd:
Lynn's Romance Enthusiasm

Dec. 3rd:
Between the Coverz

Dec. 4th:
The Book Addict's Reviews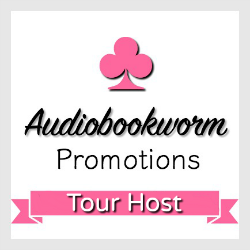 ➜Sign up as a host here