Author: M. Lachi
Narrators: John Hawks
Length: 12 hours 59 minutes
Publisher: Love Ego
Released: Oct. 6, 2017
Genre: Dark Fantasy
Samiyah, a young peasant on a quest to find love and honor, wins a chance to attend the royal ball. Beyond her wildest dreams, she finds herself dancing in the arms of Prince Chad, heir to the throne.
As there brews a violent struggle between the brutal ruling-class and the oppressed peasantry, Chad and Samiyah's growing, talk-of-the-town love spawns whispers of bloody uprisings and plots of swift usurpation.




Lachi is a novelist and composer hailing New York City. While her musical works landed her features on Oprah Radio, Huffpost and NPR, her 2015 debut novel "The Ivory Staff" found itself in The Examiner/AXS and Publisher's Weekly. Outside of writing and composing, M. Lachi can be found social-butterflying around New York with her partner-in-crime.

This story was really interesting! There was a lot going on in the novel with the description of the two tribes in the book, hatred between them, the political atmosphere, and discussion of class system. I would recommend for older fans of fantasy just because sometimes younger kids don't understand all the underlying tones that stories like these have. Lachi did a really great job with the world building of their book. Everything was well detailed and characters were well fleshed out. I found myself getting sucked in pretty easily. I love the dual POV as well. It just adds another deeper aspect to the story 🙂 I rate it 5/5!
John Hawks does an excellent job of narrating! I loved his voice and honestly could listen to anything with him. It just fit so well for a fantasy novel. I loved his inflections with certain characters as well! The only thing I wish is that there had been a different narrator maybe for the dual POV. It's always nice to get another voice to keep me less confused when the POV is switching in audio. So I'd give the audio a 4.5/5!
I received this audiobook as part of my participation in a blog tour with Audiobookworm Promotions. The tour is being sponsored by M. Lachi. The gifting of this audiobook did not affect my opinion of it.
The Ivory Staff is currently available on the Adopt-An-Audiobook page for interested reviewers!
Q&A with Author M. Lachi
Was a possible audiobook recording something you were conscious of while writing?

I'd considered its adaptation to film as I'm sure many fiction writers do. I definitely feel having an audio rendition is the next best thing.

Are you an audiobook listener? What about the audiobook format appeals to you?

As a legally blind author, often when I say I 'read' a book, I mean I listened to it. With an audiobook, when you have a great narrator, it can be just as engaging as watching an action film. Some great examples are the Harry Potter books, the Dresden File books or my new favorite series The Ember War.

What do you say to those who view listening to audiobooks as "cheating" or as inferior to "real reading"?

Books are about consuming information. Does the consumption method really matter? I don't care if you jump backwards into your pants or put them on one leg at a time; I just care that you're wearing pants before you leave the house. But as a consumer of both mediums, there is something to be said about reading a book in your own head, ascribing your own voice, pausing for your own emphases, re-reading certain steamy or horrific parts.

What gets you out of a writing slump? What about a reading slump?

Actually, a lot of the time, reading helps get me out of a writing slump…….

In your opinion, what are the pros and cons of writing a stand-alone novel vs. writing a series?

Having written a stand-alone as well as the first novel of a series, I can say that, each have their benefits. In a standalone, we get to realize the full transformation of each character………………….

Have any of your characters ever appeared in your dreams?

Not that I can recall; but they, more often that not, completely usurped my daydreams.

What bits of advice would you give to aspiring authors?

I say, write the story. Get it out of you and into the greater universe.

Do you have any tips for authors going through the process of turning their books into audiobooks?

If you have a narrative with colorful scenery and dialogue and you are able to create an audio rendition of your work at a reasonable rate, I say go for it!

What's next for you?

I have completed a sci-fi thriller and have secured a literary agent to shop it to major imprints and independent presses.


The Ivory Staff Giveaway: $25 Paypal Cash


Nov. 26th:
The Audiobookworm
Dab of Darkness Audiobook Reviews
Nov. 27th:
Books, Dreams, Life
The Layaway Dragon
Nov. 28th:
Loves Great Reads
Jazzy Book Reviews
Desert Rose Reviews
Nov. 29th:
Notes from 'Round the Bend
The Bookworm Lodge
Nov. 30th:
Lomeraniel
Dec. 1st:
What Is That Book About
Spunky N Sassy
Dec. 2nd:
The Book Addict's Reviews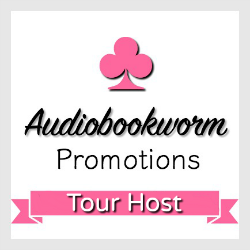 ➜Sign up as a host here