Author: Shelly Hickman
Narrator: Shelly Hickman
Length: 4 hours 12 minutes
Publisher: Shelly Hickman
Released: Oct. 25, 2017
Genre: Contemporary Fiction
Believe. A message that still taunts her years after the passing of her daughter. In the days of her daughter's illness, she considered herself a seeker, open to the possibilities of prayer and faith. Now cynical and guarded, she is forced to reexamine her beliefs and relive her past when an old love resurfaces, with a sick child of his own. Believe is a story that examines fractures to our foundations in the face of tragedy. It is a story that asks if prayers are always answered, but often in ways we do not see.
NOTE: Despite the spiritual tone of this work, please be aware it contains strong language.





Hello there! A little about me. A long-time Las Vegas native, I spend my days teaching computer technology to hormonal middle schoolers. I live with my husband of 20+ years and have a teenage daughter, grown son, and child of the furry persuasion.
I'm a huge fan of The Walking Dead and Game of Thrones, as well as movies with stupid humor. Zoolander, Austin Powers, and Monty Python are some of my faves. And if you asked me where the best place in the world is, it would have to be Disneyland. I mean, it is the happiest place on Earth.
I love to write about relationships, family as well as romantic, and my aim is to explore life's challenges with honesty and humor.


I really loved this story for the reason that I have felt the loss of a loved one through my aunt when I was 11 years old. This book describes the author's personal journey through grief and how she is able to overcome her hardships. If you enjoy inspirational stories that have faith interwoven then this is a great book for you! I think the best target audience would be those going through their own grief or who have had grief in the past, but really anyone can learn and enjoy listening to this story. I would give it a 5/5!
Thr author of the story has also done the narration which I found interesting. Not every audiobook that has the narrator be the author is well produced. However this one had good quality in editing and Hickman proved herself to be a fairly good voice actress as well. Maybe because this topic is so personal was the main decision behind her narrating, but I did enjoy and it helped m understand how she wanted things to be read. I give the narration a 4.5/5!
I received this audiobook as part of my participation in a blog tour with Audiobookworm Promotions. The tour is being sponsored by Shelly Hickman. The gifting of this audiobook did not affect my opinion of it.
Q&A with Author Shelly Hickman
Tell us about the process of turning your book into an audiobook.

As of now, I only have one other audiobook and the narration was done by someone else – an honest to goodness actress. That process was a learning experience for me, but when I decided to narrate this book myself, it required an even steeper learning curve. I had to familiarize myself with Audacity software and its basic editing features, as well as get to know the studio grade microphone I purchased. I'm a teacher and have recorded many a video tutorial for my students, but the precise reading required was understandably much more demanding.

Was a possible audiobook recording something you were conscious of while writing?

Believe is my first book, so definitely no. In fact, when I first started writing it I didn't even have any concrete plans to publish – it was simply therapy after losing my daughter. Publishing the story sort of came about by chance through a publisher friend of my niece before I eventually self-published.

What made you decide to narrate this yourself?

As I mentioned, because the writing of this story was a therapeutic process I was very much in need of after the loss of my daughter, it didn't feel right to have someone else read it. My only hope is that the personal, heartfelt story will make up for the fact that I'm not a professional who is equipped with unique character voices and pitches. It's just me, folks – hopefully portraying enough emotion to keep your attention.

Were there any real life inspirations behind your writing?

This novella is semi-autobiographical. Rachel is a loose version of me after I lost Sydney, and most of the scenes involving Rachel and her daughter are based on my own experiences. I was also a heavy reader of anything with a spiritual/religious/"power of thought" subject matter at that time, and Rachel's skepticism and confusion about such topics are very much me. However, the relationship between Rachel and Jack is entirely fictional.

Are you an audiobook listener? What about the audiobook format appeals to you?

I have become such an audiobook lover in the last few months and I tend to gravitate toward comedy. I'm reluctant to try novels, because if I don't care for the narrator it can really put a damper on the story itself – which is why I'm extremely nervous about doing the audio for my own book and pray my delivery doesn't ruin the story for anyone.
I recently listened to an Emily Giffin book. I had never read anything by her before and while I really enjoyed the story itself, I felt the narrator was not a good fit for the character telling it and it did somewhat take away from the book.
I just finished listening to A Man Called Ove, and I adored the audio version. It took me a little while to get into it, but once I did, I absolutely fell in love with the story and its characters.
Audiobook format appeals to me most because I can listen during my commute or at the gym, and it makes the time go by so much faster.
Is there a particular part of this story that you feel is more resonating in the audiobook performance than in the book format?
There is a pivotal scene between Rachel and Jack when he is taken off guard by a verbal attack from her. For the first time he sees that she isn't the same person he knew years ago, and doesn't hesitate to tell her so. The naivete of his assessment further stirs her anger, and she responds with, "Of course I'm not the same person!" And well, hopefully you'll listen to the book to hear her entire rant. But the audio is particularly resonating because once you lose a child, you are never the same again. You can never go back to who you were. Sure, you may make an effort to be the same on the outside, but you're not. It's simply impossible.

If you had the power to time travel, would you use it? If yes, when and where would you go?

Given the subject matter of this book, I think everyone can make educated guess. 🙂 More specifically, I would go back to when my daughter was first born, and as Rachel says in the story, do some things differently that may have prevented my daughter's cancer. Maybe they wouldn't have made a difference – there's no way I'll ever know. But those are the kinds of nagging questions that stay with you forever.

If this title were being made into a TV series or movie, who would you cast to play the primary roles?

I've never given this a whole lot of thought for this particular book because it's literally about me, though I'd like to think I'm not abrasive the way Rachel can be. I think Anna Kendrick would be a great choice for Rachel – she's got the snarkiness. Jack is the reformed charmer, and though he's a bit old for the role, Ryan Reynolds would be a good fit.

What bits of advice would you give to aspiring authors?

Not that I'm a bestselling novelist with pearls of wisdom to cast, but I think honesty in writing is most important. Skill will come the more you write, but you should always follow your voice. Don't try a writing style that feels awkward or unnatural to you because it will come across clunky to the reader. I could never write mystery, erotica, or a work of literary fiction because it just isn't me. Find your voice and refine it over time.


Believe Giveaway: Choice of Audible 3-month membership, Kindle Fire Tablet, Amazon Echo Dot, or $50 Amazon gift card


Nov. 23rd:
The Audiobookworm
What Is That Book About
Nov. 24th:
Jazzy Book Reviews
Nov. 25th:
Books, Dreams, Life
The Bookworm Lodge
Nov. 26th:
The Crafty Engineer's Bookshelf
Nov. 27th:
Between the Coverz
Nov. 28th:
The Book Addict's Reviews
Nov. 29th:
A Listener's Slant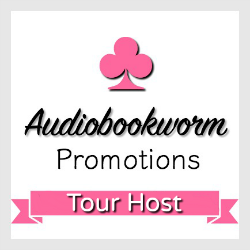 ➜Sign up as a host here