Author: Lizzy Ford
Narrator: Lillian Yves
Length: 7 hours and 50 minutes
Series
: History Interrupted, Book 1
Publisher: Lizzy Ford Books LLC
Released: Jul. 31, 2017
Genre: Romantic Fantasy
If you could change history, would you?

College graduate Josephine "Josie" Jackson answers "yes" to the question on a survey while visiting the Old West tourist town of Tombstone. The next morning, she wakes up in Indian Territory in the 1840s, where she's given a mission to complete before she can return to her time: to reset history, and prevent the deaths of hundreds of thousands over the next century, by convincing the man responsible for kindling the war between settlers and natives to stay home on the day he's supposed to start the war.

But someone is hunting down time travelers and killing them. Three other women have been sent back to the same time period with Josie's mission. When she stumbles upon what happened to them, she realizes the chances of her getting out of the past alive are not good.
To survive, she'll have to trust the person who's there to stop her from changing history, someone who has every reason to distrust her and only one reason to help her – to save her from the mysterious man who sent her back in time to start with.




I breathe stories. I dream them. If it were possible, I'd eat them, too. (I'm pretty sure they'd taste like cotton candy.) I can't escape them – they're everywhere! Which is why I write! I was born to bring the crazy worlds and people in my mind to life, and I love sharing them with as many people as I can.

I'm also the bestselling, award winning, internationally acclaimed author of over sixty titles and counting. I write speculative fiction in multiple subgenres of romance and fantasy, contemporary fiction, books for both teens and adults, and just about anything else I feel like writing. If I can imagine it, I can write it!

I live in the desert of southern Arizona with a pack of spoiled dogs and Tubbs, the Godfather cat who rules them all.


Lillian Yves grew up in Oklahoma, went to school in NYC and now lives in Southern California. She considers herself from the East, West and somewhere in the middle. She is a graduate of The American Musical and Dramatic Academy in NYC for Musical Theater. She adores acting and performing so much that she teaches an after school program for the local school system. She got her start working in audio books when she narrated her own novel, Yonder- A Southern Haunting and shortly after the release of Yonder she was contacted by Warren Adler (The War of the Roses) to narrate two novels for him and after entering the world of narration, she has never looked back. She performs on most weekends and does play readings through out the Los Angeles area. Her main hobbies include her husband and her cats. She loves to hear from listeners.

So Ford has created a very unique take on a western story. The main character ends up in the old west through time traveling and more scifi things happen along the way. I thought this concept was super original and I enjoyed listening along to figure out what would happen to Josie and the cast of crazy and creepy characters. The only real issue I have is with Josie. She's a very naive person and trusts too easily. She just decided to trust this guy who sent her into the past without her permission and he keeps lying to her yet she blindly trusts him…it's weird. She seems so mature in other ways. I could see if they had a connection and she didn't want to believe he was lying at first but then learn he was and stop trusting. But she never did. I'd give the story a 4/5.
The audio experience was hard on me. Production wise it's clear to understand the narrator. Narrator wise it was extremely choppy. Yves pauses so much. It's ridiculous. I don't understand the purpose of pausing and talking so slowly. Yeah they're in the West but they don't talk at a snails pace there! And most of the characters sounded the same. So much so I couldn't figure out who was who in a lot of scenes. The audio is like a 2.5/5 in my opinion.
Overall this is 3.5/5 Stars. The book is lovely, the audio just isn't.
I received this audiobook as part of my participation in a blog tour with Audiobookworm Promotions. The tour is being sponsored by Lizzy Ford. The gifting of this audiobook did not affect my opinion of it.


Oct. 25th:
SERIESous Book Reviews
Notes from 'Round the Bend
Lomeraniel

Oct. 26th:
Kasia Burlakoff

Oct. 27th:
Lilly's Book World
Desert Rose Reviews
The Book Junkie Reads . . .

Oct. 28th:
Literature Approved

Oct. 29th:
Dab of Darkness Audiobook Reviews

Oct. 30th:
History from a Woman's Perspective

Oct. 31st:
The Book Addict's Reviews Reviews
Smada's Book Smack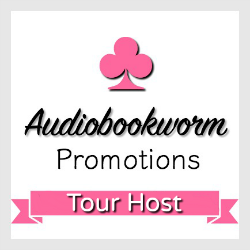 ➜Sign up as a host here