Author: Alex Lidell
Narrator: Kaitlin Bellamy
Length: 6 hours and 57 minutes
Publisher: Danger Bearing Press
Released: Sep. 8, 2017
Genre: YA Fantasy
Master and Commander meets Sarah J Maas in a seafaring adventure of duty, love, magic, and a princess's quest to protect her kingdom on her own terms.
After a lifetime of training, 17-year-old Princess Nile Greysik, a lieutenant on the prestigious Ashing navy flagship, sails into battle with one vital mission – and fails.
Barred from the sea and facing a political marriage, Nile masquerades as a common sailor on the first ship she can find. With a cowardly captain, incompetent crew, and a cruel, too-handsome first officer intent on making her life a living hell, Nile must hide her identity while trying to turn the sorry frigate battle worthy. Worse, a terrifying and forbidden magic now tingles in Nile's blood. If anyone catches wind of who Nile is or what she can do, her life is over.
But when disaster threatens the ship, Nile may have no choice but to unleash the truth that will curse her future.
Air and Ash is the thrilling first installment of the TIDES series. Recommended for fans of Sarah J. Maas, Tamora Pierce, and David Weber.





Alex Lidell is the author of Amazon best sellers AIR AND ASH and WAR AND WIND (Danger Bearing Press, 2017) and an Amazon Breakout Novel Awards finalist author of THE CADET OF TILDOR (Penguin, 2013). She is an avid horseback rider, a (bad) hockey player, and an ice-cream addict. Born in Russia, Alex learned English in elementary school, where a thoughtful librarian placed a copy of Tamora Pierce's ALANNA in Alex's hands. In addition to becoming the first English book Alex read for fun, ALANNA started Alex's life long love for YA fantasy books.


Kaitlin Bellamy is a freelance performer and acting coach residing in Central Florida, with a theatrical history spanning more than twenty-five years.

Since relocating to Orlando in 2012, she has worked at multiple theme parks and various theatrical venues, in a career style she calls "Buffet Performing:" or, the idea of keeping several jobs active at any given time, so she may pick and choose where to work, and life never gets boring. Her specialties include Shakespeare, Voice Acting, and Puppetry. But above all, she is passionate about the performing arts, and all they stand for.

I really enjoyed this novel! Lidell does a great job of providing an exciting and thrilling fantasy adventure novel. I was really excited about her concept of magic and how it has drawbacks on the person using it. It teaches one to be more careful rather then just jumping into situations. I also found the cliffhanger to be perfect for this story. I was certainly left wanting more, but not feeling outraged over the last thing in the book. So while I definitely feel I need the next story now I'm not upset that I'll have to wait a little before continuing.
As for the audio Bellamy does a great job with voices! She's very steady and consistent with her characters. Not every voice actor is like that and I truly appreciate when I can tell who's talking based on certain little inflections in their voices. She also was great with her tone. I found myself feeling the very emotions the story wished to evoke with Bellamy's voice. She is one of my favorite audio narrators so far.
Overall I would give this story a 5/5 Stars!!
I received this audiobook as part of my participation in a blog tour with Audiobookworm Promotions. The tour is being sponsored by Alex Lidell. The gifting of this audiobook did not affect my opinion of it.

Q&A with Author Alex Lidell
Was a possible audiobook recording something you were conscious of while writing?

At the time I was writing AIR AND ASH, no. But now that I am on the third book in the series, having heard Kaitlin narrate AIR AND ASH, I do hear the characters speaking in her voice as I write.

How did you select your narrator?

I listed to sample reels of many narrators and then invited Kaitlin to audition. I really like the range of emotions and undertones she has within each character's voice.
How closely did you work with your narrator before and during the recording process? Did you give them any pronunciation tips or special insight into the characters?

Very closely! I was really shy about sending her an audio file of my voice pronouncing some words, but it worked 🙂 We also have a shared google doc with character descriptions and we spent some time on the phone "auditioning" character voices. It was one of my favorite parts of the process and the reason I SO love working with Kaitlin.
How do you manage to avoid burn-out? What do you do to maintain your enthusiasm for writing?

Often by listening to audiobooks or watching some TV shows with the right atmosphere, and then analyzing the story/plot. What did I like about it? Why did I keep watching and listening? How can I apply that fun thing that got me excited to my own writing?
Are you an audiobook listener? What about the audiobook format appeals to you?

I'm a HUGE listener. I fell in love with audiobooks listening to Master and Commander, where the narrator helped me understand some of the technical seamanship. My favorite narrator (aside from Kaitlin of course!) is Jennifer Ikeda
What do you say to those who view listening to audiobooks as "cheating" or as inferior to "real reading"?

I say Safety First! When I get into a book, I can't pull away from it – so I end up walking down the street, reading my phone (yeah, i'm one of those horrible people). With audiobooks I can walk and listen!
How did you celebrate after finishing this novel?

I have a habit of traveling to meet people who I've e-met during the writing process. After finishing WAR AND WIND (TIDES book 2), I went to see Rachel E Carter in CA. And in October I'm going to go see Kaitlin to celebrate AIR AND ASH audio.
In your opinion, what are the pros and cons of writing a stand-alone novel vs. writing a series?

I think YA fantasy fans are often comfortable with a series – I know I am – and expect it. Other genres have different fan bases. From an author perspective, a series lets me tell more complex overall stories, but makes logistics difficult. IE in book one, the distance between A and B might not matter so I say "umm, half a day by horse, sure, why not". And then in book 3 it becomes vitally important that it take a WEEK to get from A to B,… and I have to somehow deal 🙂
Do you have any tips for authors going through the process of turning their books into audiobooks?

Talk to your narrator and make sure you click as professionals. I really lucked out with Kaitlin because of her excitement level and flexibility – but some people prefer to have more "distance". It was a match with Kaitlin herself, not just her voice, that finally closed the deal for me
What's next for you?

WAR AND WIND (Tides 2) comes out in audio in December. SEA AND SAND (Tides 3) comes out in print/ebook in January!


Oct. 18th:
The Audiobookworm
Adventures thru Wonderland
History from a Woman's Perspective
My Creatively Random Life
Oct. 19th:
Lomeraniel
Jazzy Book Reviews
It's Novel to Me
Oct. 20th:
Notes from 'Round the Bend
Here's to Happy Endings
Kasia Burlakoff
Oct. 21st:
Dab of Darkness Audiobook Reviews
Turning Another Page
Oct. 22nd:
What Is That Book About
Up 'Til Dawn Book Blog
Lilly's Book World
Loves Great Reads
Oct. 23rd:
Spunky N Sassy
The Book Junkie Reads . . .
Oct. 24th:
My World…in Words and Pages
The Book Addict's Reviews
Smada's Book Smack
Zach's YA Reviews
Pregnant, Barefoot, in the Kitchen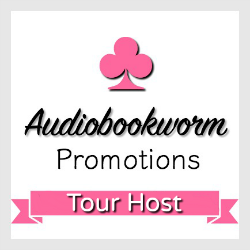 ➜Sign up as a host here