Author: Amy McNulty
Narrator: Kaitlin Descutner
Length: 5 hours 50 minutes
Publisher: Patchwork Press
Released: Jul. 18, 2017
Genre: Fantasy
As her fingers move across the strings of her family's heirloom harp, 16-year-old Clarion can forget. She doesn't dwell on the recent passing of her beloved father or the fact that her mother has just sold everything they owned, including that very same instrument that gives Clarion life. She doesn't think about how her friends treat her like a feeble, brittle thing to be protected. She doesn't worry about how to tell the elegant Elena, her best friend and first love, that she doesn't want to be her sweetheart anymore. She becomes the melody and loses herself in the song.
When Mack, a lord's dashing young son, rides into town so his father and Elena's can arrange a marriage between the two youth, Clarion finds herself falling in love with a boy for the first time. Drawn to Clarion's music, Mack puts Clarion and Elena's relationship to the test, but he soon vanishes by climbing up a giant beanstalk that only Clarion has seen. When even the town witch won't help, Clarion is determined to rescue Mack herself and prove once and for all that she doesn't need protecting. But while she fancied herself a savior, she couldn't have imagined the enormous world of danger that awaits her in the kingdom of the clouds.
A prequel to the fairytale Jack and the Beanstalk that reveals the true story behind the magical singing harp.




Amy McNulty is a freelance writer and editor from Wisconsin with an honors degree in English. She was first published in a national scholarly journal (The Concord Review) while in high school and currently writes professionally about everything from business marketing to anime. In her down time, you can find her crafting stories with dastardly villains and antiheroes set in fantastical medieval settings.


In 2010, I graduated from California University….of Pennsylvania (yes, you read that correctly) with a BA in Theatre and Dance. I have been a professional actress for 7 years in Columbus, OH working in both Musical Theatre shows and Dramatic plays ranging from Classic, Rock & Roll, Modern, British, American Southern, etc. I work as a Children's Theatre teacher as well as a Commercial Actress where I specialize in voice acting, photo, commercial and tutorial video work. I am interested in new projects and pursuing new opportunities.
I am a big, avid reader, and listen to audio books more than the radio in my car. My favorite genres are historical fiction, fiction, nonfiction and biographies/ memoirs. This is a new endeavor for me, and I am thrilled to explore different characters through storytelling. Reading is a big passion of mine. Bring on the books!



I thought the concept of this story was really fun! I haven't read a Jack and the Beanstalk retelling yet. I believe the author did a fantastic job setting up the world and the new environment we would read this story in. I did however sometimes find the listen to a little tedious. There were moments where the story was told rather than shown, especially to the main character which I found odd. And I would have liked to understand the magic system overall better. However this makes one hell of an interesting read. I'd give the story a 3.75/4.
For the narration I think Kaitlin did a great job! Her voice is dramatic when needed and had a good range. All the characters felt different and real. I'd give the audio a 5/5!
I received this audiobook as part of my participation in a blog tour with Audiobookworm Promotions. The tour is being sponsored by Amy McNulty. The gifting of this audiobook did not affect my opinion of it.

Q&A with Author Amy McNulty
Tell us about the process of turning your book into an audiobook.

I work with a platform called ACX, which matches book rights holders with narrators/producers. I posted my book and Kaitlin Descutner was one of the narrators who auditioned. She's a professional actress and she brought such life to the story! I loved working with her. She even sings! I sent her the book, we touched base on a few notes, and she produced the whole audiobook from start to finish. I checked it, we tweaked it together, and then it was ready to go!

Do you believe certain types of writing translate better into audiobook format?

Sometimes. Descriptive writing really helps bring a story to life. At the same time, though, I know some people who prefer listening to audiobooks to reading, and it would be a shame if they couldn't read all sorts of books because some books lend themselves better to audiobooks than others.

Was a possible audiobook recording something you were conscious of while writing?

I wasn't thinking about it when writing (which I discovered was an issue during the recording/editing phase, as I didn't make who was speaking in a scene or two clear to the narrator), but I always try to get my books made into audiobooks once they're finished just to get them in front of another audience that might have otherwise passed by them.

How closely did you work with your narrator before and during the recording process?

Kaitlin did most of it on her own. After she finished the first recording, I got back to her with notes and we tweaked it together. But as far as recording and editing goes, it was all her.

Were there any real life inspirations behind your writing?

I've always wanted to write a fairy tale YA book, but I couldn't figure out how to do it in a way that's never been done before. Strangely, when I was watching the Rifftrax Live performance of

Santa Claus and the Ice Cream Bunny

(it had a Jack and the Beanstalk segment in there—don't ask, ha), I was struck with the idea of doing a prequel explaining where the magic harp came from. (Since it seems to have a human figure/face in some versions.) Jack and the Beanstalk has never even been one of my favorite fairy tales, but I ran with my idea.

How do you manage to avoid burn-out? What do you do to maintain your enthusiasm for writing?

I'm actually increasing my writing pace starting this year, so it's odd that I'm getting less burnt out the more I work. It helped that I transition to editing more than business writing this year as a freelancer, so my creative energy doesn't get zapped by my work before I can turn around and write. I discovered the joys of writing on a word processor this year, too. I get more words done by working on a non-glowing screen without internet access, so I'm not distracted. Still, it's important to take breaks and not force myself to write too much every day.
Is there a particular part of this story that you feel is more resonating in the audiobook performance than in the book format?

The songs! Music is essential to the story and Kaitlin made up a tune for the lyrics I wrote for a song.

If you had the power to time travel, would you use it? If yes, when and where would you go?

I love period dramas and classic romance books, and I'm a huge fan of fantasy and the medieval and Elizabethan eras. It'd be hard for me to choose, although I know actually living in those eras would be difficult. More likely than not, I'd be a servant or peasant, not the aristocracy that have such compelling romances in these stories!

If this title were being made into a TV series or movie, who would you cast to play the primary roles?

Hmm, I'm not sure! My favorite actors and actresses are probably too old to take on the roles. I think I pictured Ezra Miller for Mack, though.

What do you say to those who view listening to audiobooks as "cheating" or as inferior to "real reading"?

It's absolutely not! Any way people can enjoy stories is legit. Audiobooks make books more accessible to both people with reading disabilities and busy people.

How did you celebrate after finishing this novel?

I usually post a GIF of Kermit the frog waving his arms on social media. That's how I feel when I finish a book.

In your opinion, what are the pros and cons of writing a stand-alone novel vs. writing a series?

Standalones allow you to move on to the next project, but with series, you've already done some work establishing characters and the world. Series tend to sell more books because you may have hooked people with the first book, but on the other hand, if that first book didn't hook many people, there's almost no point in writing more books. Most of my books have sequel/series potential. Writing standalone is actually hard for me!

Ballad of the Beanstalk

is probably my first standalone where I really have no intention at all of writing a sequel to or series for.

What's next for you?
I'm working on my romance series (written under Joy Penny) and then I have a paranormal YA series I want to publish next year.

Amy McNulty's Top 10 Books Read in 2016
A Court of Thorns and Roses

by Sarah J. Maas

A Court of Mist and Fury

by Sarah J. Maas

The Female of the Species

by Mindy McGinnis

Spinning Thorns

by Anna Sheehan

Winter

by Marissa Meyer

The Raven King

by Maggie Stiefvater

Crooked Kingdom

by Leigh Bardugo

Harry Potter and the Cursed Child

by J.K. Rowling and Jack Thorne

Life and Death

by Stephenie Meyer

This Monstrous Thing

by Mackenzi Lee


Ballad of the Beanstalk Giveaway: $10 Amazon Gift Card


Sep. 27th:
Adventures Thru Wonderland
Lomeraniel
Sep. 28th:
Dab of Darkness Audiobook Reviews
Bookwormerz

Sep. 29th:
Jazzy Book Review
abookandalattee
Sep. 30th:
Hall Ways Blog
Notes from 'Round the Bend
Turning Another Page

Oct. 1st:
Up 'Til Dawn Book Blog

Oct. 2nd:
History from a Woman's Perspective
The Book Junkie Reads . . .

Oct. 3rd:
The Book Addict's Reviews
It's Novel to Me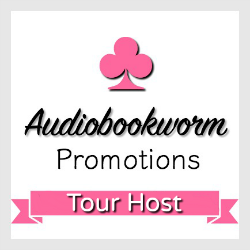 ➜Sign up as a host here

Q&A with Narrator Kaitlin Descutner
When did you know you wanted to be an audiobook narrator?

Once I became a freelance worker, I was always looking for odd jobs that pertained to my acting career in some way. Besides being an actress, I spend a lot of my free time reading books. I thought to myself, "why not get paid to read books?"

How did you wind up narrating audiobooks? Was it always your goal or was it something you stumbled into by chance?

The instant I had this revelation to myself, I made a comment on my Facebook page "How does one get into audiobook recording?" I was expecting my friends to respond in their supportive, quirky ways, but I had this one friend who responded with "let's get coffee." We did, and he told me about ACX!

Did you find it difficult to "break into" audiobook narration? What skill/tool helped you the most when getting started?

I think the hardest part about getting started was the fact that I had to collect all the proper equipment and find a good recording space somewhere. The recording part is the easy part out of all this for me since I am an actor and an avid reader. It was the tech side of things that was strenuous because I, and everyone else narrating through ACX, is in-charge of their own equipment and space as well as recording and editing before sending out the audiobooks to sell.

A lot of narrators seem to have a background in theatre. Is that something you think is essential to a successful narration career?

I don't think it's a "make or break" deal, BUT I think it is very beneficial. As a narrator, I am in-charge of illustrating the book with my voice. It's our job to help the reader/ listener imagine the characters and the plot while expressing appropriately and investing in the moment.

What type of training have you undergone?

I am a Theatre and Dance Graduate from California University of Pennsylvania. But my training doesn't stop there since I have a diploma. I consider performing in stage productions and other sorts of performances as a training ground. You are acting out different types of characters all the time. And what I consider trains me for audiobook narrating is when I have to specifically voice characters that I am acting out. I could recycle those voices for my audiobook characters.

How do you manage to avoid burn-out? What do you do to maintain your enthusiasm for narrating?

It's not so much maintaining enthusiasm for narrating. It's how long can I maintain oxygen when I am recording in my coat closet. Like I said, ACX narrators have to provide their own recording space. Mine just so happens, which I learned a lot of other narrators do the same thing, is in my coat closet because that's the most sound proof space I have available to me. I find that I can only do 2 chapters at a time before I feel like I am going to pass out. I take a 5 to 10 minute breather, and I go right back into it.

Are you an audiobook listener? What about the audiobook format appeals to you?

As a working actress, I travel a lot to auditions. I love to listen to music, of course, but I find listening to audiobooks during long car rides is relaxing. Autobiographies on audiobook are appealing to me the most! Especially when the writer/ movie actor/ singer, etc. is the one narrating their own book.

What are your favorite and least favorite parts of narrating an audiobook?

My recording studio, or coat closet, is connected to the outside of the house. SO what's frustrating is that I do have to be mindful when airplanes, cars, or trucks go by because my recording equipment will pick it up. Or when my neighbors mow the lawn, I have to forget about recording for awhile. Other than that, it's great!

How did you decide how each character should sound in this title?

Most of the time I will ask the authors description of characters, but I basically follow my gut instinct on my impression of their personalities and relationships with one other characters in the book.

What types of things are harmful to your voice?

As a singer, I always steer clear from screaming and shouting. Luckily with audiobook narrating, you don't have to. The poor listener if you do, though. I never allow my voice to be dehydrated when narrating. Water is a speaker's and singer's best friend.

Bonus question: Any funny anecdotes from inside the recording studio?

I have a fun story! My friend who helped me start narrating independently got me started through using his recording equipment and space. We were finishing up my first narration of

Habits: 30 Habits in 30 Days That Will Change Your Life

by Jill Hesson. Each chapter revealed one or more habits. The last chapter revealed the 30

th

habit. My friend is outside of the recording studio recording me, and I decide to end the chapter, after a brief pause, singing the

Star Wars

theme song. You know, just to add a bit more depth into how the book ends. We shared laughs and edited it out. Or so we thought. When an ACX narrator is done, we are to upload our tracks and submit to the author and producer of the book. If there are any issues, they contact us giving us a list of things to fix. One of the issues was to edit out "extraneous sounds at the end of Chapter 9." Seeing this is my first time, I contact my friend to help me edit these fixes. My friend contacts me and says, "you'll never believe what the "extraneous sounds" are." Mind you this is my very first audiobook narration gig. Luckily Jill Hesson hired me on for her second self-help book. Phew! Thanks, Jill!