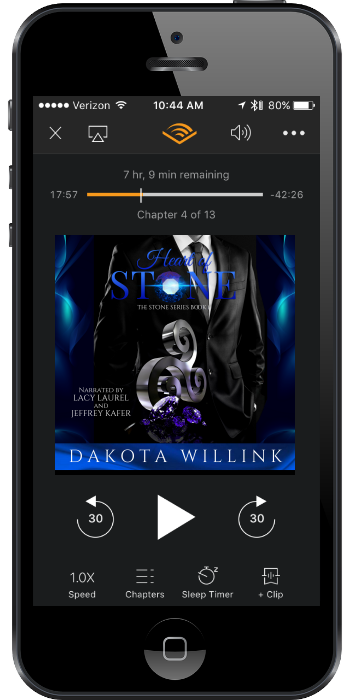 Author: Dakota Willink
Narrators: Lacy Laurel, Jeffrey Kafer
Series: Stone, Book One
Length: 14h
Publisher: Dakota Willink, LLC
Released: June 29, 2017
Genre: Contemporary Romance


Krystina Cole was a girl on a mission. She had big dreams and aspirations, none of which included a man by her side. She knew better than that – at least until she met Alexander Stone, the New York billionaire real estate tycoon. She saw the way that he looked at her, and the dark promises in his eyes. She was curious about his world and all that it entailed. But the shadows of her past haunted her, making her afraid to explore possibilities that she could never before have imagined…

Alexander Stone was a man who knew how to get what he wanted. He understood the value of finesse, and the importance of patience and diligence to achieve the desired result. He was successful and wealthy, relying on his naturally sharp instincts to guide him through life. But a chance run in with Krystina Cole quickly turned his world upside down. Her quick wit and firecracker attitude was the complete opposite of what he wanted in a woman, and his instincts failed him at every turn…

However, both Krystina and Alexander are clinging to the secrets in their past, and neither of them are willing to compromise. Krystina's hardened heart makes emotional surrender a hard limit. But for Alexander, revealing his past could have devastating results.




Dakota Willink is a contemporary romance writer and editor, and the author of The Stone Series. She is an associate member of Romance Writers of America and a Readers' Favorite International Book Awards winner.
Dakota has always had a passion for reading and writing. From the time she was an adolescent, she enjoyed curling up with a good paperback, reading genres that ranged from thriller and fantasy, to mystery and romance. She always dreamed of one day writing her own book, but had put her aspirations on hold to focus on her family and a career that would pay the bills. However, her heart continued to be with fictional characters – whether they belonged to a favorite author or if they were just stories that she made up in her own head.
In 2013, Dakota gathered enough courage to turn her dreams into a reality. In between playing chauffeur to two very busy children and working her job during the day, Dakota began to put words on paper. Eventually, she began to describe her life as a book. Everything she saw or heard throughout the day, intertwined with her imagination for the creation of future writings. By 2014, with the support of her husband and two children, she gave up the security of a steady paycheck and began working on her first novel full time.
Her first novel, Heart of Stone, was published in December of 2015. Less than a year after its release, the Readers' Favorite International Book Awards recognized Heart of Stone as the 2016 Bronze Medalist in the romance category.
Dakota resides in the Western New York area, where she enjoys spending time with family, her two Labrador Retrievers, and her spoiled rotten cat. During the summer months, she can often be found soaking up the sun on the Great Lakes with her family.

Lacy lives the life of a full time wife, mother and household manager. Needing a temporary escape from time to time Lacy returned back to her first love – reading! After devouring everything she could get her hands on she thought, -what if she could mix her love of performance and literature in a professional capacity? Once getting involved in the world of book narration she quickly became hooked and when not with her family you can find her in her studio working hard to grow in her own storytelling abilities.

Jeffrey Kafer is an award-winning Audiobook Narrator and professional voice actor. Spanning over 350 titles, he specializes in Romance, Thrillers, Sci-Fi and more!



I found that I really enjoyed the plot of this story for two reasons: the characters and the sexy scenes. The BDSM is great in this novel! The scenes just connected with me as a reader, and I could feel the heat coming off them while listening. It's one thing to read a romance novel and it's another thing to listen to it. I think Willink's novel translated very well into the listening aspect and deserves a 4/5 stars.
Both narrators were outstanding! Laurel's female voice was great, but what really stepped up the story for me was Kafer. His added male perspective/voice gave something wonderful and new to the story. I love reading from dual perspectives and I also enjoy listening to them. It makes it even better when there are more voices adding to multiple perspectives in a story. This audio deserves a 4.5/5 stars!
I received this audiobook as part of my participation in a blog tour with Audiobookworm Promotions. The tour is being sponsored by Dakota Willink. The gifting of this audiobook did not affect my opinion of it.
Q&A with Author Dakota Willink
Tell us about the process of turning your book into an audiobook.

The process started out relatively simple. I just went onto ACX and listed the book book as being open for audition. Within a few weeks, the auditions started coming in. After that was when the real work began.

Do you believe certain types of writing translate better into audiobook format?

Sometimes. I think it really depends on the book.

Was a possible audiobook recording something you were conscious of while writing?

I never considered turning Heart of Stone into an audiobook initially, but then I had readers asking for it.

How did you select your narrator?

I listened to the auditions and then I got in touch with Lacy. I had no idea how to go about the process, but Lacy was very forthcoming right from the get go. We got along immediately, which made it easy for me to choose her. Lacy is the one who suggested that we bring in a male narrator for the part of Alexander. She got in touch with a few for auditions, and I ended up choosing Jeffrey.

How closely did you work with your narrator before and during the recording process? Did you give them any pronunciation tips or special insight into the characters?

I worked very closely with Lacy for this book. After every recorded chapter, I would give feedback on moods, emotions, character personalities, etc. In fact, I think I might have driven her crazy with the amount of feedback I gave her, but she denies it 🙂

Were there any real life inspirations behind your writing?

A little bit, but not much. For example, the guitar player that Alexander discovered in Venice is based on a real life experience. My husband and I stumbled upon this guitarist in Venice, Italy and fell in love with his music. La Biga is also a real place. It's a little cafe across the street from the Colosseum in Rome.

How do you manage to avoid burn-out? What do you do to maintain your enthusiasm for writing?

Burn-out should be my middle name right now…lol. But in all honestly, the readers are what keep me going. I have such loyal fans and they are what keep me burning the oil lamp late into the night.

Are you an audiobook listener? What about the audiobook format appeals to you?

Other than Heart of Stone, I have never once listened to an audiobook. I should probably start…

Is there a particular part of this story that you feel is more resonating in the audiobook performance than in the book format?

I think Lacy did a fantastic job with Krystina's backstory. It was such an emotional chapter and I feel that her performance really shined in that part.

If you had the power to time travel, would you use it? If yes, when and where would you go?

A long time ago in a galaxy far, far away…

If this title were being made into a TV series or movie, who would you cast to play the primary roles?

I did have two celebrities in mind when I was describing the character's appearance, although they were not my intention when I started out. It just sort of happened that way. For Krystina, I pictured Lacey Chabert with curly brown hair. I envisioned Ian Somerhalder for Alexander. As for how they would act out the roles, I didn't think that far ahead.

What do you say to those who view listening to audiobooks as "cheating" or as inferior to "real reading"?

I don't think it's cheating. I think we live in a busy world. Finding time to sit down and read can be a challenge for some who love a great story. Listening to an audiobook is just another outlet for readers to get lost in the pages.

How did you celebrate after finishing this novel?

When I finished writing it, I didn't celebrate. I panicked because I knew I would have to hit the "publish" button on Amazon. For the audiobook, I was more of a veteran by that point. I held a full blown party on Facebook for the audiobook release and held massive giveaways for the occasion. Then I poured a large glass of wine 🙂

What gets you out of a writing slump? What about a reading slump?

I can't say that I've ever really had a prolonged writing slump. Music helps me to get through that. Time restraints are the biggest challenge I currently face, with both reading and writing.

In your opinion, what are the pros and cons of writing a stand-alone novel vs. writing a series? Oh, where to begin… Heart of Stone is book one in a trilogy. The second book has been released, but I'm still writing the third. Readers are constantly asking for a release date for book three – the pressure is real! It's made me rethink my ideas on tackling another trilogy in the future. Sometimes I feel like one-and-done is the way to go. However, I love reading trilogies, so we'll see.
Have any of your characters ever appeared in your dreams?

None of my characters have appeared in my dreams, but publishing issues or deadlines pop up on occasion in my sleep.

What's your favorite:

Food –

anything Italian

Song –

I have so many…I can't choose just one!

Book –

The Harry Potter Series

Television show –

It's a toss up between genres. For comedy, Friends hands down. Re-runs are just as funny as when I watched it the first time. For drama, I can't get enough of Game of Thrones. I'm slightly obsessed.

Movie –

Star Wars (all of them)

Band –

Green Day

Sports team –

Buffalo Sabres

City –

Rome, Italy. It's my most favorite place in the world.

Are any of those things referenced in appearance in your work?

Italian food, Star Wars, Rome, and Green Day were all mentioned in my books. Some of my favorite songs are on the book playlist as well (which can be found at the end of both Heart of Stone and Stepping Stone).

What bits of advice would you give to aspiring authors?

Never give up. It's hard work, but determination is key. I once read somewhere that 97% of writers don't finish their book. I don't know how true that is, but if that number is accurate, it makes me sad to think about all the great unfinished stories out there. Strive to be among the 3% of writers to become a published author.

Do you have any tips for authors going through the process of turning their books into audiobooks?

I recommend ACX for first timers. I also recommend establishing a good rapport with your narrator(s), as I think it helps with getting an accurate performance of the character personalities.

What's next for you?

Set in Stone, book three in The Stone Series. I've had so much going on with the first two books, that I'm a little behind schedule with that book.

When did you know you wanted to be an audiobook narrator?
I was listening to more and more audiobooks and I just kept getting the urge to do it.
How did you wind up narrating audiobooks? Was it always your goal or was it something you stumbled into by chance?
I just researched until I found ACX, and on their website it talked about what you needed, how to do it and I just went for it.  
Did you find it difficult to "break into" audiobook narration? What skill/tool helped you the most when getting started?
No, it was not difficult to break in but to stay in is a totally different story.
A lot of narrators seem to have a background in theatre. Is that something you think is essential to a successful narration career?
I don't know if it's essential, I have a very limited background from when I was in school.  I love theater.  However now I do find training very important.  Getting an instructor for the type of narration you want to perform, attend seminars and classes in both performance and audio technology – you should really know how to use the equipment you are utilizing and some 'employers' will only accept your work if you are using certain technology.
What type of training have you undergone?
I am seeing a coach for non-fiction (Sean Pratt-@SPPresents) and another for fiction (Andi Arndt – @andi_arndt).  Between the two a variety of topics in narration and the business of narration are covered.  I see improvement every time I have a session, which is really encouraging, I am lucky that although I may not have years of professional acting or collegiate acting training I am able to utilize my coaches to help me improve and to learn more about what it is that I do.
How do you manage to avoid burn-out? What do you do to maintain your enthusiasm for narrating?
For me it is a combination of things.   Because of the performance aspect, if I am not feeing it, I try not to push through.  I will walk away and do some of the many other things I am responsible for in real life.  My hours are really flexible because I work out of a home studio, so sometimes it is just as simple as hanging out with the family.   Other times, I find that listening to others narrate in the genre's I work in really helps.  Especially when they are good they will motivate me to want to get back in the booth.
Are you an audiobook listener? What about the audiobook format appeals to you?
Yes I am constantly listening!  I love audiobooks!  For me, I find myself listening while I am doing housework or playing the driver to the kids.
What are your favorite and least favorite parts of narrating an audiobook?
My favorite is recording, getting to immerse myself into another world. I also love the read through of the book; it really gets me excited and helps me to plan out where I am going to go.  I guess editing is my least favorite part, but only in comparison to the other parts, I love to do it, just not as much as performing or reading.
What would you say are your strongest narration abilities?

Is there a particular genre you feel unsuited for? Have you ever declined a project because you didn't think you were right for it?

What about this title compelled you to audition as narrator?
It is exactly the story I would read as a consumer, and if it has my attention in that way then I want to audition because I know I will have fun with it while recording.
How closely do you prefer to work with authors?
I love having input from the authors, although every relationship is not the same.  I do prefer it when even if they are not the ones who hire me, they have made the decision to have me be the voice of their book.
Who are your "accent inspirations"?

How did you decide how each character should sound in this title?

What types of things are harmful to your voice?

Has anyone ever recognized you from your voice?
I have had a couple of people recognize me as my pseudonym, and it was nice because I took it as they had taken the time to listen to my work.
Have there been any characters that you really connected with?

If you had the power to time travel, would you use it? If yes, when and where would you go?

How does audiobook narration differ from other types of voiceover work you've done?

Do you read reviews for your audiobooks?
YES!  It is an addiction I wish I could drop!
If so, which ones stand out to you most, positive or negative?
The negative, but only because I always try to take something from them that I can improve on.
What type of the review comments do you find most constructive?

Who is your "dream author" that you would like to record for?
Dream author – I think CD Reiss, I love her work!
If you could narrate one book from your youth what would it be and why?
I Know Why the Caged Bird Sings – that book spoke to me in my soul on so many different levels I can't even fully describe!
What do you say to those who view listening to audiobooks as "cheating" or as inferior to "real reading"?
Maybe to them, but as a mother of five kids, I know everyone does not learn the same way, receive things the same way and we are very lucky to live in a time that we have audiobooks as a way for people to enjoy books.
What bits of advice would you give to aspiring audiobook narrators?
Take advice from those who have been there, get a coach and study away!
What's next for you?
Project wise I am getting ready to dive into Stepping Stone, book 2 of The Stone Series, Asher Black by Parker S. Huntington, Stryker by Tess Oliver, Fighting Dirty by Sidney Halston, and Dark Love Part 2 by JB Duvane.  

Heart of Stone Giveaway: Kindle Fire 7

Aug. 25th:
CGB Blog Tours
Elsie's Audiobook Digest
Aug. 26th:
The Book Junkie Reads
Jazzy Book Reviews
Aug. 27th:
Up 'Til Dawn

Aug. 28th:
Ginger Mom Reads
The Bookworm Lodge
Aug. 29th:
Lomeraniel
Aug. 30th:
A Book and A Latte
The Literary Apothecary
Between the Coverz
Aug. 31st:
The Book Addict's Reviews
Lynn's Romance Enthusiasm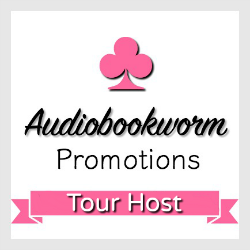 ➜Sign up as a host here